Kong Skull Island Full Movie Review: Jump Scare City! Jurassic Park Meets Resident Evil. If You Think Plots are Overrated in Action Films, This One's for You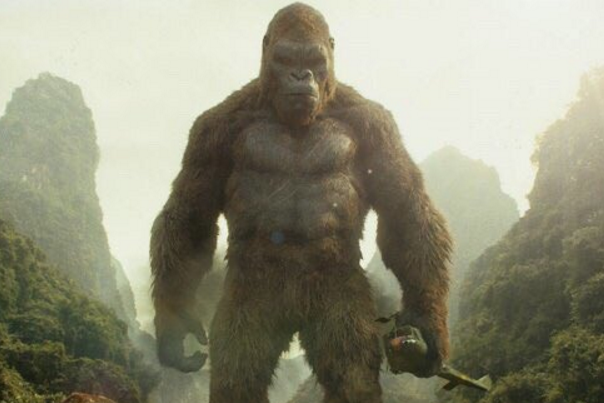 Kong Skull Island Full Movie Review: Perhaps the most incredibly satisfying King Kong or Godzilla movie since the originals, Jordan Vogt-Roberts (The Kings of Summer)' Kong Skull Island uses awe-inspiring CGI, surprise moments, and the hilarious scene-stealing John C. Reilly to win audiences over this time around. Also memorable were a few Samuel Jackson lines that might have been taken straight out of Pulp Fiction. Screenwriters Dan Gilroy (The Bourne Legacy), Max Borenstein (Godzilla, Minority Report), Derek Connolly (Jurassic World), and story guy John Gatins (Flight) smartly spent little time on the Kong-falls-for-sexy-damsel storyline, and more on the suspenseful moments, fight scenes, and comic relief. We almost thought we were in for another snoozefest, that was the earlier 2006 King Kong, because the first 20-30 minutes were flat and overall boring, but once the crew arrived to Skull Island, the film's pace hit the next gear, and took us for a thrill ride. While Jackson and Reilly are standouts here, we wonder if maybe the studio overcompensated by adding A-listers Tom Hiddleston and Brie Larson. They probably could have gotten away with Kellan Lutz and Nina Dobrev, since the real stars are the larger-than-life creatures of Skull Island.
If you want your date to jump into your arms, or if you want to take your "squad" for a fun night out at the movies, go see Kong: Skull Island this weekend. If you're a film snob, or someone who can't help but look for plot holes and inconsistencies, then save yourself the torture and skip it.
Kong Skull Island Full Movie Review: From Warner Bros. Pictures and Legendary Pictures, Kong Skull Island is out this weekend. When a scientific expedition to an uncharted island awakens titanic forces of nature, a mission of discovery becomes an explosive war between monster and man. Tom Hiddleston, Samuel L. Jackson, Brie Larson, John Goodman and John C. Reilly star in a thrilling and original new adventure that reveals the untold story of how Kong became King.