Jared Padalecki acts like crazed fan Supernatural VIDEO – WATCH the hilarious video from Supernatural Panel at San Diego Comic Con 2017

Jared Padalecki, one of the stars of Supernatural, in the video above, mimicked a fan who was surprised to see him standing in the back of Hall H. Watch the video above to see Jared tell the funny story! Series stars and executive producers answered questions about the shocking events in last season's intense two-part finale and previewed what's in store for lucky season 13. Fans also were treated to an exclusive video presentation featuring series highlights of your favorite guys from Kansas and in fact, the band Kansas opened the panel with a "Carry on My Wayward Son" performance! The 13th season of Supernatural will return to Thursdays this fall in its new 8/7c time slot on The CW. The series is produced by Kripke Enterprises Inc. in association with Warner Bros. Television.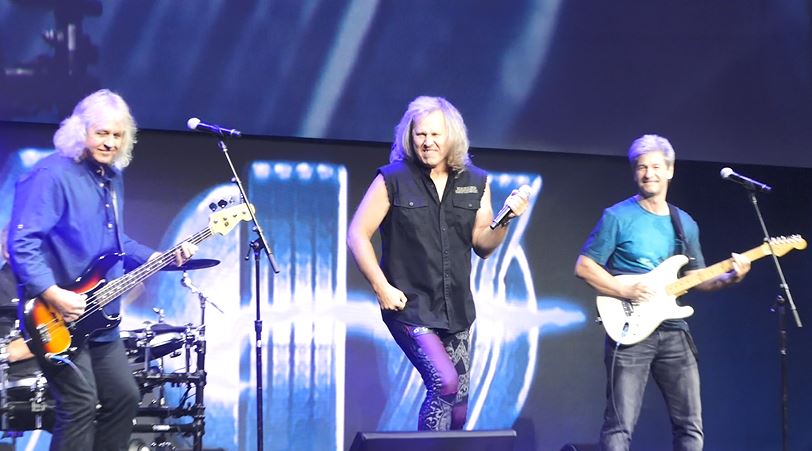 The Winchester family business adds a little more family in Season Twelve! Continue the thrilling and terrifying journey with the Winchester brothers when Warner Bros. Home Entertainment releases Supernatural: The Complete Twelfth Season on Blu-ray and DVD on September 5, 2017. The set contains all 23 gripping episodes from Season Twelve and is packed with over four hours of bonus content – including 3 Mythology featurettes, commentaries, the show's packed Comic-Con panel, deleted scenes and a priceless gag reel. Supernatural: The Complete Twelfth Season is priced to own at $49.99 SRP on DVD and $54.97 SRP on Blu-ray including a Digital Copy.
In the show's twelfth season, Sam and Dean Winchester (Jared Padalecki & Jensen Ackles) are reunited with their mother, Mary Winchester (Samantha Smith), newly resurrected by the apocalyptic force known as the Darkness. But Mary Winchester is not the only family appearing this season. In addition to Lucifer being sprung from Hell, he's also expecting a son. Now, the Winchesters – with Castiel's help – must not only contend with Crowley, Lucifer and his spawn, and the arrival of the conniving British Men of Letters (who've come to "complicate" their hunting days), but they'll also have to relearn what it is to be a family again after all these years.
"After twelve captivating seasons on the air, Supernatural has remained a strong seller on all home entertainment platforms and ratings hit for The CW," said Rosemary Markson, WBHE Senior Vice President, Television Marketing. "We're thrilled to offer the show's ravenous fans the latest season to add to their Blu-ray and DVD collections – loaded with hours of new behind-the-scenes bonus content."
Supernatural stars Jared Padalecki (Friday the 13th, Gilmore Girls) and Jensen Ackles (Smallville, My Bloody Valentine) as Sam and Dean Winchester, in addition to Misha Collins (24, Girl Interrupted) as Castiel and Mark A. Sheppard (In the Name of the Father, White Collar) as Crowley. Created by Eric Kripke (Revolution, Timeless), the twelfth season of the hit series was executive produced by Andrew Dabb, Robert Singer (Timecop, Lois & Clark), Phil Sgriccia (Smallville), Brad Buckner & Eugenie Ross-Leming (Lois & Clark) and Jeremy Carver (Frequency, Being Human) Produced by Warner Bros. Television, Supernatural returns for its thirteenth season this fall on The CW.
23 ONE-HOUR EPISODES:
Keep Calm and Carry On
Mamma Mia
The Foundry
American Nightmare
The One You've Been Waiting For
Celebrating the Life of Asa Fox
Rock Never Dies
LOTUS
First Blood
Lily Sunder Has Some Regrets
Regarding Dean
Stuck in the Middle (With You)
Family Feud
The Raid
Somewhere Between Heaven and Hell
Ladies Drink Free
The British Invasion
The Memory Remains
The Future
Twigs & Twine & Tasha Banes
There's Something About Mary
Who We Are
All Along the Watchtower
BLU-RAY and DVD FEATURES
The Winchester Mythology: Mary Winchester
The Winchester Mythology: Clash of the British Men of Letters
The Winchester Mythology: The Hunters Life
Supernatural 2016 Comic-Con Panel
Audio Commentaries
Deleted Scenes
Gag Reel
SUPERNATURAL: THE COMPLETE TWELFTH SEASON
DVD
Price: $49.99 SRP
6 DVDs
Audio – English (5.1), Portuguese
Subtitles – English SDH, Chinese, Korean, Portuguese, Spanish, French, Thai
BLU-RAY
Price: $54.97 SRP
4 BDs
1080p Full HD Video, DTS-HD Master
Audio 5.1 – English (5.1), Portuguese
Subtitles – English SDH, French, Spanish, Portuguese