CONCACAF Gold Cup 2017 Recap – Former Stanford Cardinal Jordan Morris breaks 1-1 tie with late goal to give team USA the Gold Cup

CONCACAF Gold Cup 2017 – Soccer fans at Levi's Stadium were treated to a thriller on Wednesday night as USA faced Jamaica in the 2017 CONCACAF Gold Cup. As spectators both at home and at the venue took to social media to comment on the poor turf quality, drama started to unfold on the pitch as Jamaica's star goalkeeper Andrew Blake suffered an injury to his hand, and left the game. Dwayne Miller took over as goalie, and Jozy Altidore would score on him with a Bend-it-like-Beckham free kick, after Michael Bradley was taken down from behind just outside the goal box. The second half began with a Jamaican goal to tie it up, courtesy of Je-Vaughn Watson. Just before time was up though, the Stanford Cardinal Jordan Morris would score off a cross from Gyasi Zardes to give team USA the Gold Cup.
The field quality at Levi's Stadium is far from ideal, especially for a final. #USAvJAM #USMNT #JAM #GoldCup2017 pic.twitter.com/SKUP7q1wGK

— Jason Foster (@JogaBonitoUSA) July 27, 2017
Closer look at the Andre Blake injury. Doesn't look good. #USAvJAM pic.twitter.com/strvN9kjXc

— Ben Jata (@Ben_Jata) July 27, 2017
You finished that one, JOZY didn't you?#USAvJAM#GoldCupFinal2017 pic.twitter.com/ULNTmhUQqO

— Brian Chojnacki (@BroadcastingBri) July 27, 2017
Así Je-Vaughn Watson marcó el gol de empate. #USA 1-1 #JAM pic.twitter.com/IVsIbb4uHk

— Univision Deportes (@UnivisionSports) July 27, 2017
GO ON, YOUNG FELLAH, GO ON. @JmoSmooth13 #USAvJAM pic.twitter.com/ssNmt0CbNi

— Seattle Sounders FC (@SoundersFC) July 27, 2017

In a press conference before the match, CONCACAF President Victor Motagliani commented that Levi's Stadium is a "world class facility" and that Bay Area sports fans have shown their love of both kinds of football.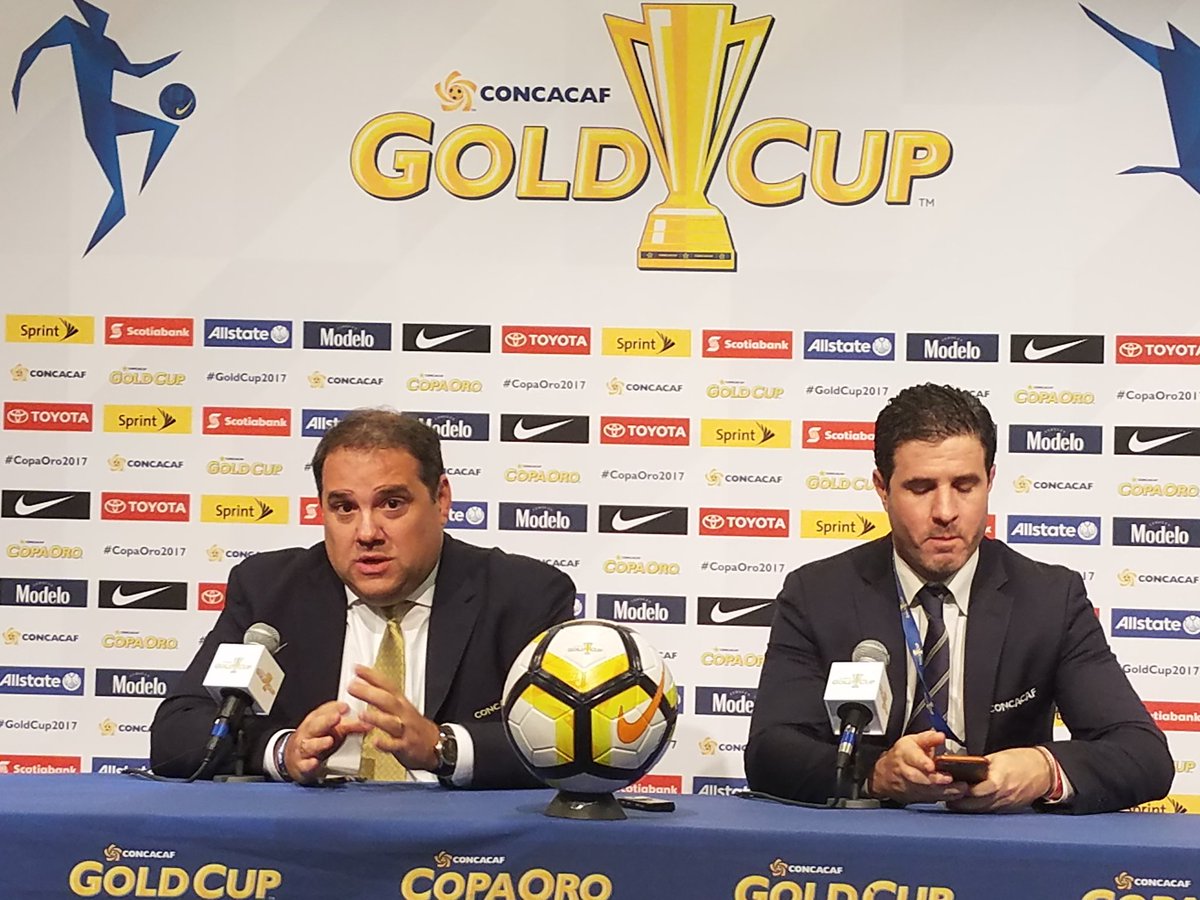 The CONCACAF Gold Cup is the Confederation's premier event for national teams, crowning a champion every two years. Initially involving eight teams, the Gold Cup has developed into a competition of 12 nations, which qualify from each of CONCACAF's three sub-regions: North America (3 automatic entrants), Central America (4.5 qualifiers through the Copa Centroamericana) and the Caribbean (4.5 qualifiers through the Scotiabank CFU Men's Caribbean Cup). The Gold Cup has reached exceptional levels of popularity, as evidenced by capacity crowds and a global TV audiences of millions. The Gold Cup has been contested on 13 previous occasions. Mexico owns a tournament-record seven titles, followed by the United States with five and Canada with one. The U.S. captured the inaugural championship in 1991, outlasting Honduras in the final 4-3 on penalty kicks after a scoreless draw. That year, the entire tournament took place in two Southern California venues – the Los Angeles Memorial Coliseum and the Rose Bowl. As evidence of its stunning growth, in 2015, the Gold Cup was played in 14 state-of-the-art stadiums across the entire United States. Jamaica became the first Caribbean representative to reach the final, ultimately falling to Mexico, 3-1. Total tournament attendance exceeded 1 million, while the final drew an impressive 2.3 rating and 5.7 million viewers on Univision and Univision Deportes Network in the USA. Later in 2015, the Mexicans defeated 2013 champion USA in the CONCACAF Cup, 3-2 after extra time, to qualify for the 2017 FIFA Confederations Cup. It was the first time that Gold Cup champions within the same four-cycle met to determine which would participate in the traditional World Cup rehearsal. The match was played at the Rose Bowl in Pasadena, California, and attracted a capacity crowd of 93,273 fans.