EAT DRINK SF REVIEW & PHOTOS 2017 !! – Images from Epic Steak, Absinthe, Thirsty Bear, Black Cat, Barcino, Bi-Rite Ice Cream, and many more.

Eat Drink SF Review – Bay Area HQ had a chance to visit Eat Drink SF over the weekend and everyone seemed in great spirits as they sampled food from some of the best restaurants from the San Francisco Bay Area. Those who got in early had a chance to avoid some of the longer lines, but as the evening progressed dozens of eager tasters queued up for unique offerings from Waterbar, Bi-Rite Ice Cream, and Hudson Valley Foie Gras (in the VIP area). It was a fun evening, with no shortage of food or cocktails. Make sure to bring a bunch of friends next year!
Eat Drink SF Review – Eat Drink SF took over Fort Mason in the Marina and is San Francisco's premier annual food, wine, and spirits festival that celebrates the Bay Area's world-class chefs and restaurants.
Eat Drink SF Review – Eat Drink SF (fka SF Chefs) entered its ninth year. Eat Drink SF annually brings together renown tastemakers to share with guests the very best in food and drink alongside curated experiences and programming to keep them engaged and entertained. No other food festival puts as many things under one roof and still gives attendees room to breathe. One of the best things about the event is that people could leave their wallets at home (save for parking fees). The festival provided four days of events, showcasing incredible dining regions and chefs, who are known to elevate cuisine in the Bay Area.
Eat Drink SF Review – Take a look at some of our photos from the event:
ABSINTHE
Seafood Ceviche – Lime marinated salmon, black cod, shrimp & bay scallop, cherry tomato, melon, charred habanero vinaigrette, served with avocado puree on a blue corn tortilla chip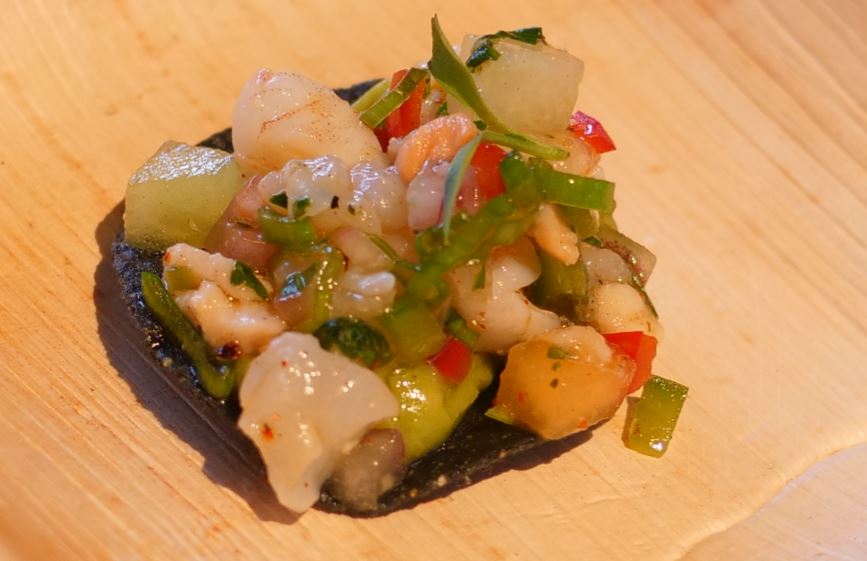 BLACK CAT – Chef Alicia Jenish-McCarron


BLUE DIAMOND ALMOND BREEZE
Fondue

COTOGNA

THE DOUGLAS ROOM

BELLOTA
Pan Con Tomate Fresco, Spanish-Style Bread with hand-carved jamon serrano

THE VIEW FROM THE UPPER VIP AREA

EPIC STEAK – Steak Tartare

HUDSON VALLEY FOIE GRAS

LE COLONIAL – Lobster Gazpacho with pickled vegetables

LA MAR – Cebiche, local halibut in artichoke leche de tigre, choclo,
sweet potatoes and artichoke chips

The Golden State Warriors Championship Trophy

LILLET – Spritz with Tonic

BAR SAN PANCHO – MF Hot Wings

BI-RITE ICE CREAM – Spirit Sampler, Ice Cream, Cocktails


SAUCE

THE TREASURY – Smoke & Mirrors Cocktail, No Hay Alma

SUNTORY WHISKY

VALHRONA CHOCOLATE

OSTERIA DIVINA – Chef Elena Fabbri

HOG & ROCKS – Devils on Horseback – bacon-wrapped prunes stuffed with pickled asian pear

GUESTS ENJOYING COCKTAILS

THE BULLEIT PHOTO OP

THE BLUE DIAMOND ALMOND BREEZE BOOTH

THE WOODFORD RESERVE BOOTH

GUESTS VISITING THE TREASURY BOOTH

GUESTS ENJOYING THE COCKTAILS

GUESTS COMING IN GROUPS

MISSION BOWLING CLUB- Smoked Scallion Blini, Crispy Guanciale, Pickled Fresno Chile Saffron-Corn Cream, Togarashi Tuile

CANELA BISTRO & WINE BAR

CITY COUNTER

THIRSTY BEAR – Beer Braised Pork Ribs

WATERBAR – White Soy Marinated King Salmon – finger lime, salmon caviar, katsuobushi