Pirates of The Caribbean Dead Men Tell No Tales Review – Jack Sparrow Channels Indiana Jones in this Funny, Action-Packed, and Well-Acted film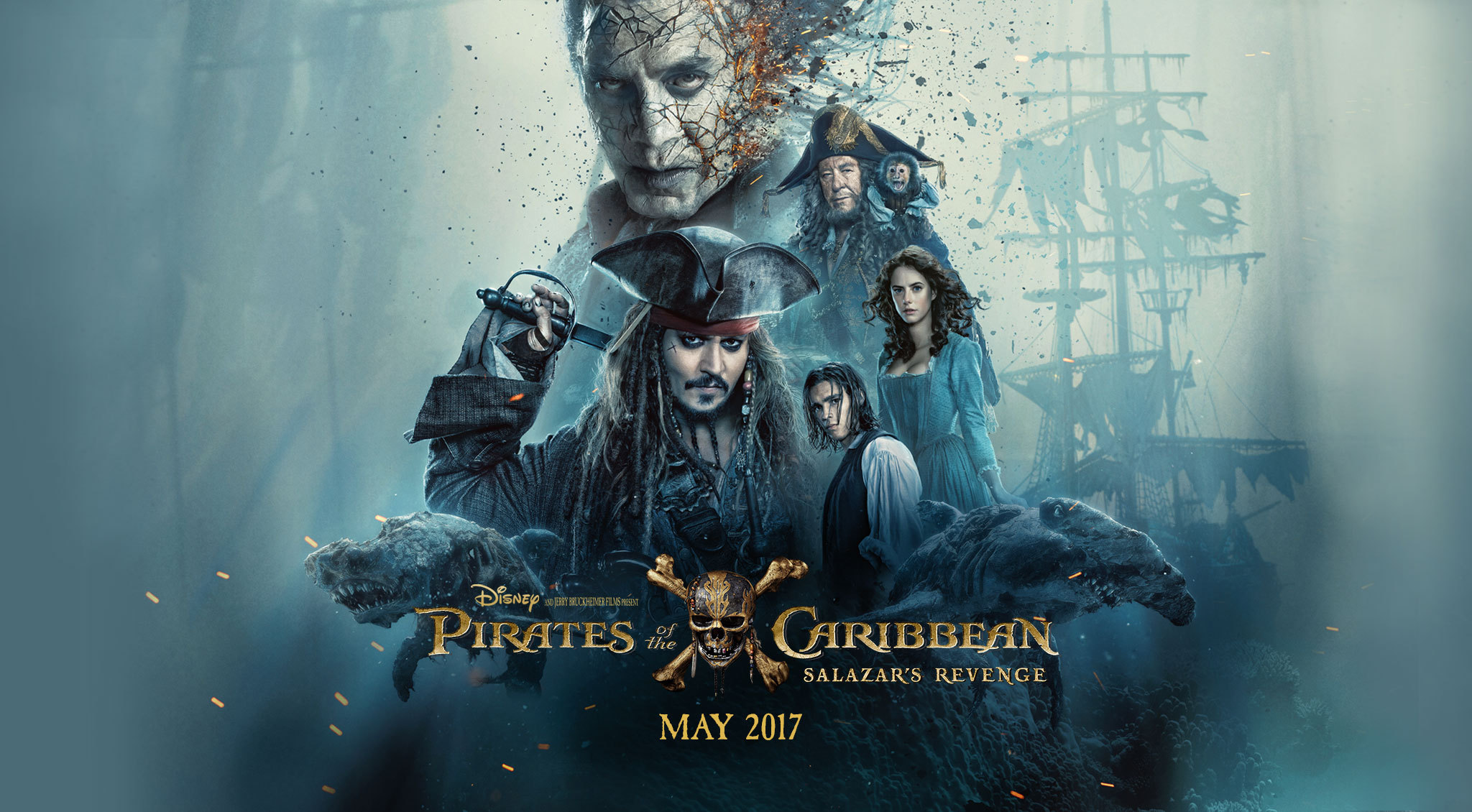 Pirates of The Caribbean Dead Men Tell No Tales, the fifth installment in the series, is unbelievably good this time around. Directed by Joachim Rønning and Espen Sandberg, two Norwegian filmmakers behind Bandidas and Kon-Tiki (nominated for an Academy Award for Best Foreign Language Film), the movie has a great balance of fantastical horror, humor, action, romance, and plenty of surprises. Some of the action scenes were reminiscent of funny and action-packed moments we saw in Indiana Jones films. In fact, Jeff Nathanson who wrote the screenplay, was also a writer on Indiana Jones and the Kingdom of the Crystal Skull.
Johnny Depp returns to the big screen as the iconic, swashbuckling anti-hero Jack Sparrow in the all-new Pirates of the Caribbean: Dead Men Tell No Tales. The rip-roaring adventure finds down-on-his-luck Captain Jack feeling the winds of ill-fortune blowing strongly his way when deadly ghost sailors, led by the terrifying Captain Salazar (Javier Bardem), escape from the Devil's Triangle bent on killing every pirate at sea—notably Jack. Jack's only hope of survival lies in the legendary Trident of Poseidon, but to find it he must forge an uneasy alliance with Carina Smyth (Kaya Scodelario), a brilliant and beautiful astronomer, and Henry (Brenton Thwaites), a headstrong young sailor in the Royal Navy. At the helm of the Dying Gull, his pitifully small and shabby ship, Captain Jack seeks not only to reverse his recent spate of ill fortune, but to save his very life from the most formidable and malicious foe he has ever faced.
You could tell this was a movie that was made to satisfy loyal fans of the Pirates of the Caribbean Franchise. With a perfect blend of returning characters and new faces, the film stays intriguing within familiar territory. It was a delight to see Jack Sparrow's crew again, especially Martin Klebba (Marty) and Kevin McNally (Gibbs). And it's not just the people that are well-balanced, we also get to see some of the classic props and ships reappear, while feasting our eyes on sights like all-new Ghost Sharks and even a young CGI Jack Sparrow. Yes, the CGI version of a youthful Johnny Depp is a little creepy, but is something you can't take your eyes off of, either. We also get a cameo from one of your favorite legendary singers!
While the British army does their best Keystone Cops impression in the film, Javier Bardem takes center stage as the villain in the feature. Though he may be "over-acting" a little at times, Bardem is right up there with Ricardo Montalban in Star Trek: Wrath of Khan as one of the most memorable bad guys with an accent.
And the great casting continues with the gorgeous and talented Kaya Scodelario (The Maze Runner). She does a great job as Carina Smyth,  who has a young Princess Leia-Han Solo thing going on with Henry Turner played by Brenton Thwaites (Gods of Egypt).
Some of the past Pirates movies could get a little long and boring, but once again, a great balance is maintained by fleshing out the plot and backstories while keeping the movie exciting. We loved it, and we think most people will agree that they got their money's worth this time around.
Is there a Pirates of The Caribbean Dead Men Tell No Tales after credits scene? Is there a Pirates of The Caribbean Dead Men Tell No Tales post credits scene? Is there a Pirates of The Caribbean Dead Men Tell No Tales ending credits scene? While many have speculated that this is the final installment in the series, there is a very short post credits scene (after a very long list of credits) that hints at a familiar character returning possibly? We'll leave it at that. If Pirates of the Caribbean 6 is anything like Pirates of the Caribbean 5, we are all-in.