YVONNE STRAHOVSKI: Hannah McKay as a Handmaid? Watch The Handmaid's Tale Star on how her Chuck and Dexter Characters Would Fare as Handmaids in Hulu show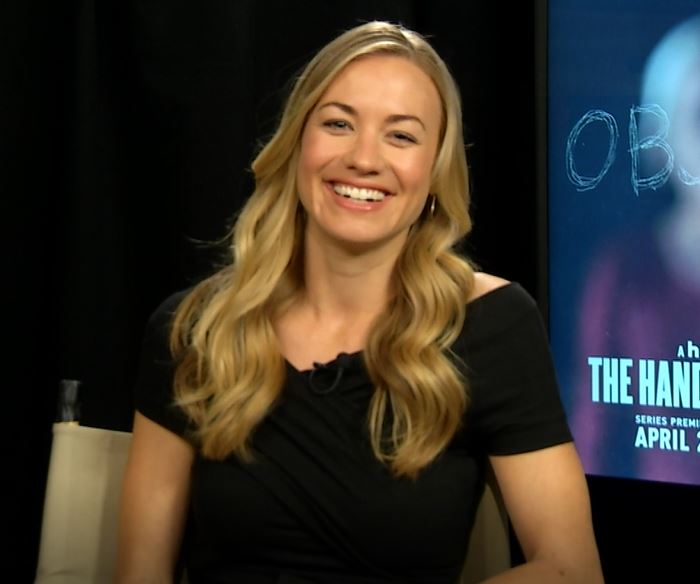 Yvonne Strahovski, currently filming Hulu's The Handmaid's Tale opposite Elisabeth Moss and Joseph Fiennes, talks to Bay Area HQ about the compelling first season of the show and shares what she thinks about filming the unusual bedroom scenes, the appeal of the series, how her other characters might do as Handmaids, what she thinks about the San Francisco Bay Area, holding a baby on set, and what sandwich she would choose if her portrait was drawn on one. In the Hulu original series, Yvonne Strahovski plays Serena Joy, the wife of Commander Waterford and the head of the household staff. As an influential public figure, she fought for traditional values and the establishment of Gilead.
Yvonne  Strahovski made her American television debut on NBC's Chuck, and Showtime's Dexter. She also co-starred in ABC's The Astronaut Wives Club after starring opposite Kiefer Sutherland in 24: Live Another Day, and guest starred on Louis CK. Yvonne recently starred in Screen Gems' HE'S OUT THERE and Lionsgate's MANHATTAN NIGHTS and I, FRANKENSTEIN. Other film credits include ALL IS SEE IS YOU, KILLER ELITE alongside Jason Statham and Robert DeNiro, THE GUILT TRIP with Barbra Streisand, I LOVE YOU TOO opposite Peter Dinklage and MATCHING JACK. She also is appearing in the 2018 reboot of THE PREDATOR.
The drama series, based on the award-winning, best-selling novel by Margaret Atwood, is the story of life in the dystopia of Gilead, a totalitarian society in what was formerly part of the United States. Facing environmental disasters and a plunging birthrate, Gilead is ruled by a twisted fundamentalist regime that treats women as property of the state. As one of the few remaining fertile women, Offred (Elisabeth Moss) is a Handmaid in the Commander's household, one of the caste of women forced into sexual servitude as a last desperate attempt to repopulate a devastated world. In this terrifying society where one wrong word could end her life, Offred navigates between Commanders, their cruel Wives, domestic Marthas, and her fellow Handmaids – where anyone could be a spy for Gilead – all with one goal: to survive and find the daughter that was taken from her.
The Handmaid's Tale comes to Hulu from MGM Television and is created, executive produced and written by Bruce Miller. Executive produced by Warren Littlefield, Daniel Wilson, Fran Sears, and Ilene Chaiken.
Cast: Elisabeth Moss, Joseph Fiennes, Yvonne Strahovski, Samira Wiley, Alexis Bledel, Max Minghella, Madeline Brewer, Ann Dowd, and O-T Fagbenle.
The first season launched on Wednesday, April 26th with three episodes. New episodes air on Wednesday's.