JoLivi talks Music over Moscow Mules at Dirty Water SF – The Talented, Sexy Singer has been Compared to Alanis Morissette and Tove Lo. Watch the Interview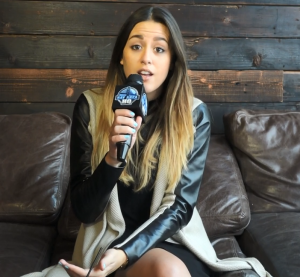 JoLivi, with a string of catchy tracks that are inspired by her own up-and-down experiences in relationships, has a voice that is as smooth as a chilled and well-mixed Moscow Mule. In fact, that's the exact cocktail we handed her as she sat down with us to talk about her music at Dirty Water Restaurant and Bar (near the Twitter building) in San Francisco. She shared the stories behind her music, what her aspirations are, and what she loves about our city by The Bay. There's more, so be sure to watch the segment above that we call Mules, Music, and Musings
For some, it takes a lifetime to find their authentic selves. For Los Angeles-based singer JoLivi, it took a little loss, some good 'ol fashioned heartbreak, and a newfound sense of confidence to find who she truly is as an artist. "I've gone through a lot of difficult things – my grandfather died and I went through a really bad breakup. I got my heart broken over and over, but I kept going back to this relationship and it made me feel things I never felt. It made me think about things on a deeper level. It changed me. It helped me grow as a person and as a writer, so I got my pen and paper out and started writing in a way I've never written before," says JoLivi, who hails from Oahu, Hawaii.
 Through the process joLivi found her true voice. The result is her new EP "Just For You" filled with passionate and personal songs hailing from the darker recesses of her mind and heart. Her first single release "Games" is one such song.
 Grammy nominated Brandon Friesen, who has racked up six Juno Awards, produced her EP. He helped her find the inner soul of her voice in a way that she was able to share her feelings – whether it's being sexy or reserved or just allowing myself to feel sadness. Her vocal emotion is present throughout her songs.
"Just For You" is available on iTunes.
Adding an edge to typical pop, JoLivi's music "is as real and honest as she is. (PopWrapped)." Since her music start, JoLivi has garnered attention from All Things Go, Baeble, Fanlala and Myspace who remarked that, "JoLivi's songs are laced with the girl-power messages that make pop so delicious." Drawing on personal ups and downs, JoLivi offers an intimate take on pop. Self-described as "curious, loving, confident and definitely resilient" JoLivi pens tracks about bouncing back after hardships in life and love. "She's got a bright spirit," Celeb Mix remarked about JoLivi, "with the world seemingly at her feet, there's no end to what she's capable of." Her powerful presence and sound are evident in every note and shine through in her visuals as well. Having released the stunning videos for her singles "Games" (221k views) and Chains" (168k views) JoLivi is diving head first into 2017!