BJ The Chicago Kid: "Talent Doesn't Work…You Work The Talent" – No One Works Harder Than the 3-time Grammy Nominee, coming to Macy's San Francisco on 2/22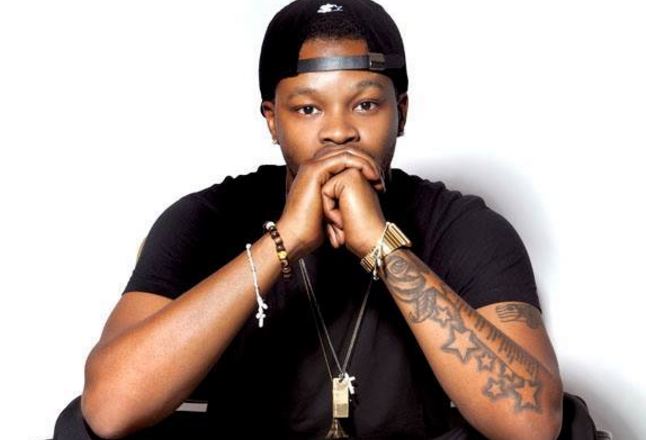 BJ The Chicago Kid. BJ The Next D'Angelo. BJ The 3-Time Grammy Nominee. BJ The Collaborator with Kanye, Dr. Dre, Chance The Rapper and more. I could go on, but after talking to arguably the most soulful singer to come along in years, I'd pick "BJ The Prophet" as a possible alternative name choice. With a voice that will instantly turn you into a fan in less than five seconds, you'd think his talent would be enough, but the 32-year-old writer and recording artist is the embodiment of hard work, hustle, and living a modest life. The South-side Chicago native and Motown recording artist will be a part of the annual Macy's Union Square Black History Month Celebration in San Francisco, joining a panel discussion on Wednesday, February 22nd at 6pm, and meeting some fans.
Though you may recognize BJ from popular songs like Church w/Chance The Rapper, or Studio w/Schoolboy Q, a thorough listen to his entire 2016 Motown debut album In My Mind will bring back memories of the first time you may have heard James Brown, Teddy Pendergrass or D'Angelo, while giving you a soundtrack to your next romantic interlude or evening chill session. He's featured in songs by  Kendrick Lamar, Mary J. Blige, Kehlani, and many more top musicians. He recently finished a tour, attended the Grammy's, and worked on music for Fox's upcoming show Shots Fired. Currently, BJ just released Roses, is back in the studio making music, and is hopeful to come back to the Bay Area in 2017 to perform.  Recently, I had a chance to talk to BJ, one of R&B's hottest rising stars, and couldn't be more impressed by the man behind the voice: an incredibly intelligent, amazingly grounded young singer with an "old school" way of life.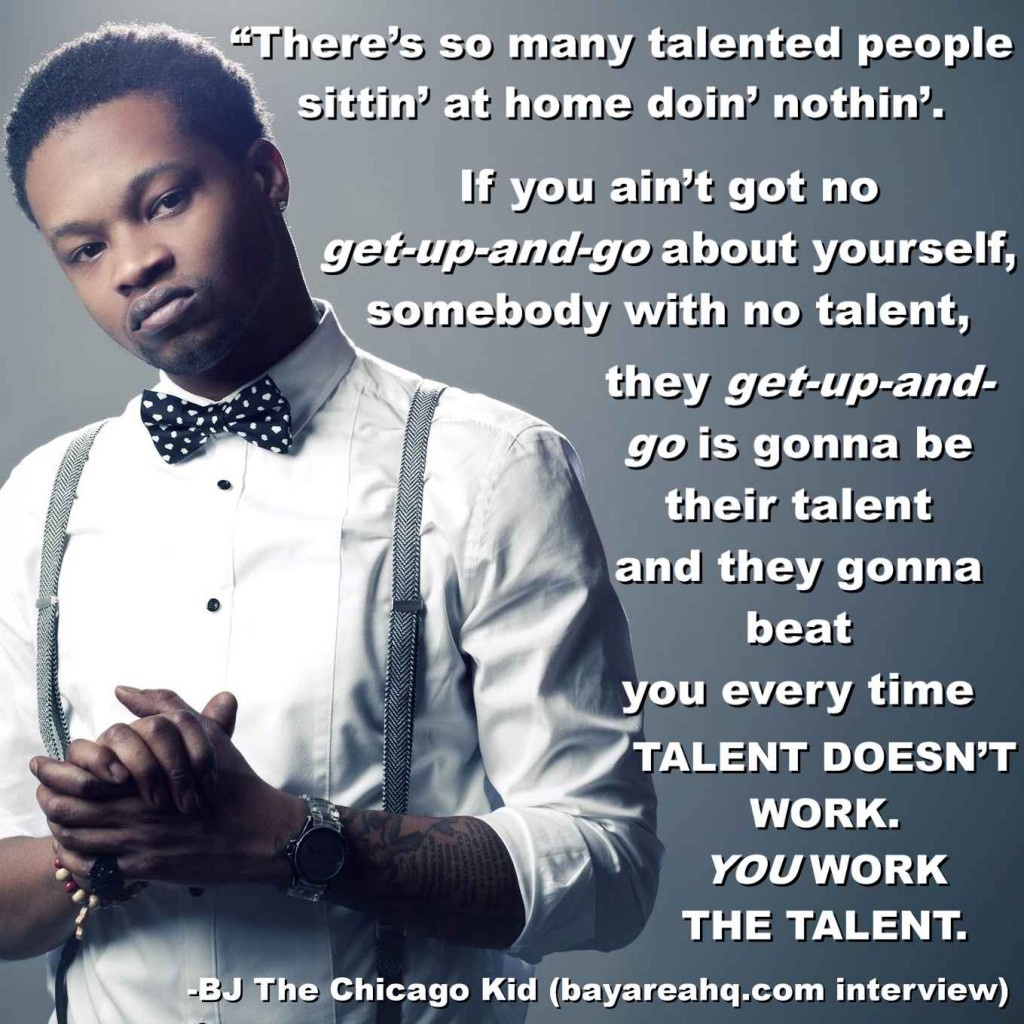 BAY AREA HQ
BJ, as we take time this month to celebrate Black History, we could talk for days about the impact of black culture on American life and beyond. What stands out for you?
BJ THE CHICAGO KID
The culture's rich in itself. From language to fashion to patterns to music to advertising to actual products, I think it just has a very big hand on what's going on and how we live our lives and help you enjoy it. Our culture never had a lot. So we always took what we had. We understand the simpler ways to enjoy life. The simpler ways of making life better.  The simpler ways of finding ways to live longer.
BAY AREA HQ
Since you mentioned fashion, and since you're coming to Macy's, what types of apparel or accessories do you shop for the most?
BJ THE CHICAGO KID
I wish I did have time to shop. That's one of my favorite things to do. I really go by what grabs my eye. There's not a certain section I would go to. I don't really do too much impulse-buying anymore (laughs). Honestly, I buy stuff that I could just have forever now. I'm not into "fashionable" things that can be outdated. I just love timeless stuff. From clothes to music to everything else. Stuff that lives forever.
BAY AREA HQ
Speaking of music that lives forever, after listening to your album In My Mind, we love Woman's World, and how it is kind touches upon James Brown's classic It's a Man's World.
BJ THE CHICAGO KID
It's the same thing that James Brown is saying. He's saying "but it wouldn't be nothing without a woman or a girl." So pretty much in my eyes, that's the meaning of a Woman's World. It wouldn't be nothing without them. That's what world it is. So I just took the back half of his song and made it the front half of mine. And vice versa.
BAY AREA HQ
And by the way, thanks for the San Francisco shout-out in your song Smokin' and Ridin', as Freddie Gibbs starts out with "I left my love in San Francisco with ten pounds of indo." What do you think of our city?
BJ THE CHICAGO KID
I love San Francisco. The vibe. The smoke (laughs). The women. Everything. I'm definitely going to appreciate it.
BAY AREA HQ
And we have love for Chicago, too. I remember visiting this hot dog place, The Weiner Circle where you got insulted by the staff as you waited for your hot dog. Did they ever insult you?
BJ THE CHICAGO KID
That's everybody. That's what you actually pay for. The food is free. You just paying for the insult. Welcome to the city (laughs).
BAY AREA HQ
You're officially a Motown recording artist. The first thing that comes to mind for me, since I'm a bit "old school," is The Temptations and watching that movie over and over again. Did you watch that film?
BJ THE CHICAGO KID
Of course. In my community, that's every day. Anytime its on, we watch it. Of course. We saw it a billion times. Any movie like that, that's part of our culture. It's a given.
BAY AREA HQ
Speaking of film, in my opinion, you could easily follow in the footsteps of guys like Common, and have a great acting career as well. Are you open to that?
BJ THE CHICAGO KID
Definitely. Just taking one thing at a time. Being a part of the fine arts in general is what makes me.
BAY AREA HQ
I have your song Church with Chance the Rapper on repeat. But after hearing these lyrics "She say she wanna drink, do drugs and have sex tonight, But I got church in the mornin', church in the mornin," I just want to give you a heads up, that there's afternoon church services, so…'
BJ THE CHICAGO KID
Hahaha. I'm old school, man. Like you.
BAY AREA HQ
Since your old school, and you know a lot about hard work, do you think the new, younger generation really understands what hard work really is?
BJ THE CHICAGO KID
It just depends on whatever your occupation is. How it works is different for each occupation. I really believe that. The same thing with the secrets to success. What works for a doctor ain't gonna work for a singer. You gotta find your own mode and lock into something. You gotta find something big and lock into it, man. It's definitely not about gimmicks or social media these days. If you ain't got it in you, you ain't gonna survive. Its that serious. Straight up.
BAY AREA HQ
Does talent win out over hard work?
BJ THE CHICAGO KID
There's so many talented people at home sittin' at home doin' nothin'. If you ain't got no get up and go about yourself – somebody with no talent – they get up and go is gonna be their talent and they gonna beat you every time. You got talent, but you just sittin' down with it. I'm just sayin. Talent doesn't work. You work the talent and that's what people see. That's what starts the crave. It's a lot of people at home with a lot of incredible ideas just stuck in their head or on a piece of paper. If you don't get up, ain't nothing gonna happen. Simple.
BAY AREA HQ
Amazing message. What's it like for you to come to San Francisco and meet people who have been touched by you and your music?
BJ THE CHICAGO KID
It's a part of the dream. It's like dreaming of being on stage. I dream of meeting them. That's another paycheck in itself.
About Macy's Black History Month Celebrations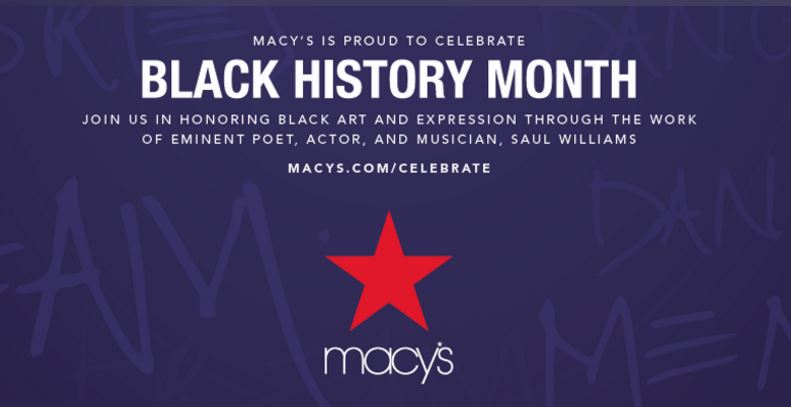 As part of Macy's Black History Month celebrations, Grammy-nominated artist BJ The Chicago Kid, Insecure actor Jay Ellis, Queen of Everything RyanNicole will join host Renel Brooks-Moon in a conversation focused on the influence and impact of black culture on all facets of American life. Macy's celebrates Black History Month by welcoming stars from a variety of fields including fine art, music, literature, the culinary arts, and the spoken word. Black culture has electrified the pulse of American life for generations, from music and fashion to film, television and activism.  It has created a wave of change that has helped propel the country to new heights. This year, celebrity guests will share how creative self-expression and a strong connection to their heritage have shaped their careers.
Wednesday, February 22, 6-8pm
Macy's Union Square, Men's Store, level 3
120 Stockton Street, San Francisco, CA 94102
For more information on Macy's Black History Month, visit macys.com/celebrate