AT&T Pebble Beach Pro-Am 2017 Photo Gallery – Justin Timberlake, Bill Murray, Jessica Biel, Aaron Rodgers, Bill Belichik, Andy Garcia, Kelly Rohrbach & More
AT&T Pebble Beach Pro-Am photos of your favorite celebrities at the 2017 AT&T Pebble Beach Pro-Am are below. On a slightly overcast, and mostly sunny day at Pebble Beach on Saturday, February 12, thousands of spectators enjoyed beer, wine, and cocktails as they watch many entertaining moments unfold. Justin Timberlake nearly had a hole-in-one. Bill Murray asked a fan for some food, and she offered a banana from her purse. He then explained how monkeys peel bananas differently than humans, and proceeded to take a big bite. Andy Garcia, gladly posed for fans as he moved from hole-to-hole. On the other hand, football guys like Aaron Rodgers and Pats coach Bill Belichek were mostly all business on the links. Larry the Cable guy took time to pose for selfies, and Kelly Rohrbach was all smiles as she got off to a nice start on the course.
Bill Murray – AT&T Pebble Beach Pro-Am 2017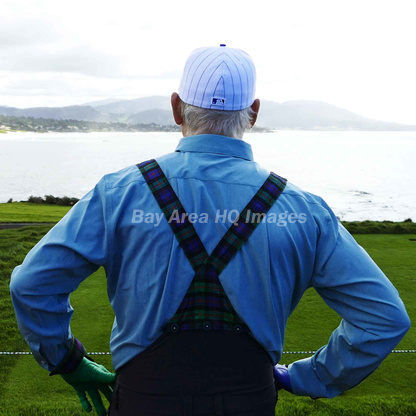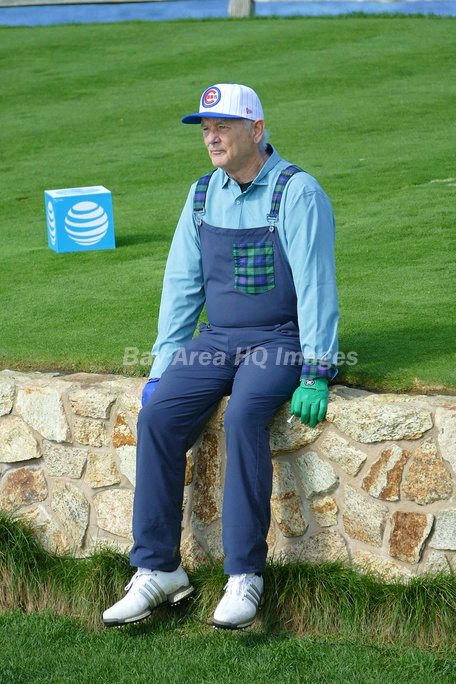 Justin Timberlake (and one photo of his wife, Jessica Biel) – AT&T Pebble Beach Pro-Am 2017
     




Aaron Rodgers – AT&T Pebble Beach Pro-Am 2017
Bill Belichick – AT&T Pebble Beach Pro-Am 2017
Kelly Rohrbach – AT&T Pebble Beach Pro-Am 2017
Andy Garcia, Matt Cain, Brian Thompson, Will Mackenzie, Justin Rose, & More PGA Tour Golfers – AT&T Pebble Beach Pro-Am 2017
About the AT&T Pebble Beach Pro-Am – History
Spanning over half a century, the Pebble Beach Pro-Am has undergone changes in latitude and changes in attitude. But the core of the tournament remains not only the exceptional golf by the world's best players, but also the lore surrounding each yearly winter extravaganza. It is the pull of this lore that helps to account for the tournament's continued popularity. Part sporting event and part Northern California social event, the Pro-Am has a devoted following. The appeal is such that eight tournament volunteers each has contributed more than 40 years of service. The concoction of roughly four parts professional golfers to one part show business and sports celebrities has gone down as smoothly as a well-chilled libation in the Tap Room. Entertainer Phil Harris, a pal of Bing Crosby's, is credited with setting a certain tone by accompanying his golf with a glass of his favorite whiskey. One year Harris announced that he was the pro from "Jack Daniels Country Club." The fun actually began at the very first tournament, in 1937 at Rancho Santa Fe, near Del Mar. It rained so hard for three days, some tournament contestants wound up shooting ducks on a pond near the 18th green. And when the ducks flew away, the players shot at Larry Crosby's hat. Sam Snead won that first tournament, but when he saw a $500 winner's check coming his way said, "If you don't mind, Mr. Crosby, I'd rather have cash." In 1948, the tournament's second year on the Monterey Peninsula, Lloyd Mangrum won and put in solid nightly sessions at two long-gone bistros, the Blue Ox and Biff's El Estero. In 1951 Harris sank a 90-foot putt at Pebble Beach's 17th green to win the Pro-Am with partner Dutch Harrison. "How about that, Bing. Ain't this a helluva blow to clean living?" Harris said. Ed "Porky" Oliver's name became part of the lore in 1953 when he took a 16 on the famous, over-the-water 16th at Cypress Point. A 50 mile-an-hour gale—just another chapter in the book on "Crosby Weather"—was blowing at the time.
In 1952 golfing dentist Cary Middlecoff, complained to Scottish-born Pebble Beach golf pro Peter Hay that windy conditions precluded the use of tees. Hay replied: "Show me in the rule book where it says you have to tee up the ball. Now get back out there and play." In 1969, ABC's Jim McKay told a nationwide television audience: "And now here's Jack Lemmon, about to hit that all-important eighth shot." When the rains hit in 1960, Pro-Am contestant Johnny (Tarzan) Weissmuller, once the world's greatest swimmer, declared: "I've never been so wet in my life." And in 1962 golf pro Jimmy Demaret got off one of the tournament's most famous lines. Peering out from his room at The Lodge at a blanket of snow on the ground, he said, "I knew I got loaded last night, but how did I wind up at Squaw Valley?" On through the '70s and '80s the tournament advanced forward. Plus-fours and pleats were replaced by comfy cottons during the '90s. As we entered the new millennium, so did golf apparel, introducing "techy textiles". Logowear is everywhere and big business with top golf brands exuding the classic to the contemporary.
For a time the game's changing nature included a swing to colored golf balls. Appropriately enough, Jerry Pate made a holein-one with one—his was orange—at the revered 16th hole at Cypress Point during the 1982 Pro-Am. Today, everyone is back to white balls. It was in 1915 that Samuel F. B. Morse, distant relative of the inventor of the telegraph, first envisioned a Pebble Beach Golf Links. Since its opening on February 22, 1919, Pebble Beach Golf Links has been recognized for its superb layout and incredible beauty.
Now 85 years later, it is a course lauded worldwide by champions and amateurs alike. The course was borne of the vision of one man and built from the expertise of another. S.F.B. Morse saw this magnificent piece of land as a rich preserve worthy of appreciation and recreation. He commissioned Jack Neville, a five-time California state amateur golf champion, to create a course unsurpassed in beauty, yet challenging to even the best golfer in the game. With the assistance of Douglas Grant on the bunkers, Neville created a lush series of holes linked by their incredible relationship to the dramatic land, sea and air that comprise the Monterey Peninsula. With its cliffside fairways, sea sloping greens and nine holes bordering the Pacific Ocean, Pebble Beach has captured the hearts of almost everyone who has crossed its path. Open to the public to this day, Pebble Beach Golf Links and The Lodge at Pebble Beach herald the future with the promise of another 85 years of unforgettable golf, breathtaking beauty and unsurpassed service.