AT&T Fandome: What's Inside & More Tech at Pebble Beach – The 2017 AT&T Pebble Beach Pro Am Not Only Features Great Golf and Celebrities, But it also Pushes the Boundaries of Tech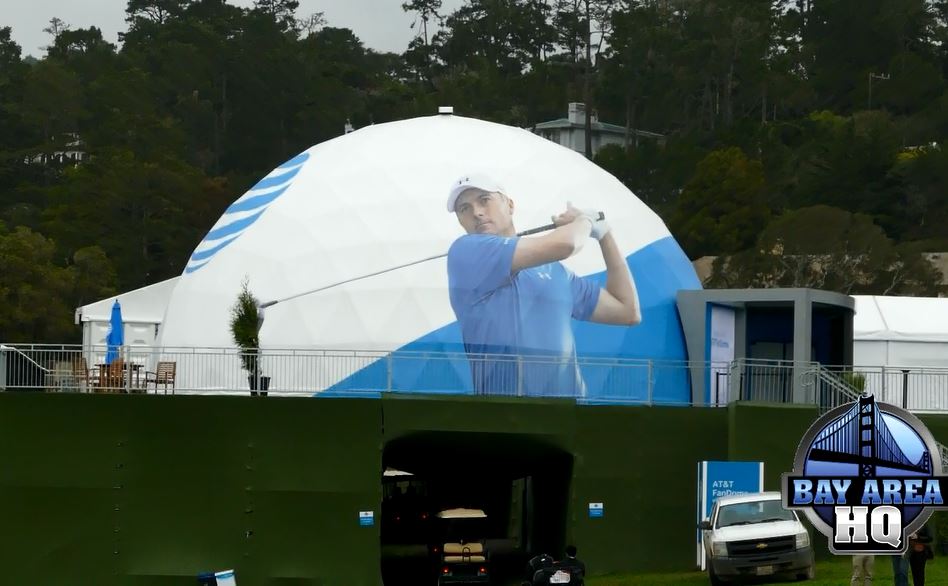 Bay Area HQ went on a special behind-the-scenes tour at the 2017 At&T Pebble Beach Pro Am that showcased the latest technology from AT&T and DIRECTV. While we got to check out the 4K broadcasting truck, and see the portable cell tower that will boost reception for thousands, we were most impressed by the special new fan experience – the AT&T FanDome, where all fans visiting the tournament can experience a new 360 video, Jordan Spieth: The Course of Life. Read further to see what makes the tournament tick from a technology standpoint and watch this first glimpse of the AT&T FanDome. Ticket to see the tournament are still available here.
The AT&T FanDome – What we saw
First look at a new 360 video (think planetarium-style) of AT&T Athlete Jordan Spieth's life and career – Jordan Spieth: The Course of Life
360 live stream broadcast from holes such as 1, 7, 17, and 18.

This is the first time an experience of this nature is available at a PGATOUR event

It Can Wait VR Simulator
GPS interactive touch screen exploring table to track and follow favorite golfers
DIRECTV 4K Lounge
Where fans can watch the 4K broadcast of holes 7, 17 and 18

Note: this will only be available during tournament play, Thurs-Sun on DIRECTV 4K Channel 106
4K Broadcast Truck – What we saw
We saw what goes into broadcasting an event in 4K

This is the first time the AT&T Pebble Beach Pro-Am will be broadcasted in 4K
We talked to Susan Heffernan, manager at DirectTV, who said the 4K broadcast would run at 62FPS, and requires everything in multiples of four. Four cameras, four times the space, four inputs, etc. Here's what she had to say about what viewers can expect from the 4K broadcast:
Ken Aagaard, executive vice president with CBS Sports said "We are trying to produce the highest quality video we can..we are still telling the story and still showing golf," Aagaard said, "just making it a little more sexy for viewers."
Network Enhancements – What We Saw
We saw Cells on Wheels (COWs) to learn how AT&T keeps the thousands of spectators connected during tournament week
"Cell On Wheels" is a mobile tower with that enhances cell coverage. For AT&T customers looking to share about the event on social media (#ATTProAM), the COW will have boost data speeds and coverage, plenty for the entire tournament grounds, according to Lawrence Velasquez, who helps with inner workings of the COW.