Terry O'Quinn Still Keeps Throwing Knife from LOST Bedside – Watch Our Hilarious Interview with the LOST Star & Michael Dormand, for Amazon's "The Patriot"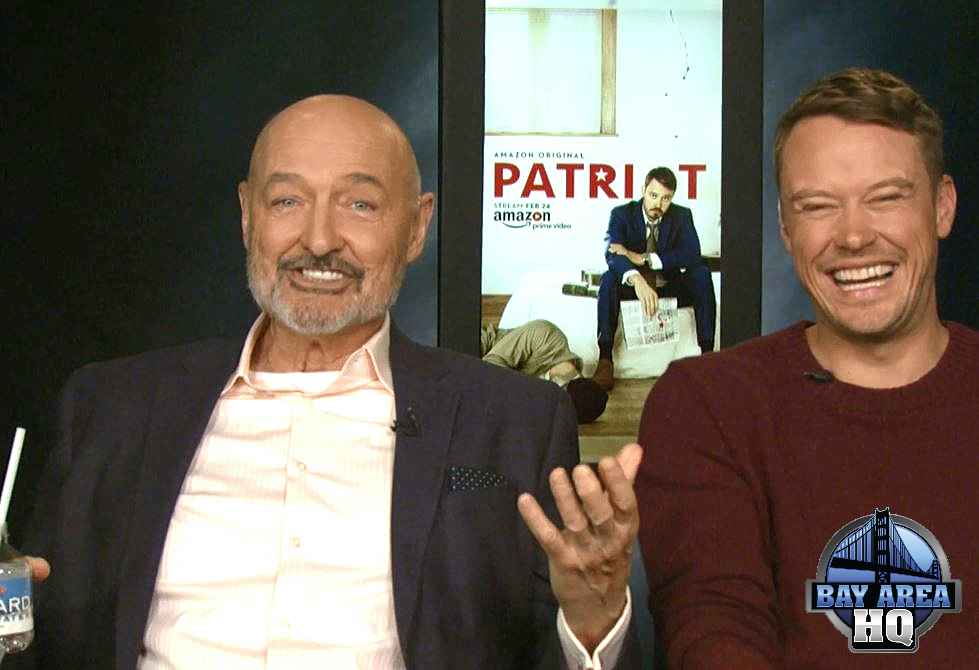 Watch the multi-talented Terry O'Quinn & Michael Dorman as they not only answer our questions about knife-throwing, The Patriot series on Amazon, and male hotel maids, but they also sing a song for us on the fly (and even bring yours truly into the tune). It's all part of the press tour for The Patriot (video above), which you can see right now on Amazon Prime.
Starring Michael Dorman (Wonderland), Emmy winner Terry O'Quinn (Lost), Kurtwood Smith (That 70's Show) and Michael Chernus (Manhattan Project), Patriot follows the complicated life of intelligence officer John Tavner (Dorman). His latest assignment is to prevent Iran from going nuclear, requiring him to forgo all safety nets and assume a perilous "non-official cover" – that of a mid-level employee at a Midwestern industrial piping firm. A bout with PTSD, the Federal government's incompetence and the intricacies of keeping a day job in the "front" industrial piping company cause a barrage of ever-escalating fiascos that jeopardize Tavner's mission. The series is executive produced by Steven Conrad (The Secret Life of Walter Mitty), who also writes and directs on the series, James Parriott (Grey's Anatomy), Glenn Ficarra (This Is Us), John Requa (Crazy Stupid Love, Focus), Charles Gogolak (Focus), and Gil Bellows (Temple Grandin). Customers can watch the pilot episode before the full season's remaining nine episodes air on February 24.
Patriot explores the lesser known, unglamorous aspects of life as an intelligence officer. While the future of the world is at stake, it's often the idiosyncrasies of those around John Tavner that force him to have to choose between bad alternatives. Those characters include Tom Tavner (Terry O'Quinn), John's State Department Director of Intelligence father; John's older brother Edward Tavner (Chernus), a young Texas congressman; John's wife Alice, played by Kathleen Munroe (Call Me Fitz); Agathe, played by Aliette Opheim (Sandor slash Ida), a brilliant young homicide detective from Luxembourg hot on John's trail; and Mr. Claret (Smith), John's stickler of a new "boss" at the piping firm where John is "employed."
Michael Dorman is an Australian actor and musician known for his work in film, television and theatre. His previous film credits include: Goldstone which was opened for the 2016 Sydney Film Festival, The Water Diviner directed by Russell Crowe; The Killer Elite; Sleeping Beauty;Needle, winning the Best Actor Award at the Melbourne Underground Film Festival; Storage; Daybreakers; Triangle; Prime Mover;  Acolytes; West; Suburban Mayhem;50 Ways of Saying Fabulous; and Spud Monkey.

Michael has also worked extensively on Australian television, starring for two seasons on the hit series Wonderland. He first came to fame on the popular series The Secret Life of Us, for which he won a 2003 Logie Award for Most Popular New Male Talent. His additional TV credits include regular or recurring roles on the series Serangoon Road, The Time of Our Lives and Wild Boys, and guest roles on such series as Reef Doctors, Sea Patrol and Rescue Special Ops. He was also seen in the television movies Blood Brothers, The Silence and Small Claims.
His stage work includes:  48 Shades of Brownfor La Boite Theatre Company and for QUT: The Art of Success, The Taming of the Shrew and Come Back to the 5 & Dime Jimmy Dean, Jimmy Dean.
Michael will next be seen in the new installment of the blockbuster Pirates of the Caribbean film franchise: Dead Men Tell No Tales, starring Johnny Depp and slated for release in 2017.
Terry O'Quinn has made an indelible impression in television,film and theatre. While honing his craft in such stage productions as Much Ado About Nothing, The Glass Menagerie and Foxfire, Terry O'Quinn made his feature film debut in Michael Cimino's Heaven's Gate. He first gained widespread attention by playing the complex and chilling title role in the cult favorite The Stepfather. Other film credits include Places in the Heart, Black Widow,Young Guns, The Rocketeer, and Primal Fear.

Terry O'Quinn also appeared in such award winning movies for television as An Early Frost and Roe vs. Wade, leading to recurring and series regular roles on many shows including Millennium, Harsh Realm, JAG, West Wing, and Alias. His work on Alias led creator J.J. Abrams to offer him the role of the enigmatic John Locke in the groundbreaking series Lost. O'Quinn's portrayal garnered him an Emmy nomination in 2005 and an Emmy Award for Best Supporting Actor in 2007.

Since starring in ABC's supernatural drama 666 Park Avenue, Terry O'Quinn has also starred in DirecTV's limited series Full Circle, Fox's Gang-Related and a recurring arc on the CBS hit Hawaii 5-0. Terry O'Quinn recently wrapped shooting the first season of the Amazon series Patriot, a quirky drama in which he plays a CIA head who sends his sons into danger.

When the show's creator learned about Terry O'Quinn's acoustic guitar and singing abilities,he wrote in scenes to feature those talents. He can currently be seen starring opposite Juliette Lewis and Michael Ealy in the ABC series Secrets and Lies. Terry O'Quinn was born and raised in Michigan.