Raquel Welch on Wonder Woman, Bolivia, Dating Advice – Watch 7th Heaven Star Barry Watson Teach the Iconic Sex Symbol How to "Dab," in DATE MY DAD Interview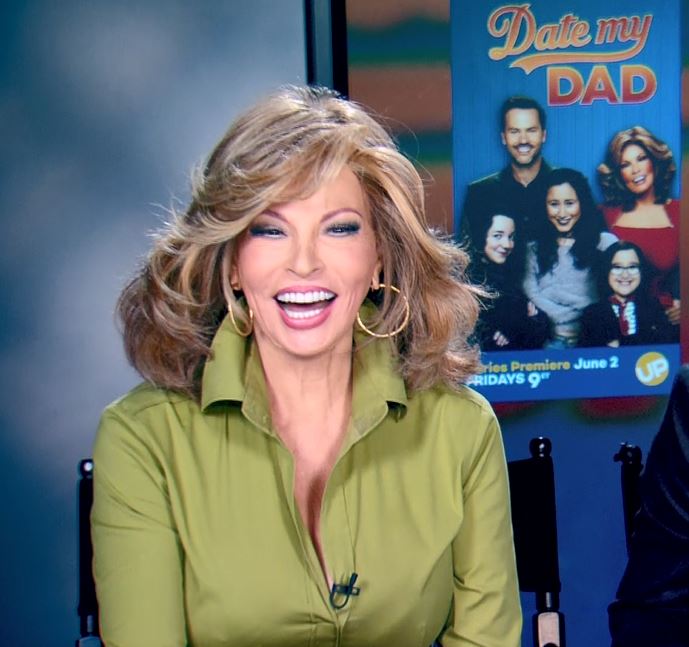 Raquel Welch and Barry Watson are hilarious in this no-holds-barred TV interview for Date My Dad, a new series premiering today on the Up Channel. Raquel Welch and Barry Watson talk Dating, Barry's famous father-in-law Robert Wagner, Wonder Woman, Raquel having Bolivian heritage, and their new show.  Watch the video above to see our all-new fun interview.
UP TV, the entertainment destination that showcases stories about modern American families and the relationships that define them, is set to premiere Date My Dad on Friday, June 2 at 9 p.m. ET. Barry Watson (Samantha Who?, 7th Heaven) stars as Ricky Cooper in the hour-long family dramedy. Raquel Welch (One Million Years B.C., Three Musketeers) will recur as his spunky mother-in-law, Rosa. Also starring in the series are Zenia Marshall (Summer of Dreams) as Mirabel, Lilah Fitzgerald (Girlfriends' Guide to Divorce) as Elisa, Audrey Smallman (Family for Christmas) as Gigi, Cindy Busby (A Puppy for Christmas, Heartland) as Stephanie, Lochlyn Munro (Riverdale, White Chicks) as Bill, Matty Finochio (Season's Greetings, Once Upon a Time in Wonderland) as Alan, Karen Holness (Make It Pop, Cashing In) as Jackie and Chris Gauthier (Once Upon a Time, Eureka) as Todd. Guest stars set to appear include Robert Wagner (NCIS, Hart to Hart), Willie Aames (Eight is Enough, Charles in Charge) and Natasha Gregson Wagner (Two Girls and a Guy).
Date My Dad, a 10-episode family dramedy, tells the story of a single dad raising three daughters. Ricky Cooper had the perfect life. A former professional baseball player, he was married to Isabella, the love of his life. Ricky's world comes crashing down when Isabella passes away leaving him to raise three daughters alone. Date My Dad picks up three years later while Ricky is raising the girls with the help of his live-in mother-in-law, Rosa.  On his 40th birthday, Ricky experiences a different type of crisis when Rosa unexpectedly announces that she is moving. He becomes panic-stricken knowing he will have to tackle everything from make-up to boys to driving…on his own. His daughters – Mirabel (15), Elisa (12) and Gigi (8) – have also been busy. They have taken matters into their own hands by making it their mission to get their dad back in the game…the dating game, that is. Ricky is in for a roller coaster ride as he is pushed into the dating world for the first time in twenty years while also being the best dad he can be to his girls.
Date My Dad is executive produced by 50° North's Sacha McLean, Jason McLean, David McLean and Charles Lyall, along with EveryWhere Studios' Dan Angel, Tom Mazza and David Calvert Jones. Date My Dad is created, written by and executive produced by Nina Colman.
Connect with Date My Dad
Twitter: @DateMyDadOnUP | #DateMyDad
Instagram: @DateMyDadOnUP
Facebook: Facebook.com/DateMyDadOnUP