Patriots Day San Francisco Movie Review – The Best Tribute Anyone Could Give to the Everyday Heroes of the Boston Marathon bombing. It's Real. It's Emotional. It's a Must-see for any American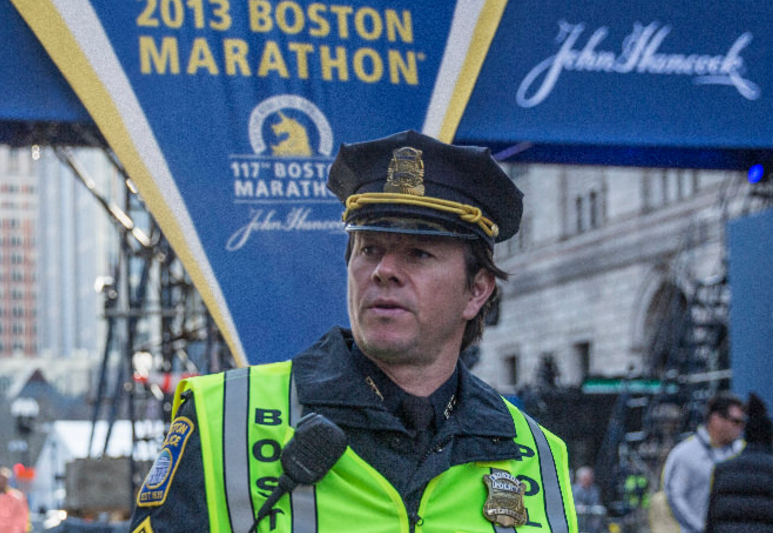 Let's get the bad stuff out of the way. You might have to turn away at some of the bloody graphic imagery . Mark Wahlberg, who plays Sgt. Tommy Saunders, isn't a real-life character. Instead, he's a mix of different Boston police officers. OK that's all the bad stuff.
"Patriots Day" will take you on a non-stop emotional roller coaster ride through all the people and events surrounding the Boston Marathon bombing. You'll cry tears of sadness. And tears of joy. You'll laugh. You'll cheer. You'll get angry. And, at the end of the movie, you will want to move to Boston. But more importantly, you'll be inspired and have a renewed faith in the power of community, and the power of fighting for what's right. Peter Berg delivers a movie that every person applying for citizenship to this country needs to see.
Patriots Day San Francisco – From acclaimed director Peter Berg ("Deepwater Horizon," "Lone Survivor") and Academy Award® nominee Mark Wahlberg ("The Departed," "Lone Survivor"), CBS Films and Lionsgate present "Patriots Day." Based on true events, "Patriots Day" is a powerful story of a community's extraordinary courage in the face of adversity. An account of the events surrounding the Boston Marathon bombing, the tension-packed dramatic thriller chronicles in detail one of the most sophisticated and well-coordinated manhunts in law enforcement history. Berg brilliantly weaves in real-life security footage with the movie, and it is so seamless, it will send chills down your spine.
Patriots Day San Francisco – Joining Wahlberg is an all-star ensemble of actors including Kevin Bacon ("Black Mass," "Mystic River") as FBI Special Agent Richard DesLauriers, John Goodman ("10 Cloverfield Lane," "Inside Llewyn Davis") as Boston Police Commissioner Ed Davis, Academy Award® winner J.K. Simmons ("Whiplash," "Juno") as Watertown Police Sergeant Jeffrey Pugliese and Michelle Monaghan ("True Detective," "Gone Baby Gone") as Wahlberg's wife Carol Saunders. All performances were excellent, and there's a long list of actors who had smaller parts that were all amazing.
Patriots Day San Francisco – While you may know the story, this will somehow keep you on the edge of your seat. But at the end of the day, this film transcends. It's not so much a movie, but a reminder that we can overcome. A solid 9 out of 10 in our book.
The 2013 Boston Marathon bombing shattered lives and tested the fabric of the American spirit. But in its wake, an entire city came together to bring the perpetrators to justice before they could inflict further damage. Rather than give themselves over to panic and fear, the citizens of Boston banded together, choosing solidarity over divisiveness in pursuit of a common enemy.
The story of "Patriots Day" is drawn from real-life accounts including those of the first responders, the law enforcement investigative team, and government officials that worked tirelessly to track down the bombers in record time, and the actual survivors.
Patriots Day San Francisco – A testament to the city of Boston and its inhabitants, the timely message is that, through dedication and individual acts of bravery, the city – and the country – were able to emerge from the crucible stronger and more united than before, and show the world that love always triumphs over evil.