Live By Night San Francisco Review – Ben Affleck's 1920's Gangster Film Has Nearly All the Right Ingredients, But This Time He May Have Forgotten to Take the Cake out the Oven in Time.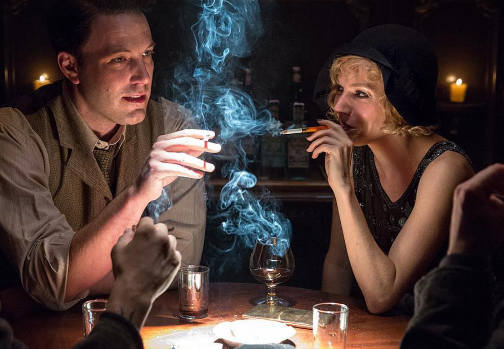 "Gone Baby Gone," "The Town," and "Argo." Those are some impressive films directed by Ben Affleck. That's why we had high expectations that "Live By Night" would give us a new kind of gangster drama that would impact us like"Road to Perdition," "The Departed," "Gangs of New York," or a Boston version of "The Bronx Tale" or "Good Fellas." Instead, we see sparks lit by great performances, amazing cinematography, and beautiful sets that fizzle out in the blink of an eye. It's slow enough to induce sleep at times, and just doesn't gain momentum until it's too late. There's no classic here. Just thoughts of what could have been, if a tighter, more cohesive approach was employed.
Live By Night San Francisco – The movie is set in the 1920's Prohibition Era. Affleck plays Joe Coughlin, the kind of gangster more interested in net profits than killing for sport. Just when he thinks he has momentum, however, something or someone comes along and ruins it. You learn to root for this guy, and his trusty sidekick, Dion Bartolo (played perfectly by Chris Messina). Joe Coughlin is our Dorothy, and the good and bad characters he encounters along the way are mostly interesting, highlighted by incredible performances by Chris Cooper, Zoe Saldana, Elle Fanning, Brendan Gleeson (his dad) and Sienna Miller. On the other hand, we weren't impressed by the portrayals of the villainous mob bosses by Remo Girone or Robert Glenister. They came off more like cartoonish Batman villains, and didn't exactly incite the greatest fear in us. And that's a sign of the overall issue with this film. There's a continuity and consistency problem, a number of jigsaw clusters, but no grand image. 
Live By Night San Francisco  – Oscar winner Ben Affleck ("Argo") directed and stars in the dramatic crime thriller "Live by Night." Affleck also wrote the screenplay based on the award-winning best-seller by Dennis Lehane, marking the second collaboration for the fellow Boston natives, following the acclaimed drama "Gone Baby Gone."
"Live by Night" is set in the roaring `20s when Prohibition hasn't stopped the flow of booze in an underground network of gangster-run speakeasies. The opportunity to gain power and money is there for any man with enough ambition and nerve and Joe Coughlin, the son of the Boston Police Superintendent, long ago turned his back on his strict upbringing for the spoils of being an outlaw. But even among criminals there are rules and Joe breaks a big one: crossing a powerful mob boss by stealing his money and his moll. The fiery affair ends in tragedy, setting Joe on a path of revenge, ambition, romance and betrayal that propels him out of Boston and up the ladder of Tampa's steamy rum-running underworld.
"Live by Night" is produced by Leonardo DiCaprio ("The Wolf of Wall Street," "Out of the Furnace") and Jennifer Davisson ("The Ides of March," "Orphan"), under the Appian Way banner; and Ben Affleck and Jennifer Todd ("Alice in Wonderland," "Across the Universe") for Pearl Street Films. Chris Brigham, Chay Carter and Dennis Lehane are serving as executive producers.
Live By Night San Francisco  – Starring with Affleck are Elle Fanning ("Maleficent"), Chris Messina ("Argo," "The Mindy Project"), Sienna Miller ("American Sniper," "Foxcatcher"), Zoe Saldana ("Guardians of the Galaxy," "Avatar"), and Oscar winner Chris Cooper ("Adaptation," "The Town"). The cast also includes Max Casella, ("Inside Llewyn Davis," "Blue Jasmine"), J.D. Evermore ("Dallas Buyers Club"), Remo Girone ("Heaven"), Robert Glenister ("Persuasion"), Anthony Michael Hall ("Foxcatcher"), Matthew Maher ("Gone Baby Gone"), Miguel J. Pimentel, Chris Sullivan ("The Drop") and Titus Welliver ("Argo," "The Town").
Behind the scenes, Affleck collaborated with three-time Oscar-winning director of photography Robert Richardson ("JFK," "The Aviator," "Hugo") Oscar-nominated production designer Jess Gonchor ("True Grit," "Foxcatcher"), Oscar-winning editor William Goldenberg ("Argo"), and Oscar-nominated costume designer Jacqueline West ("The Curious Case of Benjamin Button," "Argo"). The score is composed by Harry Gregson-Williams ("The Martian," "Gone Baby Gone").
The movie comes out  January 13, 2017, "Live By Night" is a presentation of Warner Bros. Pictures, to be distributed worldwide by Warner Bros. Pictures, a Warner Bros. Entertainment Company.