ESPN Super Bowl Party Houston 2017, Fergie, DJ Khaled – ESPN The Party will be held on Friday, Feb. 3 at a 65,000 sq. ft. Warehouse Downtown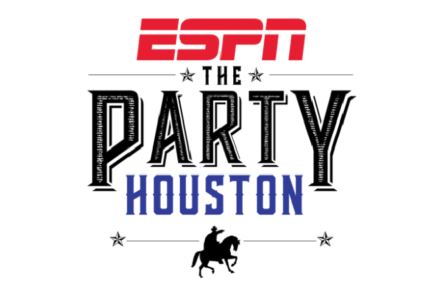 ESPN Super Bowl Party: ESPN will host its 13th annual ESPN The Party event Friday, Feb. 3 in Houston. For complete event coverage, visit Super Sunday HQ, for all our annual Super Bowl coverage.
In conjunction with the release of ESPN The Magazine's Super Bowl issue, the event will feature a special live performance by multi-platinum selling, eight-time Grammy award-winning solo artist and vocalist Fergie, along with music by award-winning recording artist, producer and business mogul DJ Khaled. Both Fergie and DJ Khaled have entertained during Super Bowl weekend multiple times.
ESPN Super Bowl Party: ESPN will take over a 65,000 square foot warehouse located just outside of the Arts District in downtown Houston in a spaced designed to mirror a construction site that reflects the new development of the city. Scaffolding sections covered in raw plywood will provide a multi-level feel for guests and the stage, also made from scaffolding, will feature more than 1,000 LED tubes. Hefty stationary equipment such as genie lifts and fork lifts will also be part of the décor and adorned in LED tubes and moving lights. Additional elements include interactive activations with a live muralist, photo booths, ESPN The Magazine imagery through video, and custom paneling. The design also features a 400-foot long projection of sports imagery and original content at the event entrance.
Fergie passed along a message about the event for the people of Houston, commenting: "Waaazzzuup Houston!!!!! Im comin for u to kick off Super Bowl weekend Friday night at ESPN The Party with my boy DJ Khaled!!! Itz gon be lit!!!!!!!"
ESPN Super Bowl Party: The invite-only event will also feature creative and interactive activations from sponsors Alfa Romeo, Dunkin' Donuts, and MillerCoors:
Automotive sponsor Alfa Romeo will have three all-new 2017 Alfa Romeo Giulia sports sedans on display throughout the event: one located in front of the venue as guests arrive and the second situated by the end of the red carpet. Both will feature branded back drops. The main activation will take place inside the venue, where the third Alfa Romeo Giulia will be raised and surrounded by a scaffolding build matching the event's décor, displaying both ESPN and Alfa Romeo logos. The elevated Alfa Romeo Giulia will also be surrounded by an A-1 Array multi-camera system, which captures a single moment and creates three-dimensional animations, which will provide unique photo opportunities guests.
Dunkin' Donuts has decided to have a custom bar "espresso" bar serving bagged munchkins, espresso and coffee to guests as they leave the event. The bar Dunkin will be branded with a black finish and conveniently located by the coat check and exits. Guests can unwind from a night of fun with a delicious hot or cold beverage and donut sample before heading out for the night.
MillerCoors will be providing select beverages from its vast beer portfolio including Miller Lite, Blue Moon and Redd's, and import brands such as Peroni, throughout the event space. Also featured is a Miller Lite branded beer-only satellite bar featuring an enlarged iconic Miller Lite can at the center of the bar back and flanked by shelves filled with the iconic can.
Guests can follow the action via social channels using #ESPNTHEPARTY to chat with fans as well as athletes, celebrities, brands, and VIPs in the house.
About Fergie
Fergie, an eight-time Grammy® Award-winning multi-platinum solo artist and vocalist for The Black Eyed Peas, is putting the finishing touches on the follow-up album to her 2006 solo release The Dutchess. Her debut single, "M.I.L.F. $" from her forthcoming sophomore album Double Dutchess, debuted at Number 2 on the iTunes chart and has racked up over 146 million YouTube / VEVO views since its release.  Fergie's latest, "Life Goes On" was called "essential" by Entertainment Weekly and Noisey raved, "a perfect banger: heartfelt, emotional…"   Fergie's solo album debuted at No. 2 on the Billboard Top 200 and spent 94 weeks on the chart. The Dutchess went on to sell 7.2 million copies and 28.5 million tracks worldwide and spawned three No. 1 hits on the Hot 100: "London Bridge," "Glamorous," and "Big Girls Don't Cry," as well as the Top 5 singles "Fergalicious" and "Clumsy." In 2014 she released the multi-platinum single "L.A.LOVE (la la)".  Fergie also released four multi-platinum albums with The Black Eyed Peas, with whom she has sold more than 32 million albums and 60 million singles worldwide.
About DJ Khaled
A major force in the music industry, mogul, executive, mega producer, 2017 Grammy nominated recording artist, and NY Times Best Selling Author DJ Khaled, known as the "Anthem King" and commonly referred to as the "Quincy Jones of Hip Hop & R&B", has made dozens of chart topping hit records featuring JAY Z, Kanye West, Drake, Chris Brown, Ludacris, T.I., French Montana, Future, Big Sean, Rick Ross, John Legend, Nicki Minaj and Lil Wayne, among others. In the past twelve months he has captivated millions of fans globally by the use of social media and has been coined the "King of Snapchat."  In 2006, he launched innovative label deals and started We The Best Music Group. His 2010 hit song "All I Do is Win" went 3x platinum, sold over 3 million singles, and crossed over all music genres to become a mainstream hit, solidifying him as a force to be reckoned with. That same year he also released "I'm On One" feat. Drake, Rick Ross and Lil Wayne. Khaled went on to release the hit single "No New Friends" featuring Drake, Lil Wayne and Rick Ross, which reached gold status and has sold over 500,000 singles worldwide. Khaled has sold over 15 million singles in his career. DJ Khaled is also committed to pro social initiatives and is the first social media ambassador of Bono's Project Red and is the national spokesperson for Get Schooled.