Houston Super Bowl Parties 2017 : The Top 10 – Here are  Biggest Star-Studded Parties in Texas: Maxim, ESPN, DirecTV, Rolling Stone, Leather & Laces & More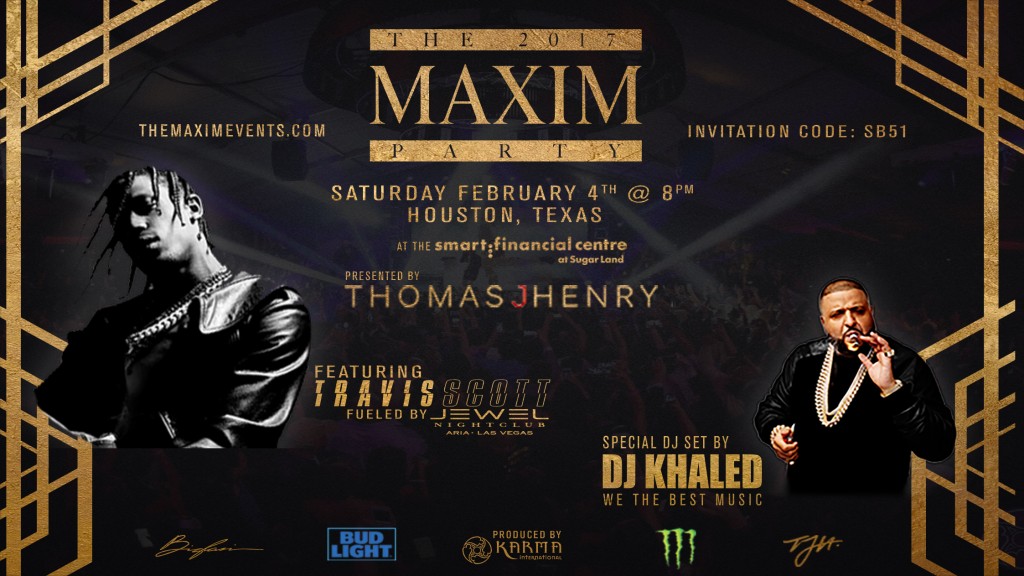 Houston Super Bowl Parties leading up to the Big Game will be as amazing as ever. Make sure you visit our annual Super Bowl Event site, Super Sunday HQ, to see all the best Super Bowl bashes this year. Via Super Sunday HQ we've covered more Super Bowl events than any other media outlet in the last 10 years, and here's our number one tip: splurge on at least one big event at the Super Bowl. It's very likely to make your trip truly memorable. Want more parties? Check out Super Sunday HQ.
Houston Super Bowl Parties: The Big Game Big Give – (Sat)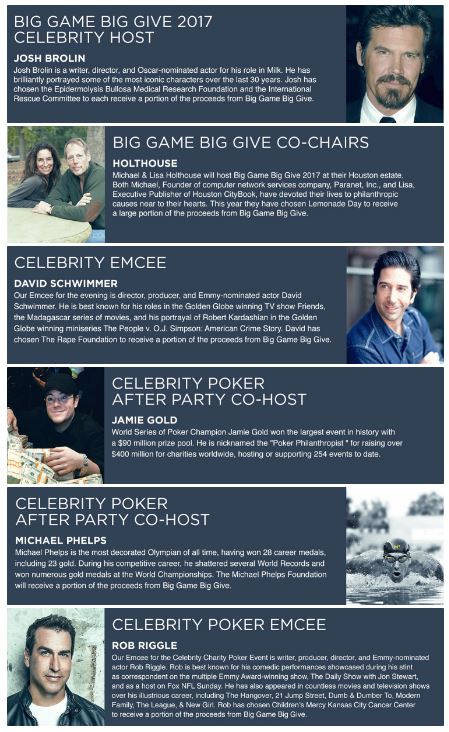 The Giving Back Fund recently announced its 8th Annual Big Game Big Give charity event on Super Bowl Saturday Night, February 4, 2017. The event will be held at the Houston estate of Michael & Lisa Holthouse, with appearances by Michael Phelps, Josh Brolin, David Schwimer, Rob Riggle, and many other high-profile individuals. At $5,000 per person, this ultra-exclusive event is a must-attend for high society individuals, Fortune 500 executives, and any "high rollers" at the Super Bowl. This year, a celebrity poker after party has been added, and will make this year's Big Game Big Give one of the most memorable experiences for many guests.  After setting Super Bowl fundraising records in 2015 and 2016, organizers are bringing this award-winning event to Houston to set a new record in 2017.
Big Game Big Give 2017 Houston Super Bowl Party : Charitable proceeds benefit The Giving Back Fund, the Epidermolysis Bullosa Medical Research Foundation, the International Research Foundation, the International Rescue Committee and Lemonade Day. This  event brings together philanthropists, celebrities, sports legends, and world leaders and features A-list entertainment, live and silent auctions, delicious food by celebrity chefs, open bar, and lounges.
Houston Super Bowl Parties: The Maxim Party 2017 Houston Super Bowl Party (Sat)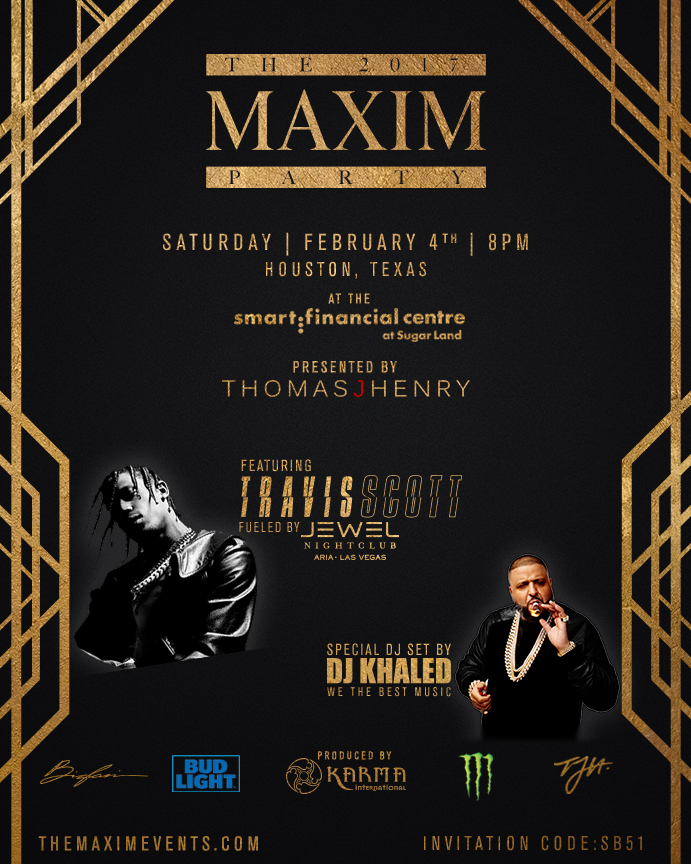 Karma International and presenting partner Thomas J Henry are proud to announce The Maxim Party 2017 Talent Line-up with headlining performance by Travis Scott and special set by DJ Khaled. Travis Scott, a Houston born, award winning, Grammy nominated hip hop artist with his latest album topping on the Billboard 200 and currently having 2 songs on the Hot 100 Chart. DJ Khaled is a major force in the music industry, mogul, mega producer, 2017 Grammy nominated recording artist, and known as the "Anthem King". These power talent performances along with our great DJ's, strolling performers, aerialist, fashion installations, and the Monster Energy FMX Motocross show will raise the bar and ensure, once again, the title of "THE #1 Party" during this milestone weekend of sports and over-the-top events in Houston, Texas on February 4, 2017 during Super Bowl weekend.
Art, fashion, music, and sports collide for the ultimate immersive and exciting party experience with multiple interactive areas, live artistic vignettes, celebrity music performances, theatrical lighting, concert level sound, and several unique activations.  Expect A-List Celebrities, VIPs, tastemakers and athletes. Tickets are $750 and up for a limited time.
Houston Super Bowl Parties: Leather & Laces Houston Super Bowl Parties  2017 (Fri & Sat)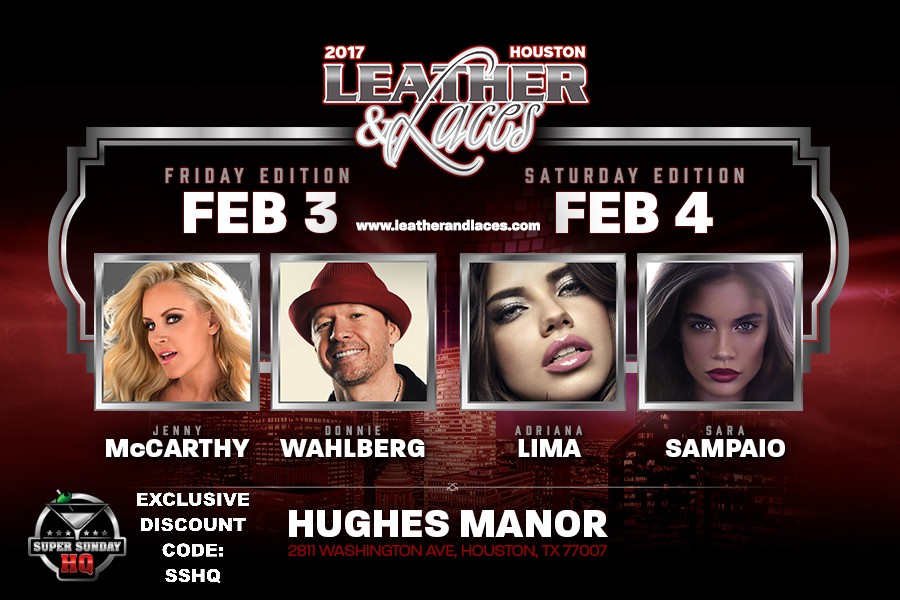 The Leather & Laces Party is in its 14th consecutive year, and for a good reason. It is a total blast for everyone: guys, couples, and groups of women. On top of the open bar, the amazing DJ, and great central location, you will never know which celebrities will come through this event. In New York, we saw Steven Tyler, Paris Hilton, Justin Bieber. And in many other cities, we saw more celebs. For a discount, use code SSHQ, when buying tickets here. 

But don't go for the starpower. Go because it is an actual Super Bowl Party, not a concert that you can see anytime in Vegas. It's not 5,000 people. Its a smaller event. It's sexy, it's exciting, and you look around and people here are in full celebration mode. Of course, the crowd will be greeted by the celebrity hosts, and there will be great looking people in this event, so it is eye candy galore here. We will have to say that the $750 VIP or Table Service is pretty much the only way to go. Though the price is double, the access is like times 10, in our opinion.
Houston Super Bowl Parties: Rolling Stone Live Super Bowl Party 2017  (Sat)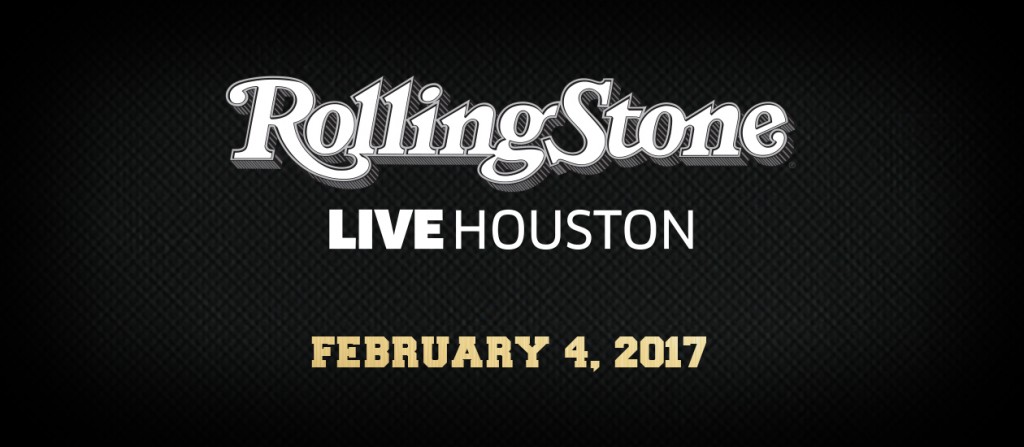 On Saturday, February 4, Rolling Stone, who is celebrating its 50th anniversary this year, will host one of the hottest, most exclusive events during the biggest weekend in sports – Rolling Stone Live: Houston, with special performances by Grammy-nominated producer, DJ, Mad Decent label head and member of both Major Lazer and Jack Ü – Diplo; one of the greatest hip-hop acts of all time, Nas; and, DJ sets by the world-renowned DJ Cassidy. For the third year, Rolling Stone is partnering with Talent Resources Sports, a full-service sports marketing and experiential events agency, to produce its highly anticipated event. This year's event is presented by Mercedes-Benz. You can get your tickets here starting at $750. We went to this event last year and it was one of the best parties out there because the crowd was hip, the drink lines were short, and the music kept everyone going.
Rolling Stone Live: Houston, will be held at the Museum of Fine Arts (MFAH), one of the most unique venues in Houston. The museum is known for its exquisite design, as one of the 10 largest art museums in the United States. Rolling Stone will take over the museum for their dynamic event, with some of the top names in entertainment and sports expected to attend.
"I have been an avid Rolling Stone reader for as long I can remember, and I'm excited to head to Houston to headline Rolling Stone Live and kick off their 50th Anniversary year-long celebration with this party," said Diplo.
Houston Super Bowl Parties: Club Nomadic Houston Super Bowl Parties 2017 (Thurs, Fri & Sat)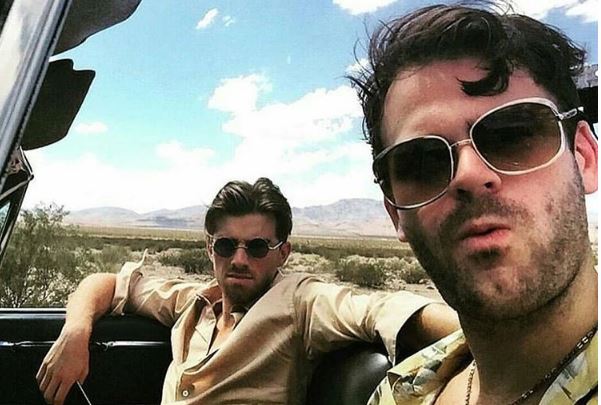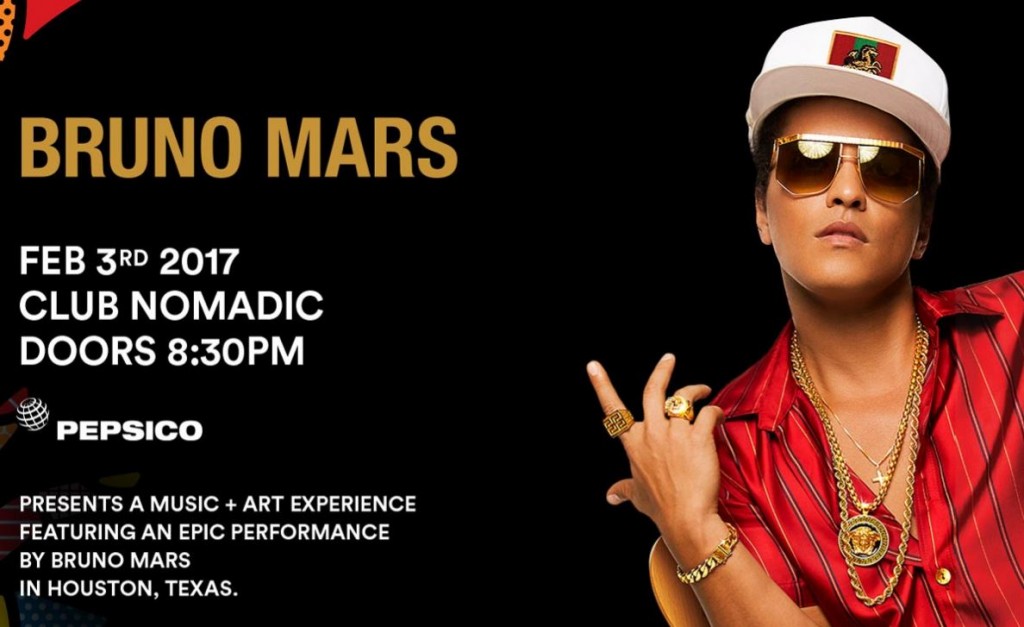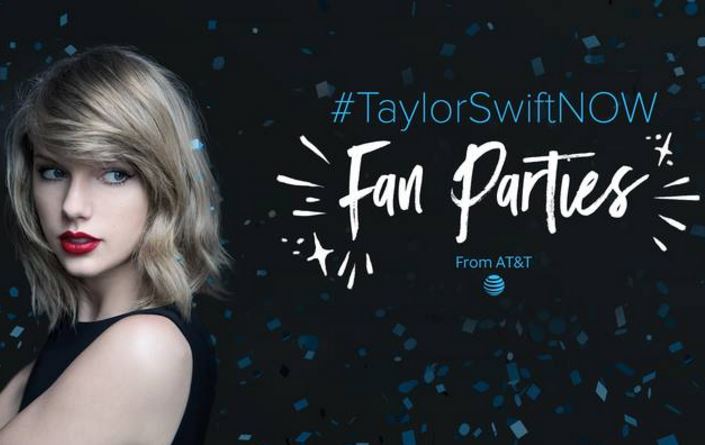 Club Nomadic, a 62,500 square-foot, multi-level nightclub, will serve as the epicenter of entertainment leading up to professional football's Championship Game. The one-of-a-kind entertainment complex is located in the Sawyers Yard art district off Edwards Street and designed with tiered mezzanines, which will also provide a private and unique white-glove experience for celebrities and VIP ticket holders. Thursday night: Chainsmokers & Sam Hunt – EA Sports Bowl. Friday night: Bruno Mars. Saturday night: Taylor Swift – Super Saturday Night. Taylor Swift tickets have been give out to contest winners, and some more might be available. As for Bruno Mars or the EA Sports Bowl, tickets can be found here by typing in the key words for the events.
Houston Super Bowl Parties: ESPN Super Bowl Party 2017 (Fri)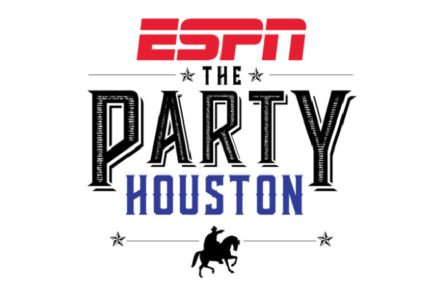 ESPN Super Bowl Party: ESPN will host its 13th annual ESPN The Party event Friday, Feb. 3 in Houston. In conjunction with the release of ESPN The Magazine's Super Bowl issue, the event will feature a special live performance by multi-platinum selling, eight-time Grammy award-winning solo artist and vocalist Fergie, along with music by award-winning recording artist, producer and business mogul DJ Khaled. Both Fergie and DJ Khaled have entertained during Super Bowl weekend multiple times.
ESPN Super Bowl Party: ESPN will take over a 65,000 square foot warehouse located just outside of the Arts District in downtown Houston in a spaced designed to mirror a construction site that reflects the new development of the city. Scaffolding sections covered in raw plywood will provide a multi-level feel for guests and the stage, also made from scaffolding, will feature more than 1,000 LED tubes. Hefty stationary equipment such as genie lifts and fork lifts will also be part of the décor and adorned in LED tubes and moving lights. Additional elements include interactive activations with a live muralist, photo booths, ESPN The Magazine imagery through video, and custom paneling. The design also features a 400-foot long projection of sports imagery and original content at the event entrance. This party is invite-only.
Houston Super Bowl Parties: Taste of The NFL Super Bowl Party 2017 (Sat)

The Taste of The NFL, Saturday Night's Party with a Purpose, recently announced Grammy Award winning sibling trio The Band Perry will be performing, along with appearances by celeb chef Andrew Zimmern, Fox Sports Broadcaster Daryl Johnston, Miss America 2017 Savvy Shields and more. The Taste of the NFL is a strolling food and wine event held on the eve of Super Bowl in the host city. More than 32 restaurant stations, one from each NFL city, provide fabulous food and wine pairings for guests to sample. There is also an NFL player (either current or alumni) seated at each food station. Guests can enjoy getting photos with and autographs from our celebrity chefs and players. (Merchandise such as footballs, helmets and aprons are available for sale at the event.) They also have the opportunity to bid on hundreds of one-of-a-kind sports and entertainment items, gorgeous jewelry and fabulous getaways in our silent auction. The evening concludes with entertainment from a nationally-acclaimed band or performer. Past performers include Sarah Evans, Martina McBride, Bare Naked Ladies and many others. Tickets start at $700.