Bryan Cranston Streaked at a Jack in a Box Drive Thru – The Exec. Producer of Amazon's New Series "Sneaky Pete," Shares  story with co-star Giovanni Ribisi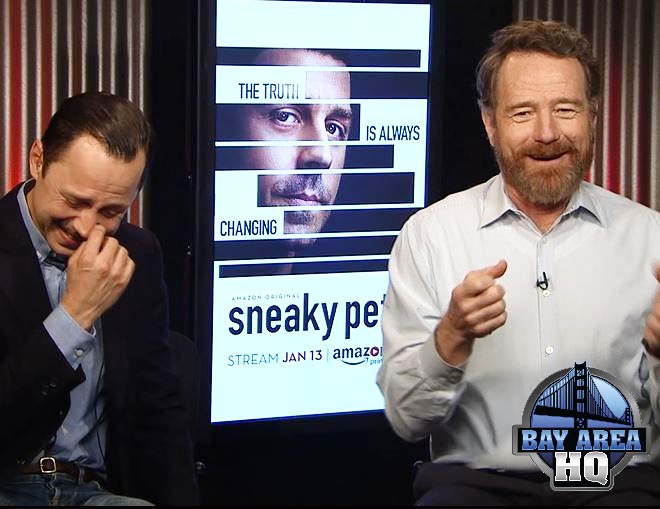 Bryan Cranston and Giovanni Ribisi talk to Bay Area HQ's Anna Cadena and have a blast in this unique, original, and fun interview. Watch Giovanni talk about his Bay Area connection. Hear Bryan Cranston explain his 1982 "Crisis Counselor" role to his co-star. See what films the two have in common. They talk football, "Breaking Bad," and, of course "Sneaky Pete!"  Be sure to watch the video above and head over to Amazon Video to watch Sneaky Pete over the weekend.
Executive produced by Bryan Cranston and Graham Yost, Sneaky Pete revolves around a con man, Marius (Giovanni Ribisi), who gets out of prison only to find himself hunted by the vicious gangster he once robbed. With nowhere else to turn, he takes cover from his past by assuming the identity of his cellmate, Pete, "reuniting" with Pete's estranged family — who have no reason to suspect he's not their long-lost loved one. When the gangster takes his brother hostage, Marius must search desperately for a way to free him while at the same time scrambling to maintain his new identity and get the price off his own head. Meanwhile, his new "relatives" are a colorful group that may drag Marius into a world every bit as dangerous as the one he's trying to escape — and, just maybe, give him a taste of the loving family he's never had.
Premiere: January 13, 2017 on Prime Video
Number of episodes: 10
Starring: Giovanni Ribisi as Marius/Pete, Marin Ireland as Julia Bowman, Shane McRae as Taylor Bowman, Libe Barer as Carly Bowman, Michael Drayer as Eddie Josipovic, Peter Gerety as Otto Bernhardt and Margo Martindale as Audrey Bernhardt
Guest Stars (alphabetical order by first name):
Alison Wright as Marjorie
Andrew Schulz as Nathaniel
Armando Riesco as Officer Inaba
Ben Vereen as Porter
Brad William Henke as Brendon
C.S. Lee as Joseph Lee
Chaske Spencer as Chayton Docker
Debra Monk as Connie Persikof
Demosthenes Chrysan as Gregor
Desmond Harrington as Joe
Domenick Lombardozzi as Abraham Persikof
Ethan Embry as Pete Murphy
Ian Quinlan as Hector
Jacob Pitts as Lance Lord
Jasmine Carmichael as Gina
Jay O. Sanders as Sam
Jeff De Serrano as Ayawamat
Joseph Lyle Taylor as Frank
Justine Cotsonas as Shannon
Karolina Wydra as Karolina
Kevin Chapman as Bo Lockley
Lou Martini Jr. as Tony
Malcolm Jamal Warner as James Bagwell
Max Darwin as Tate
Marjorie Johnson as Ida
Michael O'Keefe as Detective Winslow
Mike Houston as Dennis
Pej Vahdat as Kumar Mukherjee
Rene Ifrah as Wali
Reynaldo Piniella as Avon
Rory Culkin as Gavin
Slate Holmgren as Bixby
Terry Serpico as Hopper
Tobias Segal as Sean
Tonye Patano as Libby Metzger
Victor Williams as Richard
Virginia Kull as Katie
Wayne Duvall as Charles McGregor
Series Created By: David Shore & Bryan Cranston
Executive Producers: Graham Yost, Bryan Cranston, James Degus, Michael Dinner, Fred Golan, Seth
Gordon, David Shore (pilot), Erin Gunn (pilot)
Co-Executive Producers: Benjamin Cavell, Mark A. Baker (pilot)
Producers: Mary Rohlich (pilot), Sal Calleros, Margo Myers Massey
Co-Producer: Jennifer Kennedy
Studio: Sony Pictures Television
Story Editor: Ian MacDonald
Directed By: Michael Dinner, Michael Pressman, Craig Zisk, Sarah Pia Anderson, Adam Arkin,
Laura Innes, Bryan Cranston, Rosemary Rodriguez, Seth Gordon (pilot)
Written By: David Shore & Bryan Cranston (pilot), Benjamin Cavell, Sal Calleros, Graham Yost, Fred Golan, Jennifer Kennedy, Ian MacDonald
Casting By: Sharon Bialy & Sherry Thomas & Russell Scott (pilot), Bonnie Finnegan & Steven Jacobs (pilot), Julie Tucker, Ross Meyerson
Production Designer: Lester Cohen, John Kasarda
Directors of Photography: Rene Ohashi, David Hennings
Costume Designer: Suzanne McCabe
Editing By: Nina Kawasaki, Peter Teschner, John Duffy
Amazon Studios Executives: Joe Lewis, Brian Harvey, Carina Walker
CAST & CREATORS BIOS
GIOVANNI RIBISI
As Marius/Pete
Giovanni Ribisi has established himself as a popular screen presence capable of playing a wide variety of roles.
He can most recently be seen in Annapurna's feature The Bad Batch, opposite Jim Carrey, Keanu Reeves, Suki Waterhouse, and Jason Mamoa.  The film premiered this year at the Venice International Film festival, where it competed for the Golden Lion prize and was also screened at the Toronto International Film Festival.
In 2015, he starred in several films, such as Universal Pictures' Ted 2, the sequel to Seth McFarland's smash hit, Ted, which grossed over 500 Million worldwide; Meadowland starring opposite Elizabeth Moss, Luke Wilson, Olivia Wilde, and Juno Temple; and Results opposite Laura Dern, Guy Pearce, and Cobie Smulders.
In 2014 he re-teamed with MacFarland for the comedy A Million Ways to Die in the West. He was also seen in the critically acclaimed Paramount Pictures' Selma, with Oprah Winfrey, Tom Wilkinson, and Anthony Anderson, which was nominated for Best Motion Picture and Original song at the Academy Awards.
Other films include Universal Pictures' Contraband, and GK Films' The Rum Diary, based on Hunter S. Thompson's novel.  Ribisi was also seen as part of the ensemble feature Gangster Squad, starring opposite Sean Penn, Josh Brolin and Ryan Gosling. In 2009 Ribisi was seen in the James Cameron feature Avatar, winner of three Academy Awards® and two Golden Globes, and has gone on to be the highest-grossing film of all time.
Among his best-known films are Michael Mann's Public Enemies; Steven Spielberg's Saving Private Ryan; Sofia Coppola's The Virgin Suicides and Lost in Translation; Anthony Minghella's Cold Mountain; and David Lynch's Lost Highway.  Ribisi's other credits include The Dead Girl; Perfect Stranger; Flight of the Phoenix; Boiler Room; Gone in Sixty Seconds; The Other Sister; Sky Captain and the World of Tomorrow; SubUrbia; Heaven; First Love, Last Rites; That Thing You Do!; The Mod Squad; Masked and Anonymous; and The Big White.  Ribisi received an Independent Spirit Award nomination for his performance in Sam Raimi's The Gift.
In addition to his numerous film credits, Ribisi also has an impressive list of television guest-starring roles on his resume.  In 2007, he gained an Emmy nomination for Outstanding Guest Actor in a Comedy Series for My Name Is Earl.
Ribisi also made guest appearances on The X-Files and Friends.
Ribisi and his twin sister, Marissa, were born and raised in Los Angeles, where he still resides.  Beginning his acting career at the age of nine, he studied theater under the prestigious acting coach Milton Katselas.
MARIN IRELAND
As Julia Bowman
Marin Ireland is a highly acclaimed actress of stage and screen. She was recently nominated for a 2016 Independent Spirit Award for her role opposite Corey Stoll in the independent feature Glass Chin. This year she will be seen in Aardvark opposite Zachary Quinto, Jenny Slate and Jon Hamm, as well as Some Freaks with Thomas Mann and In The Radiant City which will have its debut at the Toronto International Film Festival. Other recent film credits include The Family Fang opposite Nicole Kidman and Jason Bateman, The Phenom, Bottled Up, and 28 Hotel Rooms. This past year, she starred in the NBC miniseries The Slap, written by Jon Robin Baitz and opposite Zachary Quinto, Thandie Newton, and Uma Thurman in addition to recurring roles on HBO's Girls and Showtime's Masters of Sex. Tony Award nominated for her performance in Neil LaBute's Reasons To Be Pretty, Marin recently received rave reviews for her performance in the Rattlestick Playwrights Theater's co-production with Women's Project Theater, Ironbound. She also starred in the Lincoln Center Theater's play Kill Floor and on Broadway in the Roundabout Theatre Company's production of The Big Knife, opposite Bobby Cannavale.
SHANE MCRAE
As Taylor Bowman
Shane McRae's television credits include recurring roles on: Chicago Fire, The Following and Nashville.  He was also a series regular opposite Seth Green on NBC's Four Kings. His film credits include The Help with Viola Davis and Emma Stone, Bad Teacher alongside Cameron Diaz, The Adjustment Bureau, and Still Alice with Oscar winner, Juliane Moore. He landed his first role in the Tony Award-winning play Richard Greenberg's Take Me Out on Broadway. His other theater credits include Fifth of July directed for Bay Street, and Williamstown by Terry Kinney, Killer's and Other Family (Rattlestick), Richard III (Public Theatre), Last Dance (Manhattan Theatre Club), and Red Herring (The Connelly Theatre). Shane McRae attended the NYU Graduate Acting program.
LIBE BARER
As Carly Bowman
Libe Barer is a talented young actress. Her previous TV credits include TruTV's Those Who Can't and USA's Colony. She has guest starred on hit shows including Parenthood and Grey's Anatomy.
PETER GERETY
As Otto Bernhardt
Peter Gerety's film credits include Get the Gringo, Paul Blart: Mall Cop, Michael Mann's Public Enemies, Robert Zemeckis' Flight, Clint Eastwood's Changeling, George Clooney's Leatherheads, Mike Nichols' Charlie Wilson's War, Spike Lee's Inside Man, the independent feature Things That Hang From Trees, Syriana, War Of The Worlds, K-Pax, People I Know, Magic Hour, Montana, The Legend of Bagger Vance, Mrs. Winterborne, Surviving Picasso, Ed Burn's Ash Wednesday, A Most Violent Year, God's Pocket, The Sea Is All I Know, Hollywood Ending and The Curse of the Jade Scorpion.  He has also just wrapped a lead role in Dianne Dreyer's Assisted Living.  Television credits include Muhammad Ali's Greatest Fight, Brothers And Sisters, the Tom Fontana/WB series The Bedford Diaries, HBO's The Wire, Homicide, Law and Order, Ed, Ed Burns' Public Morals, Kidnapped, Daredevil, Madam Secretary, The Black Donnelly's, Elementary, The Good Wife, Brotherhood, The House of Mirth, Central Park West, Third Watch, The Return To Lonesome Dove and the PBS Mini-Series Mercy Street.  Theatre credits include the Broadway productions of the late Nora Ephron's play Lucky Guy opposite Tom Hanks and Martin McDonaugh's The Lieutenant Of Inishmore which transferred after a successful run off-Broadway at the Atlantic Theatre Company, the Broadway production of Never Gonna Dance, the Butcher in Susan Lori Park's Fucking A, and as Fluellan in Henry V at N.Y.'s Shakespeare in the Park.  Peter worked predominantly on stage for over 30 years, performing in over 100 productions with the legendary Trinity Repertory of Providence, R.I. alone (Adrian Hall, dir.). He has also performed with the Seattle Rep., the Dallas Theater Center, ART in Cambridge, the Huntington in Boston, and in Edinburgh, Scotland; Madrid, Spain; Bombay and Calcutta and Damascus, Syria. Peter has been in numerous Broadway and off-Broadway plays including playing Roderigo to James Earl Jones' Othello and finally is an accomplished director, primarily with the Dallas Theater Center and Trinity Rep.
MARGO MARTINDALE
As Audrey Bernhardt
Three-time Emmy winner Margo Martindale is one of the world's busiest and most acclaimed character actresses. After appearing in a multitude of series and delivering an Oscar-worthy performance in a recent major motion picture, the remainder of this year will be a big one for Martindale. She just made Emmy history as being the first person to win Outstanding Guest Actress in a Drama Series two years in a row (2015 and 2016) for her role as the deadly KGB handler Claudia in The Americans. This is coming off an acclaimed major arc on CBS' beloved The Good Wife final season, where she won the 2016 Critics Choice Television Award for her role as Willa Eastman, the cunning political strategist. On the big-screen, she recently starred opposite John Krasinski in the highly praised 2016 Sundance Film Festival entry, The Hollars; she received many kudos at the Festival and from film critics for her role as a woman dying of a
brain tumor and the estranged son who returns to his home town to be with her.
Margo received the 2011 Emmy Award for Best Supporting Actress in a Drama Series for her tour de force performance as Mags Bennett, the diabolical matriarch on the FX drama, Justified. The role also earned her the Critics' Choice Television Award for Supporting Actress in a Drama Series and a 2011 Television Critics Association Award nomination for Individual Achievement in Drama. USA Today described her performance as "smart, chilling, amusing, convincing and unfailingly entertaining," and The Huffington Post called it "the television performance of the year!"
More recently, Martindale was seen on the big-screen in Heaven Is For Real with Greg Kinnear, and last year in The Weinstein Company's film adaptation of Tracy Lett's Pulitzer Prize winning play August: Osage County alongside Meryl Streep and Julia Roberts. On television, she starred in the CBS series The Millers, opposite Will Arnett and Beau Bridges.
A native of Jacksonville, Texas, she began on the New York stage originating the iconic role of
Truvy in the first Broadway production of Steel Magnolias. She also received a Tony nomination for her portrayal of Big Mama in the 2004 revival of Tennessee Williams' Cat on a Hot Tin Roof. Moviegoers will recognize her work in Million Dollar Baby, Secretariat, Dead Man Walking, Nobody's Fool, Lorenzo's Oil, The Hours, Practical Magic, Walk Hard: The Dewey Cox Story, Hannah Montana: The Movie, Paris Je T'aime, Beautiful Creatures, and Win Win among others, Her standout television performances include New Girl, Medium, Dexter, The Riches, Hung and A Gifted Man.
Margo resides in New York City with her husband, Bill. They are the parents of a daughter, Maggie.
GRAHAM YOST
Executive Producer, Writer
Graham Yost, 57, says he knew from the age of 18 that he wanted to be a filmmaker. He attributes his early love of film to his father, the late Elwy Yost, who hosted a weekly film show on TV Ontario. "In our family, everything was about movies and books," says Yost.
After completing a Bachelor of Arts degree at the University of Toronto, Yost moved to New York. Already working on his own screenplays, he took a job as a technical writer and published several non-fiction titles, including Spy-Tech.
Yost began writing for television in 1989 on the Nickelodeon series Hey Dude. Next, he joined the writing staff of Full House (where he only lasted nine-and-a-half weeks). The day after he quit, he learned that his script for Speed had been sold to Paramount (it was later produced by 20th Century Fox). In 1991, Yost wrote for Norman Lear's The Powers that Be, where he worked with the show's creators, Marta Kauffman and David Crane (later of NBC's Friends). His comedy series writing credits also include Herman's Head.
His feature film credits include Broken Arrow, starring John Travolta, Hard Rain, Mission to Mars and The Last Castle.
As a producer, Yost won Emmy® and Golden Globe® Awards for the HBO miniseries From the Earth to the Moon. In addition, Yost garnered an Emmy® nomination for writing the episode Apollo One, and he directed the fifth segment of the critically- acclaimed series. Yost later wrote/co-wrote two installments of the Golden Globe® and Emmy® Award-winning HBO miniseries Band of Brothers.
In 2002, Yost created the critically-lauded TV series Boomtown for NBC. Cancelled in the fall of 2003, the late-lamented Boomtown was honored with a Peabody Award and two Television Critics Association awards. In 2006, Yost created Raines starring Jeff Goldblum for NBC. It aired in spring 2007.
Yost won an Emmy® Award for The Pacific, HBO's epic miniseries following three Marines through the Pacific theater of World War II. Yost directed and co-wrote an episode and served as co-executive producer.
Yost is an Executive Producer on the FX series The Americans, the critically-lauded spy drama created by Joe Weisberg (who worked with Yost on the first season of TNT's Falling Skies).
Until the spring of 2015, Yost was the show runner on Justified, the Sony-produced series on FX, starring Timothy Olyphant, based on a character created by America's pre-eminent crime novelist Elmore Leonard.
BRYAN CRANSTON
Executive Producer, Director, Writer
Bryan Cranston is an Academy Award nominee, a four time Emmy Award winner, and a Golden Globe and Tony Award winner.
Bryan recently starred as the title character in Jay Roach's Trumbo.  His performance garnered him nominations for an Academy Award, a Golden Globe Award, a SAG Award, a BAFTA Award, and a Critics' Choice Award in 2016 for "Best Actor."
Next, Bryan stars in John Hamburg's Why Him? alongside James Franco which will be released nationwide on December 23, 2016. Later, he will appear as the title role in Robin Swicord's independent feature, Wakefield. Bryan was also last seen in Brad Furman's The Infiltrator.
On stage, Cranston made his Broadway debut as President Lyndon B. Johnson in All The Way by Pulitzer Prize-winning playwright Robert Schenkkan.  Bryan won the 2014 Tony® Award for his performance, as well as a Drama Desk Award, Outer Critics Circle Award, and Theater World Award for "Outstanding Actor in a Play." Bryan went on to produce the film adaption of the play through his production company, Moonshot Entertainment, along with Steven Spielberg's Amblin Television and Tale Told Productions. It premiered on HBO in May 2016 and was nominated for eight Emmy Awards including "Outstanding Television Movie" and an individual nomination for Bryan for "Outstanding Lead Actor in a Limited Series or Movie." All The Way was recently nominated for four Critics' Choice Awards, including "Best Television Movie" and an individual nomination for Bryan for "Best Actor In A Television Movie."
Moonshot Entertainment has also developed the drama series Sneaky Pete for Amazon and the animated series SuperMansion for Crackle which received two Emmy Award nominations.
Bryan's other feature film credits include: Gareth Edwards' Godzilla, Ben Affleck's Argo, Len Wiseman's remake of Total Recall, Nicholas Winding Refn's Drive, Steven Soderbergh's Contagion, Brad Furman's The Lincoln Lawyer, Jonathan Dayton & Valerie Faris' Little Miss Sunshine, Steven Spielberg's Saving Private Ryan, and Tom Hanks' Larry Crown and That Thing You Do!, among others. Bryan has also lent his voice to DreamWorks Animation films Kung Fu Panda 3 and Madagascar 3: Europe's Most Wanted.
On television, Bryan's portrayal of Walter White on AMC's Breaking Bad garnered him four Emmy® Awards, four SAG Awards and a Golden Globe Award. Bryan holds the honor of being the first actor in a cable series and the second lead actor in the history of the Emmy® Awards to receive three consecutive wins.
As a producer on Breaking Bad, Bryan won two Emmy® Awards and a Producers Guild of America (PGA) Award for "Outstanding Drama Series."
Behind the camera, Bryan was nominated for the Directors Guild of America (DGA) Award for Breaking Bad (in 2014) and Modern Family (in 2013 and 2014). Cranston also wrote, directed, and acted in the original romantic drama Last Chance as a birthday gift for his wife and star of the film, Robin Dearden.
Bryan's career began with a role on the television movie Love Without End, which led to him being signed as an original cast member of ABC's Loving.  He went on to appear as Hal on FOX's Malcolm in the Middle, which ran for seven seasons and for which Cranston was nominated for a Golden Globe Award and three Emmy® Awards.
Cranston is also a spokesperson and longtime supporter of the National Center for Missing & Exploited Children (NCMEC). NCMEC is the leading nonprofit organization in the U.S. working with law enforcement, families and professionals on issues related to missing and sexually exploited children.
CHARACTER DESCRIPTIONS
MARIUS JOSIPOVIC is a brilliant criminal who grew up conning people to survive. Newly released from prison, he goes on the run from a vengeful Vince, to whom he owes a serious debt. Marius thinks he's found the perfect hiding place pretending to be Pete, the long-lost grandson of a loving family of bail bondsmen in Bridgeport, CT, but quickly discovers that the Bernhardts are keeping just as many secrets from their grandson as he is from them.
VINCE is the host of a high-stakes underground poker room where Wall Street titans mingle with South Bronx kingpins. Despite the illegitimacy of his venture, there's no cheating at Vince's tables. A former NYPD cop, Vince takes pride in being a man of his word, which means delivering brutal justice to those whom he believes are trying to take advantage of his trust. And after his release, Marius becomes the first name on his list…
EDDIE JOSIPOVIC is Marius' younger brother and the only person that Marius truly cares about. An expert card dealer and a beloved fixture at Vince's tables, Eddie has always looked to his big brother for guidance. But when he's taken hostage by his employer, Eddie is forced to rely on his own wits to survive.
KAROLINA always lands on her feet. A beautiful con artist with a knack for managing powerful men, she's managed to find a place for herself at Vince's side after a disastrous break with Marius, her former partner in crime. Although both Marius and Vince consider Karolina a trusted confidante, only she knows where her true loyalties lie.
AUDREY BERNHARDT is the formidable matriarch of the Bernhardt clan and a co-owner of the family business, Bernhardt Bail Bonds. Like Vince, Audrey has always lived by an ironclad moral code whose demands she imposes not just on herself, but also on her family. Now, threatened by competing firms and hardened by loss, Audrey finds herself questioning how far she's willing to go to keep her business and her family afloat.
OTTO BERNHARDT is a Vietnam veteran and a co-owner of Bernhardt Bail Bonds, but lately he doesn't feel like much of either. Despite his long career as a skip tracer, a recent stroke has relegated him to the sidelines of his own company, where he struggles to remain relevant both to the world and —he fears— to his own family.
JULIA BOWMAN, a single mother of two, has reluctantly returned to Bridgeport to work for her family's company after splitting with her second unfaithful husband. Although her grandmother Audrey won't let her forget her colorful past or her habitually poor judgment, Julia believes she has the skills to succeed as a bail bondswoman, and is determined to make the best of her chance.
TAYLOR BOWMAN, Julia's brother, is an affable young Bridgeport police officer struggling to pass the detective's exam for the third time. Still a boy at heart, Taylor is elated when his cousin Pete returns to Bridgeport. But when he tries to get Pete to relive the wild days of their youth, he finds that his cousin has changed.
CARLY BOWMAN is Julia and Taylor's sixteen-year-old sister, a budding shoplifter who's thus far managed to hide her indiscretions from both the law and her domineering grandmother. Unlike the rest of the family, she's too young to have known her cousin Pete before he disappeared, so she's curious about what he can tell her about her family's past— and what she can dig up about his.
EPISODE DESCRIPTIONS
100- "Pilot"
A con man (Giovanni Ribisi) on the run from a vicious gangster (Bryan Cranston) takes cover from his past by assuming the identity of his prison cellmate, Pete, "reuniting" with Pete's estranged family, a colorful, dysfunctional group that threatens to drag him into a world just as dangerous as the one he's trying to escape – and, just maybe, give him a taste of the loving family he's never had.
101- "Safe"
As business flags, tensions rise between Pete's grandparents, Otto and Audrey. Marius proposes a risky play to help Julia manage a dangerous client, but when they encounter problems, the "cousins" must rely on Audrey's expertise. While evading a mysterious pursuer, Marius visits former partners Katie and Karolina in NYC and remembers how three years ago, he made a powerful enemy of Vince.
102- "Mr. Success"
Marius' exacting parole officer insists that he come into the city for a mandatory appointment. To get there on time, Marius must fend off Pete's curious cousins Julia, Taylor, and Carly; an increasingly suspicious Audrey; and a terrifying ambush. Meanwhile, Eddie becomes desperate in captivity, Vince's lieutenant Winslow combs CT for Marius, and a reluctant Katie helps Marius cover his tracks.
103- "The Fury"
Lured by the promise of a big payday in the bail bonds office's safe, Marius tries to work the angles with Pete's family. However, he finds it more difficult than he expected to manipulate Taylor, who harbors both a vicious temper and a dangerous secret of his own. Back in the city, Vince struggles with a difficult client at the poker table and takes his frustrations out on his crew.