Betty Who "Some Kinda Wonderful" Sensation-
I dare you to stand in the audience and not get caught up in the Betty Who magic!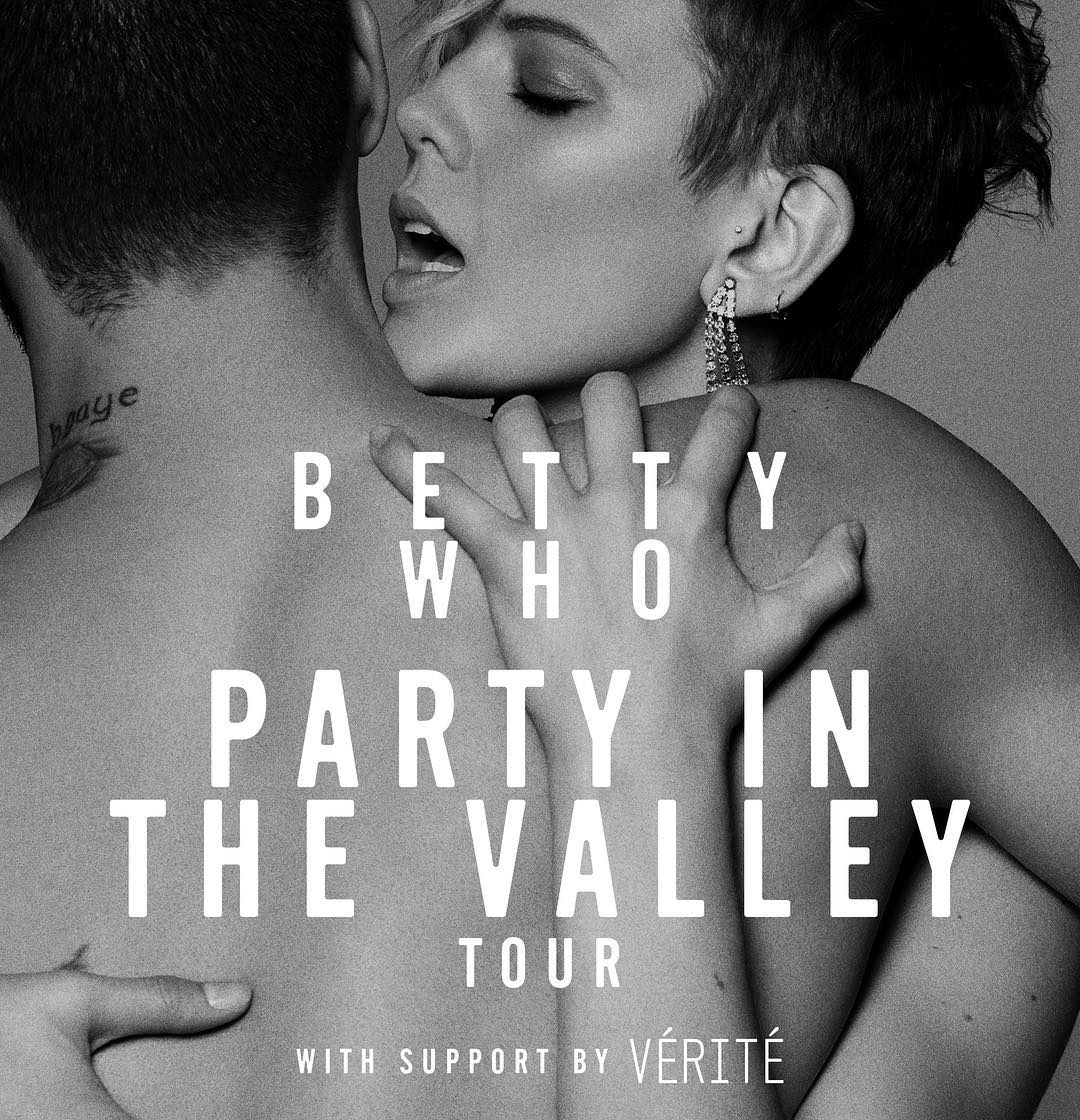 Betty Who Mezzanine San Francisco – Betty Who held the SF Mezzanine captive with her magnetic personality and retro-inspired sound on her latest stretch of her "Party In The Valley" tour, and she made it look easy.  She unified the house and commanded the dance floor with hit songs including "Human Touch", "Mama Say", and "Some Kinda Wonderful."  (Tour dates and tickets available here!)
The Aussie Valley Girl pop sensation is swinging for the fences with production values that rival some stadium shows.  She has clear superstar ambition and with her ability to make the crowd hang on her every word, she just may be a naturally born pop star.
Who's songs feature a hint of genuine sincerity to a familiar retro-inspired pop sound.  Most could be happily overlaid on any 90's movie montage about female bonding and not sound out of place, albeit with sometimes surprisingly meaningful lyrics that clearly resonate with her audience.
She proudly wears her 90's influence on her sleeve, channeling a nostalgic infectious joy from a moment when the dream for the future was still alive. When dancing was playful, flirtatious, and perhaps even a little aerobic instead of overtly sexual.  The illusion was replete with opening alt-pop acts from Jackson Harris and Pretty Sister, heralding a brave new world where old-school Weezer and N'Sync are considered classic rock.
Who's songs emphasize a modern twist on a girl power classic, allowing the message to mature with the ages.  Songs that mean things we can all relate to, such as, "Love that won't go away, no matter how hard you try."  Androgyny is a recurring theme as well, implying these songs aren't just about empowering women.  It's about unifying us as humans.  
While her ambition is palatable, it may almost be a shame to lose Betty Who to stadium crowds as so much of her charm relies on the intimacy she openly shares with the audience.  She thanks the crowd for bearing with her after running offstage to deal with a wig malfunction, warning them that seeing under the wig would be a "tragic, tragic mistake."    After turning down the dance tunes, she takes out her guitar and humbly asks the crowd, "Is it OK if I play a song the way I wrote it?"
Perhaps there was some initial murmuring in the crowd when Who brought the house energy in close for a brief acoustic set.  The audience was clearly there to dance, but she stole their attention and once again by the end, they were eating out of her hand.  Moments such as these are so joyfully human, so very Betty Who.
Betty Who's "Party In The Valley" Tour continues in select cities through October 8th.  Find tour dates and buy your tickets here!