Amy Adams: 'Arrival' is "What I Look Like in the Morning" – WATCH the 39th Mill Valley Film Festival Opening Night Interview with Adams, Who Looked Amazing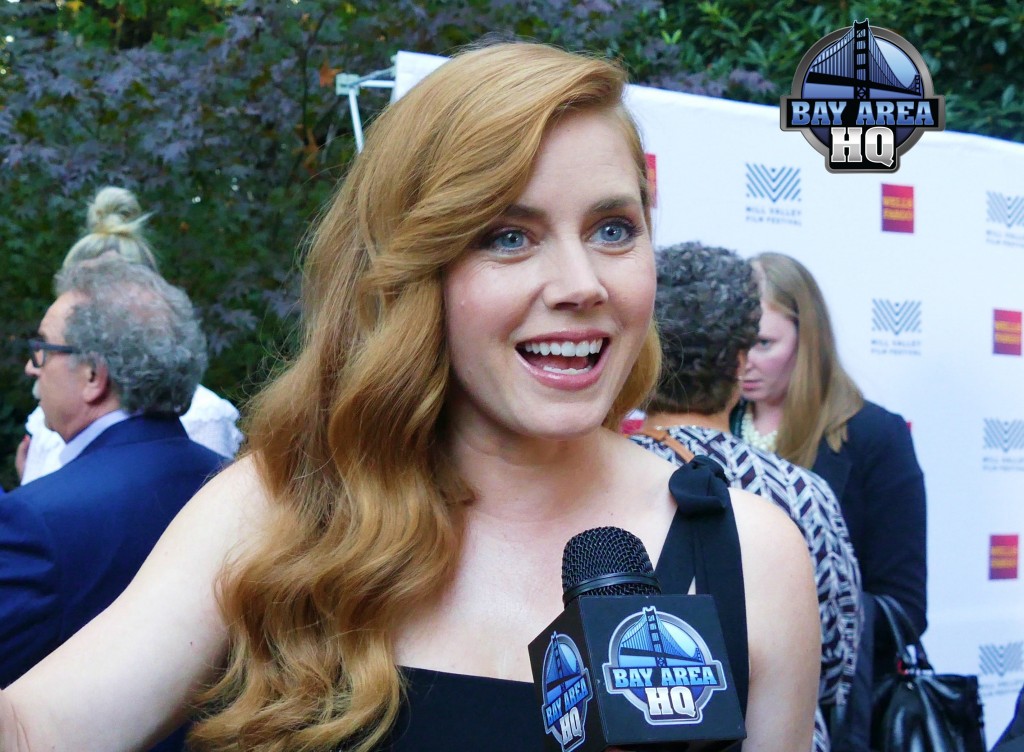 Watch our interview with Amy Adams, who is one of the most talented actresses in film. She's appeared in The Fighter, American Hustle, Catch Me If You Can, Enchanted, Big Eyes, Man of Steel, Batman vs. Superman: Dawn of Justice. Amy Adams talks about her character in Arrival as a possible role model for young women, being back in the Bay Area, and more. Watch Arrival when it comes out on November 11, 2016. Adams appeared on the red carpet at the 39th Annual Mill Valley Film Festival on Opening Night, along with actress Emma Stone.
About Arrival
In award-winning director Denis Villeneuve's (Sicario) riveting and deeply thoughtful drama, five-time Oscar® nominee Amy Adams is Dr. Louise Banks, a brilliant linguistics professor recruited by US military intelligence for a top-secret mission: to investigate the sudden simultaneous appearance of extraterrestrial spacecraft over several global sites, and to establish communication to determine whether the aliens have come in peace, or with intent to harm. In this deeply humane tale, supported by strong performances from Jeremy Renner and Forest Whitaker, the common tropes of science fiction are secondary to Villeneuve's focus on the subtleties of language and the complex continuum in which human memory and emotion coexist. With gentle nods to Robert Wise's 1951 classic The Day the Earth Stood Still, Arrival arrives none too soon with its message of universal peace, understanding, and the power of everlasting hope.
WATCH THE MILL VALLEY FILM FESTIVAL PRESS CONFERENCE: Amy Adams Impersonates Arrival Director Denis Villenueve & Answers Questions About The Film
About the Mill Valley Film Festival
Since founding the Mill Valley Film Festival in 1977, Mark Fishkin has shepherded this once small, three-day showcase into an eleven-day, internationally acclaimed cinema event presenting a wide variety of new films from around the world in an engaged, community setting.
The festival has an impressive track record of launching new films and new filmmakers, and has earned a reputation as a filmmakers' festival by celebrating the best in American independent and foreign films, along side high-profile and prestigious award contenders.
Each year the festival welcomes more than 200 filmmakers, representing more than 50 countries. Screening sections include World Cinema; US Cinema; Valley of the Docs; Children's FilmFest; a daily shorts program; and Active Cinema, MVFF's activist films initiative. Festival guests also enjoy Tributes, Spotlights and Galas throughout.
The relaxed and non-competitive atmosphere surrounding MVFF, gives filmmakers and audiences alike the opportunity to share their work and experiences in a collaborative and convivial setting.
About the California Film Institute
The nonprofit California Film Institute celebrates and promotes film as art and education through the presentation of the Mill Valley Film Festival and year-round exhibitions at the Christopher B. Smith Rafael Film Center, film distribution by CFI Releasing, and building the next generation of filmmakers and audiences through the CFI Education program.