Mill Valley Film Festival: Emma Stone's Cool Entrance: The La La Land Star Talks to us About Her Role in Whiplash Director Damien Chazelle's New Musical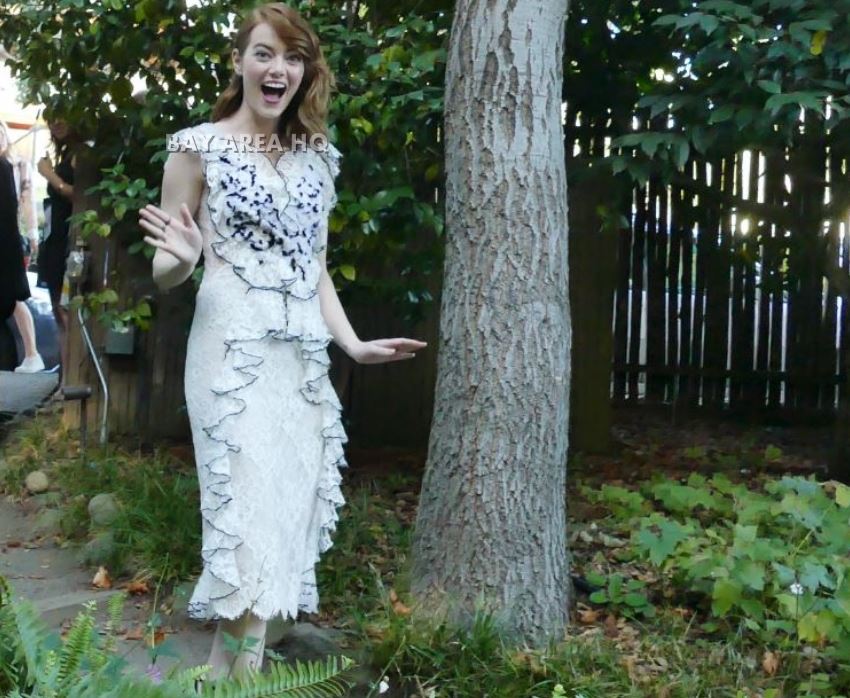 Emma Stone made quite the entrance at the 39th Annual Mill Valley Film Festival last evening. The actress, who stars in the La La Land movie musical opposite Ryan Gosling, looked stunning in her dress and talked to us about her new role and the importance of the film during these troubling times in America. Watch the Opening Night interview for more. And don't forget to catch a movie at the festival, which runs until the 16th.
About La La Land
Everything you love about classic musicals gets a pitch-perfect update in the cinematic, colorful, and enormously enjoyable La La Land. Mia (Emma Stone), an aspiring actress and playwright, slings coffee on the Warner Bros. lot between auditions. Sebastian (Ryan Gosling, infusing his character with just the right mix of romantic cynicism) is a jazz pianist, a purist lamenting the world's indifference to his treasured art form. Though their first few meetings are rocky (they all but break into "Anything You Can Do" in their first number together), they have artistic passion in common, and the orbits of their lives intersect more and more as the SoCal "seasons" go by. Director Damien Chazelle's follow up to Whiplash (MVFF 2014) is exquisitely designed and shot, with wonderful music and a clever script. With La La Land, Chazelle achieves what Sebastian strives for: preserving an artistic style by revising it just enough to make it fresh and new again.
ABOUT MVFF
Since founding the Mill Valley Film Festival in 1977, Mark Fishkin has shepherded this once small, three-day showcase into an eleven-day, internationally acclaimed cinema event presenting a wide variety of new films from around the world in an engaged, community setting.
The festival has an impressive track record of launching new films and new filmmakers, and has earned a reputation as a filmmakers' festival by celebrating the best in American independent and foreign films, along side high-profile and prestigious award contenders.
Each year the festival welcomes more than 200 filmmakers, representing more than 50 countries. Screening sections include World Cinema; US Cinema; Valley of the Docs; Children's FilmFest; a daily shorts program; and Active Cinema, MVFF's activist films initiative. Festival guests also enjoy Tributes, Spotlights and Galas throughout.
The relaxed and non-competitive atmosphere surrounding MVFF, gives filmmakers and audiences alike the opportunity to share their work and experiences in a collaborative and convivial setting.
 About the California Film Institute
The nonprofit California Film Institute celebrates and promotes film as art and education through the presentation of the Mill Valley Film Festival and year-round exhibitions at the Christopher B. Smith Rafael Film Center, film distribution by CFI Releasing, and building the next generation of filmmakers and audiences through the CFI Education program.