Shah Rukh Khan San Francisco FULL Press Conference – The "King of Bollywood" Talks "My Name is Khan" at San Francisco International Film Festival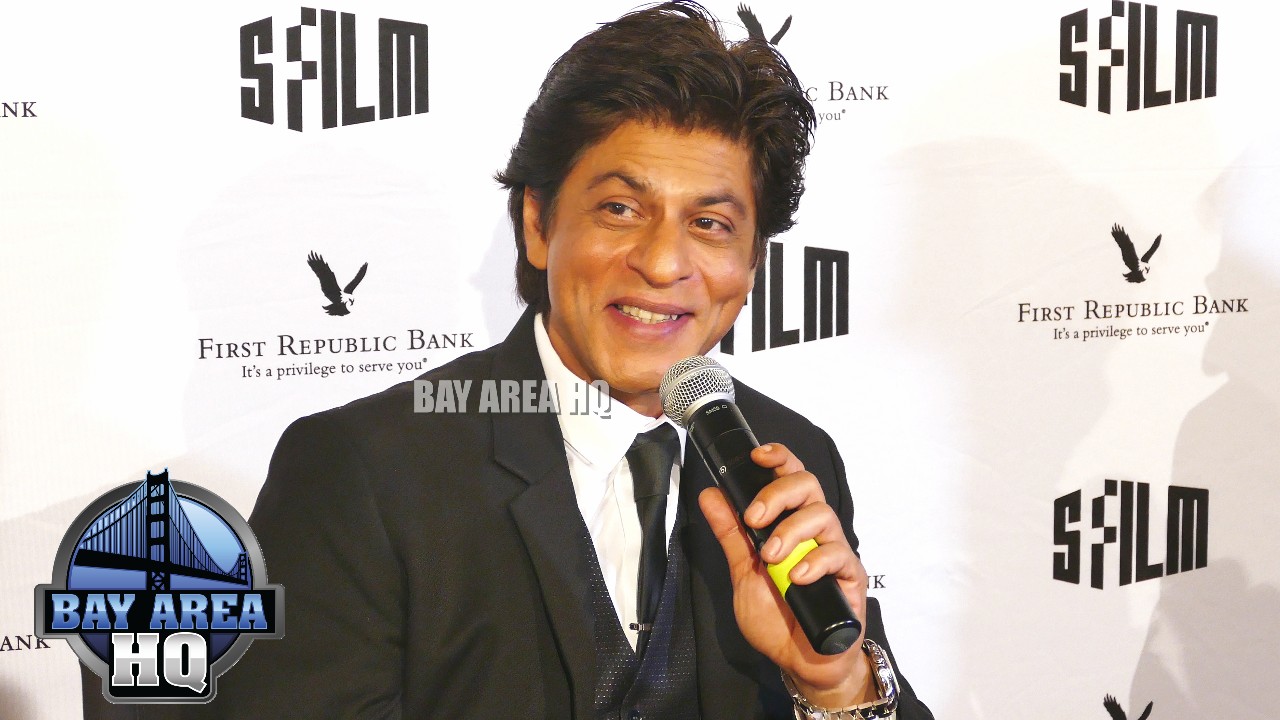 Shah Rukh Khan spoke to media just before he was honored at the 60th San Francisco International Film Festival with a special onstage tribute. An intimate conversation with the actor, producer, and humanitarian exploring his unique balance between commercially-minded cinema and artistic values was moderated by famed director and producer Brett Ratner, and live-streamed on Twitter. The onstage tribute took place on Friday, April 14, 8:30 pm at the Castro Theatre, and will be followed by a screening of Karan Johar's 2013 film My Name is Khan in which Khan offers an unforgettable performance.
UPDATE: WATCH – SHAH RUKH KHAN MOBBED BY FANS!!!!
Shah Rukh Khan San Francisco – "It is a great honor to welcome one of the world's most recognized film personalities," said SFFILM's Executive Director Noah Cowan. "Above Shah Rukh Khan's fame as an actor is a man known for his pervasive curiosity about the world around him, about technology, about our collective future. Khan is among the most engaging figures in any field and this night, in conversation with Hollywood wizard Brett Ratner, will be among the most memorable of this year's Festival events."
Shah Rukh Khan San Francisco – Often referred to as the "King of Bollywood," Shah Rukh Khan is an internationally renowned actor and producer. In a career spanning over 30 years, Khan has acted in over 70 Hindi films and won 14 Filmfare Awards—for excellence in cinematic achievements in the Hindi language film industry—from 30 nominations. In 2005 he was the recipient of India's second highest civilian award, the Padma Shri, in recognition of his distinguished contributions to Indian cinema, and in 2014 he was the recipient of France's highest civilian award, the Knight of the Legion of Honour, in recognition of his outstanding contribution to cultural diversity across the world.
Shah Rukh Khan San Francisco -One of India's most successful movie stars, Khan's cultural influence extends far beyond his home country. Eleven of the films he has starred in have accumulated worldwide gross earnings of over one billion dollars. His 2013 Bollywood-English-language crossover film, My Name Is Khan, earned enough in its opening weekend to become the highest-grossing Bollywood film in North America, a record previously set in 2007 by the film Om Shanti Om—which also featured Khan in the leading role.
In 2011, Khan was the first Indian citizen to be honored by the United Nations Educational, Scientific, and Cultural Organization with a special award—the Pyramide con Marni—for his charitable and social commitment towards providing education for children. Later that same year, Khan was appointed by the United Nations Office for Project Services as the first global ambassador to the Water Supply and Sanitation Collaborative Council, which advocates for improved sanitation and hygiene for the most vulnerable and marginalized people around the world.
In 2008, Newsweek named Khan one of the 50 most powerful people in the world.
Brett Ratner, moderating the onstage conversation, is one of Hollywood's most successful filmmakers and producers, whose films have grossed over $2 billion at the global box office. Ratner made his feature directorial debut with the action comedy hit Money Talks (1997) followed by the blockbuster hit Rush Hour (1998) and its successful sequels. Additional film directing credits include The Family Man (2000), Red Dragon (2002), After the Sunset (2004), X-Men: The Last Stand (2006), Tower Heist (2011), and Hercules (2014). In 2013, Ratner co-founded RatPac Entertainment—a film finance, production, and media company—which has co-financed over 75 films, including Gravity (2013), The Lego Movie (2014), American Sniper (2014), Batman v Superman: Dawn of Justice (2016), The Revenant (2015), and Birdman or (The Unexpected Virtue of Ignorance) (2014). RatPac's co-financed films have been nominated for 51 Academy Awards®, 20 Golden Globes® and 39 BAFTAs® and have won 21 Academy Awards®, 7 Golden Globes®, and 17 BAFTAs®.
About My Name Is Khan:
This epic 2010 melodrama tackles the subject of post-9/11 prejudice in America, as seen through the eyes of Rizwan Khan (Shah Rukh Khan), a devout Muslim who ends up on a cross-country quest to meet the President after a devastating family tragedy. Adding a wrinkle to this story, which is told mostly in flashbacks, is the fact that Khan has Asperger's syndrome, which means he has a unique way of looking at the world that colors his interactions with others. One person who's able to see past his mannerisms is lovely single mother Mandira (Kajol), who happens to be Hindu, which causes some strife in Khan's family. Nevertheless, they fall in love against the backdrop of a lovingly photographed San Francisco, complete with a sparkling wedding at the Palace of Fine Arts, although their road to happily-ever-after is a supremely bumpy one. My Name Is Khan's bouncy musical numbers and underlying messages of tolerance, unconditional love, and truth-seeking are worth celebrating in these challenging times.
60th San Francisco International Film Festival
The longest-running film festival in the Americas, the San Francisco International Film Festival (SFFILM Festival) is an extraordinary showcase of cinematic discovery and innovation in one of the country's most beautiful cities. The 60th edition runs April 5–19 at venues across the Bay Area and features nearly 200 films and live events, 14 juried awards with close to $40,000 in cash prizes, and upwards of 100 participating filmmaker guests.
SFFILM
Presenter of the San Francisco International Film Festival, SFFILM is a year-round nonprofit organization delivering screenings and events to more than 100,000 film lovers and media education programs to more than 10,000 students and teachers annually. In addition to its public programs, SFFILM supports the careers of independent filmmakers from the Bay Area and beyond with grants, residencies, and other creative development services.