Disneyland After Dark: Ridley Pearson's Kingdom Keepers – Interview with the New York Times Best-Selling Author of Kingdom Keepers The Return:Disney At Last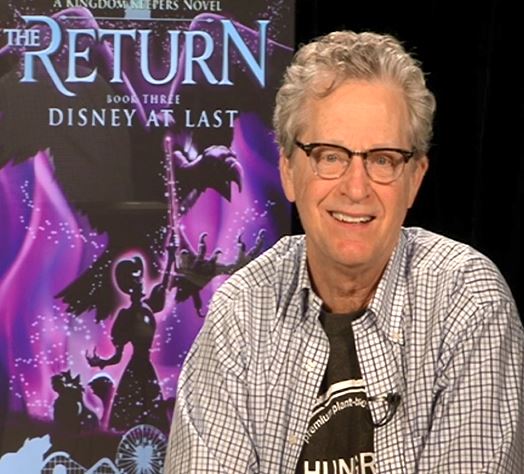 What's it like to awaken in Disneyland on Opening Day, 1955? The five teenagers—the Kingdom Keepers—have found out the hard way. Fans of adventure books and Disney can now purchase the lastest KINGDOM KEEPERS novel, THE RETURN: BOOK THREE – DISNEY AT LAST!
Graveyards at night, mannequins coming to life, and a group of misfits bent on sabotaging the new theme park challenge the isolated Kingdom Keepers in both present day and past. Thrown into a world where cell phones won't be invented for thirty years, where flashlights are the size of blow-dryers and where every girl wears a dress, and the boys coats and ties, the Kingdom Keepers are literally fish-out-of-water. Black magic proves itself as powerful a foe as any the Kingdom Keepers have ever faced. The past, far more simple in so many ways, is complicated and fraught with danger. While relationships tighten and allegiances strengthen within the Kingdom Keepers, the challenges facing them threaten to undue the good they have worked so hard to preserve. As the threats to Disneyland increase, the Keepers begin to wonder if they should ever figure out how to get back to the present, will be there be a Disney at all? Or has everything they've worked for over the past many years, dissolved, like the real-life ghosts shimmering before their eyes?
In the Kingdom Keepers series, five teens have been chosen to act as models for holographic guides at Walt Disney World. But the cutting-edge technology has a glitch; when the kids fall asleep, they are transported to the Parks in their holographic forms. The ensuing adventures take readers on a rollicking ride as the Kingdom Keepers fight to prevent Disney's destruction.
About The Return series – When five present-day teenagers known as the Kingdom Keepers find themselves thrown into a past that would make anyone envious, things don't exactly work out the way they'd hoped. Finn, Charlene, Maybeck, Willa, and Philby open a door into a place and a time when the legend of the Disney parks is just starting. They are there, in 1955, to retrieve Walt Disney's infamous pen that once saved the parks as we know them. But like all things Disney, nothing is as it seems.
Ridley Pearson is the award-winning author of multiple adventure series for (young-ish) readers, including The Kingdom Keepers, Steel Trapp and with Dave Barry, Peter and the Starcatchers. Ridley is also a best-selling crime novelist of more than 25 titles, which have been translated into 22 languages and distributed in 70 countries. Pearson was the first U.S. citizen to be awarded the Raymond Chandler/Fulbright Fellowship in Detective Fiction at Oxford University. Ridley spends a good deal of his time sneaking around Disneyland and the Disney parks and aboard the Disney Cruise Line ships all in the name of research. Ridley and wife, Marcelle, live with their two teenage daughters in St. Louis, MO. For more information about the book series, visit: http://thekingdomkeepers.com/ For more information about Ridley, visit: http://ridleypearson.com/