Ed Harris at SF Gala for Sam Shepard and Magic Theatre – Watch our Interview with Harris at the Magic Theatre's 50th Anniversary Gala Fundraiser Last Night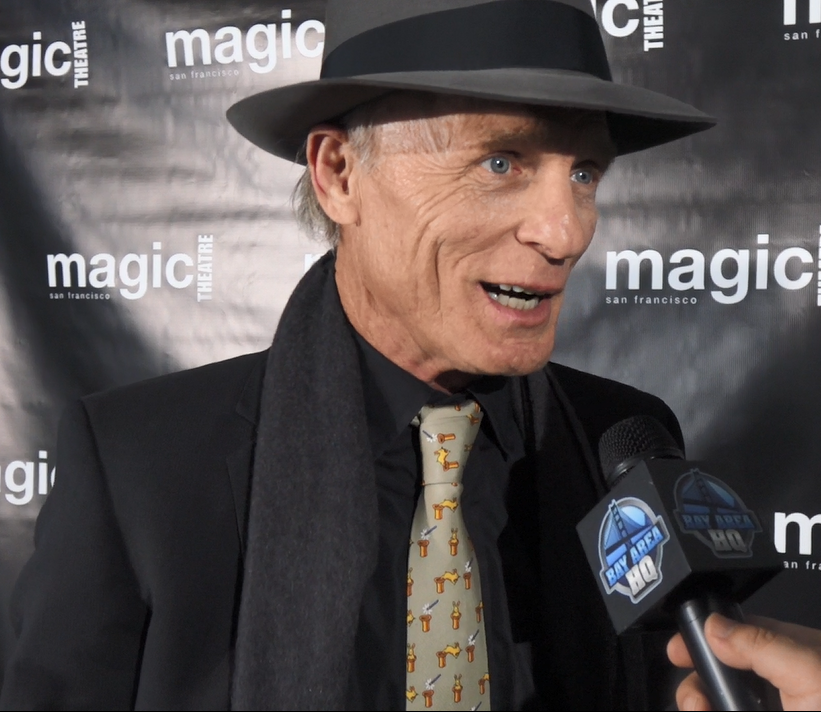 Ed Harris talked to Bay Area HQ at the Magic Theatre's 50th anniversary gala fundraiser, which was held at the Minnesota Street Project on Friday, April 7, 2017 at 6:00 p.m. The soiree celebrated fifty years of artistic trailblazing by honoring the theatre's previous Artistic Directors (including founder John Lion and successors Harvey Seifter, Larry Eilenberg, Mame Hunt, Chris Smith and current Artistic Director Loretta Greco). The evening also honored renowned Magic playwrights including Pulitzer Prize® winners Sam Shepard (Fool for Love, Buried Child, True West) and Paula Vogel (The Baltimore Waltz, How I Learned To Drive), and international phenomenon Taylor Mac (The Lily's Revenge).
The Magic Theatre Board of Directors and Gala Committee – comprised of Ian Atlas, Debbie Degutis, Loretta Greco, Pat Schultz Kilduff, Whitney Krause, Corky LaVallee, Jaimie Mayer, John Marx, Matt Pagel, Matt Sorgenfrei, Alan Stewart and Bennett G. Young – oversaw the planning of the special evening. The Honorary Gala Committee included Emmy Award Winner® Kathy Baker (Original Cast Member, Sam Shepard's Fool for Love at Magic Theatre), Pulitzer Prize® winning playwright Nilo Cruz (Anna in the Tropics), playwright Joshua Harmon (Bad Jews, Significant Other), Three-Time Academy Award® nominee Ed Harris (Original Cast Member, Sam Shepard's Fool for Love at Magic Theatre), playwright John Kolvenbach (Gizmo Love, Goldfish), Carl Lumbly (CBS' Cagney & Lacey, ABC's Alias), Emily Mann (Artistic Director, McCarter Theatre), San Francisco's own multi-hyphenate Richard Montoya (co-founder of Culture Clash), and playwright Octavio Solis (Lydia, Santos & Santos).
Artistic Director Loretta Greco said, "What Magic Theatre has added to the past fifty years of the theatrical canon is astounding. It's an honor to be a part of this incomparable institution's legacy." "What better way to honor our golden anniversary," added Managing Director Jaimie Mayer, "than with the Artistic Directors who have built, sustained, and grown Magic's artistic footprint on the American Theatre's 50th Anniversary Gala theatre side-by-side with three iconic playwrights who both embody Magic's history and look towards the future."
Honorary Committee Member Ed Harris said, "Doing Fool for Love with Sam and the great cast at the Magic was a time I will always cherish. The Magic's belief in the power of the playwright afforded Sam a great place to work out his magic time and time again. It's an honor to be coming there to honor my friend, who has and continues to be such an inspiration."
Now celebrating its 50th year of continuous operation, Magic Theatre is dedicated to the cultivation of bold new plays, playwrights, and audiences – and to producing explosive, entertaining, and ideologically robust stories that ask substantive questions about our place in humanity. Magic provides a nurturing yet rigorous artistic home where innovative writers can create a body of work. We believe that developing an evolved artistic vocabulary with the playwright at our side, over a long period of time, greatly improves a playwright's chances to thrive.
From its earliest years, Magic Theatre has contributed to the richness and relevance of the national theatrical canon. Magic's impact on the field has resonated throughout the United States beginning in the 1970's with Sam Shepard's early Pulitzer and Obie-award winning plays to Luis Alfaro's world premiere of Oedipus el Rey in 2010, Taylor Mac's groundbreaking five hour epic The Lily's Revenge in 2011, and Octavio Solis's Se Llama Cristina in 2013.
Under Loretta Greco's direction, Magic is reviving and increasing playwright residencies and long-term artistic developmental efforts as it hones its focus on new play creation in concert with the playwright. 22 of the 25 new plays produced at Magic over the last five years have enjoyed extended life beyond its stage throughout the U.S. and abroad.
Magic Theatre (Artistic Director, Loretta Greco; Managing Director, Jaimie Mayer) recently announced its 2017-2018 season today, which includes the World Premiere of Barbara Hammond's THE EVA TRILOGY; the World Premiere of John Kolvenbach's REEL TO REEL; the World Premiere of Jessica Hagedorn's THE GANGSTER OF LOVE; and a fourth production to be announced at a later date. The season will also include the annual Martha Heasley Cox Virgin Play Festival (showcasing exciting new work from bold emerging playwrights), and marks the fifty-first year of operations and the tenth year under the leadership of Artistic Director Loretta Greco.
"The playwrights of our coming season are united in their unmistakable voices and unforgettable theatrical styles," says Artistic Director, Loretta Greco. "Each is wrestling with the power of time; the way our humanity endures and transforms through a passage of generations. How do we respect the past and yet still transcend it? Is there a way to have a measurable impact on an evolving world? What can we do in the here and now to connect with others? Magic will continue to be a place where we can sit together and struggle with the big questions, and I look forward to welcoming you."
Subscription Information: Subscriptions for the 2017-2018 Season are now available for purchase. Subscribing is the best (and most cost-effective) way to ensure your spot on the front lines of exciting new theatre. Subscriptions also come with a number of perks: free ticket exchange up until 24 hours before the performance, guaranteed best seating, exclusive pre-show dramaturgy – all in addition to receiving a 35% discount when compared to purchasing single tickets. Current subscribers can renew by mail, phone, or in person at the theatre and will receive priority access to their current seat locations. New subscribers can purchase subscriptions and will receive the best available seats within the requested sections. Subscriptions are available for purchase online at MagicTheatre.org; by calling Magic Theatre at (415) 441-8822; or visiting Magic Theatre's Box Office, Monday – Friday 10:00 a.m. to 5:00 p.m. during nonperformance dates. On performance dates, the Box Office is open Tuesday – Saturday from 12:00 p.m. to 5:00 p.m. and on Sunday one hour prior to the show. Magic Theatre is located in the Marina District of San Francisco, at the historic Fort Mason Center for Arts & Culture (Fort Mason, 2 Marina Blvd., Building D, 3rd Floor, San Francisco, CA 94123). For more information, visit MagicTheatre.org or call the box office at (415) 441-8822.