Danny Glover Addresses Students with 'Eclipsed' Cast – (Exclusive) Watch the Legendary 'Lethal Weapon' Actor Honor Kidnapped Chibok Girls at The Curran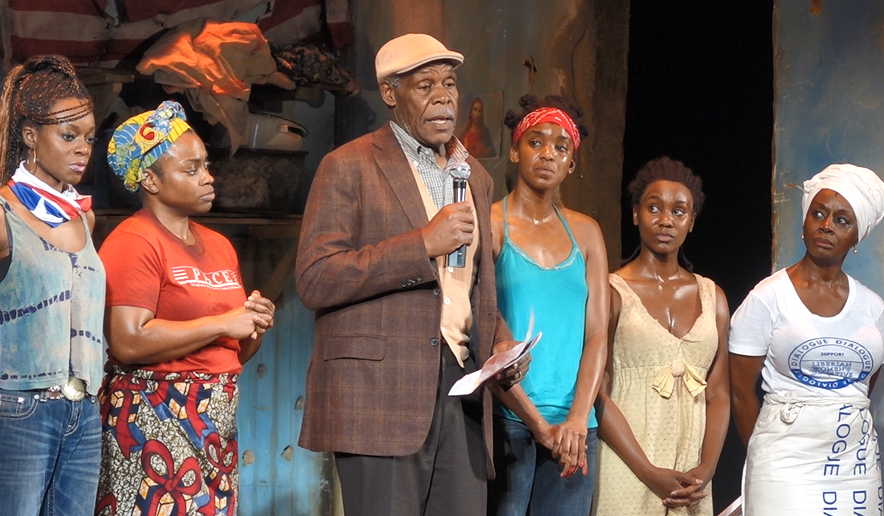 Danny Glover, actor, humanitarian, and San Francisco native led the curtain call speech today at the student-only matinee of Eclipsed. Danny Glover dedicated the performance to girls from around the world who have been kidnapped and are still missing, specifically naming two girls who were abducted from the Chibok Shook in Northern Nigeria by the Boko Haram in April 2014. Danny Glover told youth in attendance "You will make history in your communities." Watch the video above to see our Danny Glover interview, and exclusive footage of his speech to the students who came to see the play.
The critically-acclaimed production of Eclipsed is only in town until March 19th. Tickets are available here. The cast of Eclipsed: JONIECE ABBOTT-PRATT (Orange is the New Black), AKOSUA BUSIA (The Color Purple), AYESHA JORDAN, ADEOLA ROLE, STACEY SARGEANT (Glee).
Eclipsed made waves on Broadway as the first cast, director, and playwright composed entirely of female artists, fitting for a production that so stunningly chronicles the experiences of a group of very resilient women. The Curran hosted two special student-only matinees of Eclipsed on Tuesday, March 14 at 1:00pm and Wednesday, March 15 at 12:00pm (Noon). In addition to a unique partnership with the San Francisco Unified School District (SFUSD), additional Bay Area schools attended the added matinee performances. With more than 3,000 schoolchildren who came to see the show, participating schools included Downtown High School, Mission High School, West Oakland Middle School, Mercy High School, Sonoma Academy, Oakland School for the Arts, ICA Cristo Rey, and more.
Eclipsed is the story of five extraordinary women brought together by upheaval in their homeland of Liberia. They forge a close-knit community, one that inspires them to feats of increasingly greater strength. Written by playwright Danai Gurira (star of AMC's "The Walking Dead") and directed by Liesl Tommy (whose critically acclaimed Bay Area productions include Ruined, Party People and Hamlet),