Pisco Punch: Why all San Franciscans Must Try It in 2017 – "Pisco Punch: A Cocktail Comeback Story" Explores the Rise of Pisco & Illuminates it's History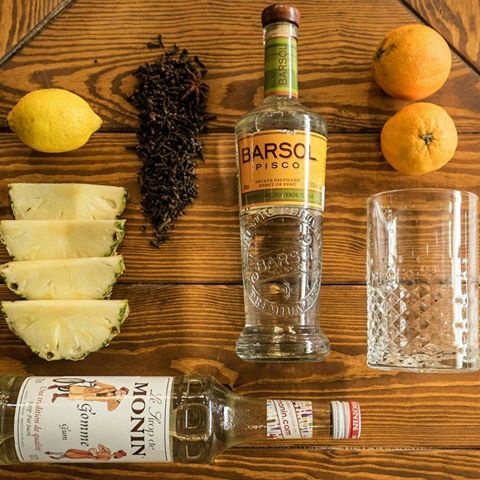 Pisco Punch is making a comeback in 2017. And there's no better place to stage that return than in the place where it all started: San Francisco. Recently, the city's Anchor Distilling Company and BarSol Pisco proudly celebrated the world premiere of their documentary Pisco Punch: A Cocktail Comeback Story at the Napa Valley Film Festival. The closing night film at downtown Napa's Uptown Theatre featured an enthusiastic audience with guests hailing from Peru, San Francisco, Los Angeles, and the Napa Valley cheering on Anchor Distilling Company's Executive Director of Education Alan Kropf who made his directorial debut. Pisco Punch tells the story of one of the world's great forgotten spirits: Peruvian Pisco.
It is said that Duncan Nicol invented a pisco punch recipe around these parts using: pisco brandy, pineapple, lime juice, sugar, gum arabic and distilled water. The punch was so strong that one writer of the day wrote "it tastes like lemonade but comes back with the kick of a roped steer." Harold Ross, founder of The New Yorker magazine wrote in 1937: "In the old days in San Francisco there was a famous drink called Pisco Punch, made from Pisco, a Peruvian brandy… pisco punch used to taste like lemonade but had a kick like vodka, or worse."
In fact, at the premiere of the fim, the audience was illuminated with a look at pisco's history and its strong connection to San Francisco—from its popularity during the California Gold Rush and the creation of the iconic Pisco Punch cocktail to its near decline during Peru's dictatorship from 1968-75 to how a passionate group of some of the world's greatest pisco producers, such as BarSol Founder Diego Loret de Mola, brought the spirit back and re-introduced it to North America. Documentary subjects like acclaimed bartenders Tony Abou-Ganim and Francisco Lafranconi, and Peruvian cocktail and pisco historians also came out to support this exciting new film, alongside Anchor Distilling Company President & CEO Dennis Carr, VP of Marketing Morgan Robbat, and more.

Afterwards, guests then headed over to the Napa Valley River Front Promenade for the festival's closing night party sponsored by Anchor Distilling Company, BarSol Pisco, and Prom Peru.  Keeping with the theme of the evening, moviegoers enjoyed tastes of BarSol's Mosto Verde Italia Pisco, Selecto Italia Pisco, Acholado Pisco, Quebranta Pisco, and their fortified wine, Perfecto Amor, alongside a variety of innovative Pisco Punches crafted by some of the Bay Area's top bartenders and currently featured on the menus at La Mar, Elixir, Basalt, Arguello, Paper Plane, and The Last Word. To pair with all those delicious drinks, partygoers enjoyed traditional Peruvian cuisine like ceviche with sweet potato crisps, beef anticuchos, arroz con mariscos, and causa, with live music adding some additional flavor and excitment.
Who makes the best Pisco Punch in San Francisco? Many advise visiting Comstock Saloon, at 155 Colombus Ave., for a magnificent $12 Pisco Punch cocktail.
Anchor Distilling Company has been at the forefront of the craft distilling movement in America, and Pisco Punch is their latest creative endeavor to showcase their commitment to education and storytelling around spirits from around the world and the people behind them.
Pisco Punch is slated for a streaming release in 2017.