Jeffrey Dean Morgan Walker Stalker SF Panel Highlights – Photos and Quotes from The Walking Dead Actor's Panel this Past Weekend on Negan vs. Rick and More

Jeffrey Dean Morgan's panel last weekend at Walker Stalker Con at Fort Mason in San Francisco was one of the big highlights for fans of The Walking Dead. Part Negan and part himself, he answered questions in a bold and tongue-in-cheek fashion to a packed house on an outdoor stage on a beautiful day in the city. One of his opening remarks:
"OK I'm probably gonna swear. I see you little dude. Don't listen to my swear words. Shut it down…Shut that shit down. Hey thanks for coming out. San Francisco. God damn. This is one of my favorite cities in the whole world. It's a nice place to live. Hang out. Get tattoos. I see you up there. Crazy Chick."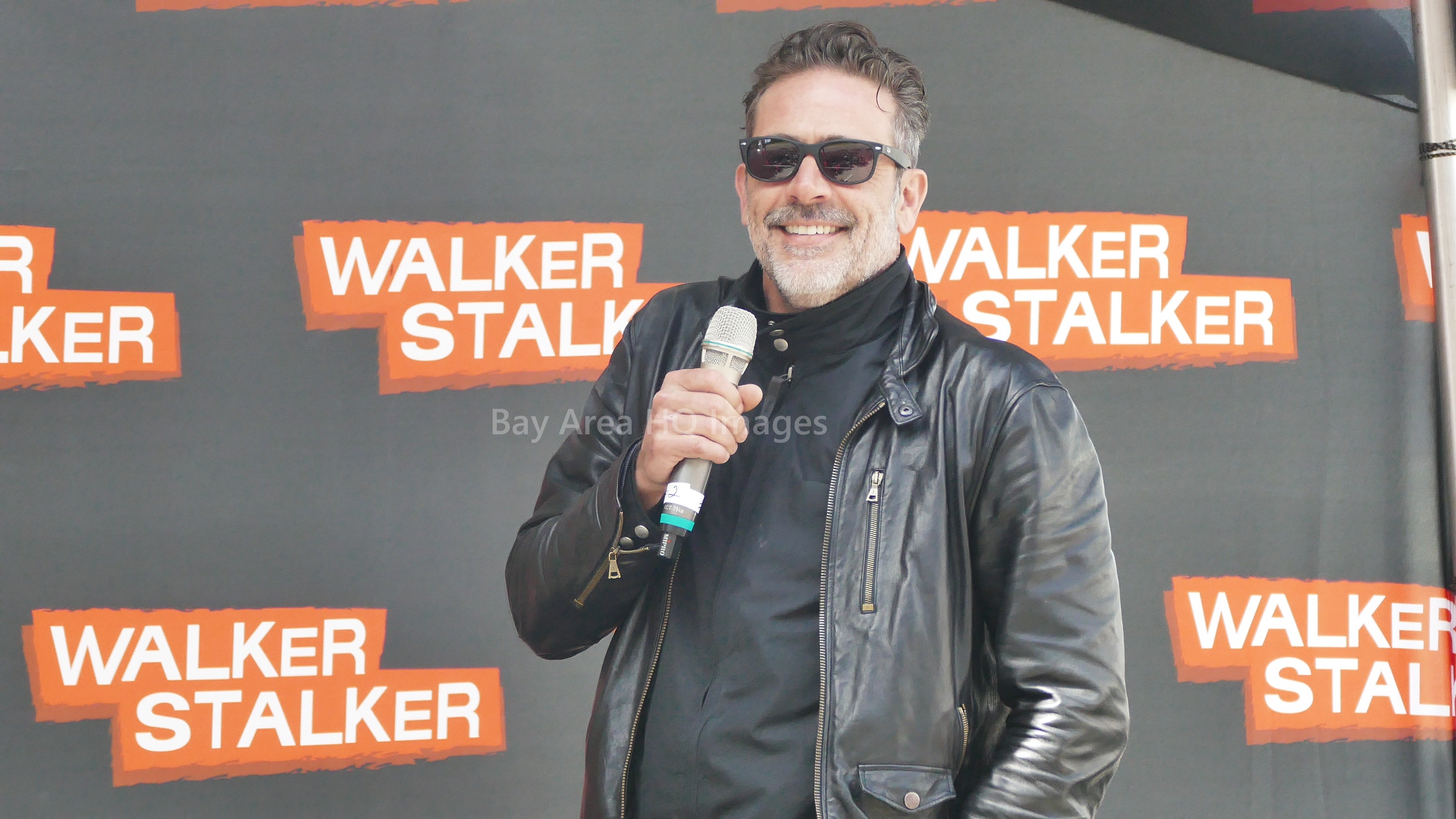 Jeffrey Dean Morgan on how he was chosen to be on The Walking Dead:
I didn't choose me to be on the Walking Dead. The powers that be chose me to be on the Walking Dead. I got a call from my agent. I was doing a show called The Good Wife and they said 'Hey, The Walking Dead just called and they're offering you to be the big bad on The Walking Dead.' And I'm like 'Is it Negan?'  And they're like 'They won't tell us. It's a secret.' But I was a fan of the show and I watched the show and I knew where we were in the story and I knew who was fuckin' comin and I said It's fuckin' Negan and we'll do it. And it was. And literally a week later there happened to be a break in my …I had three days off on The Good Wife and I went down and we shot the season finale of six, and I had like two days to learn that 12 page monologue where no one else spoke they all were crying at my feet. Which was a hell of a way to meet everybody. 'Hi I'm Jeff, get on your knees and cry bitches.' And they did and God bless 'em for doin' it. And so that was kind of my introduction to everybody. I knew Norman beforehand. I've known Norman for God 30 years. We're old. We had the same manager in LA when we were like 20 year old kids. And I hadn't seen him in probably 15 years. Now he's like my brother from another. We're kind of connected at the hip. But that's how I got the role. They were kind enough to offer it to me and I couldn't wait to do it. It was probably the best career decision I've ever made. Playing Negan. It's fun. We have our hard days obviously on the show. But more often than not, it's not a hard day for me, but it's a hard day for everyone else. I have a little bit of guilt. Just a touch. Occasionally. Then it goes away. Then I'm happy. And skippin' and doing my lean.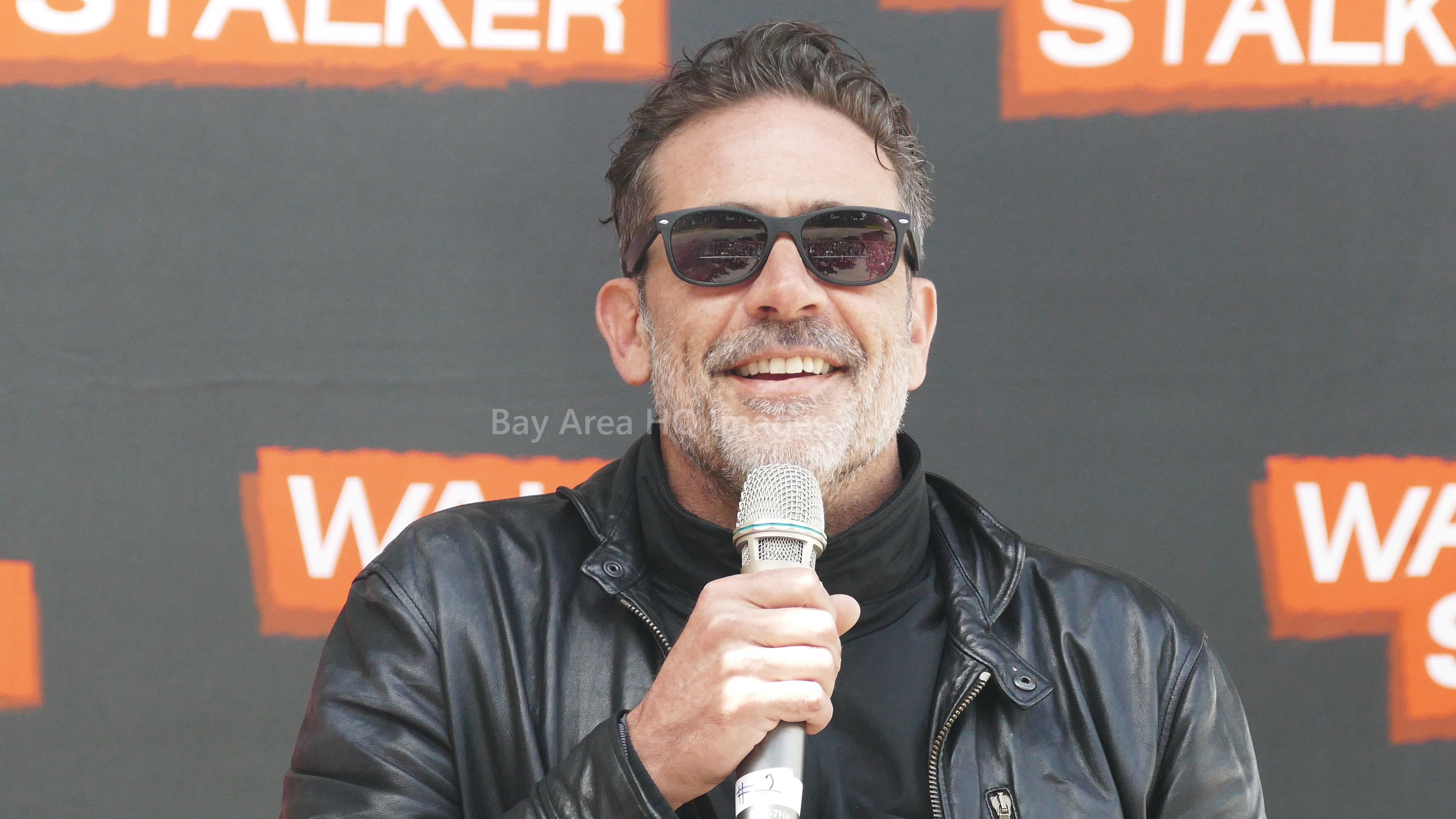 In a fist fight between Rick and Negan who would win?
Bo-ring. Who do I think would win? Well, who do you think I'm gonna say? Rick's been a pussy for a year. We'll see if he… That's gonna get back to him, by the way. He's like 'Fuck. Why do ya gotta bring that up?' "I don't know. It's bound to happen. We're bound to see that happen at some point. You know what I mean. I can't wait. So we'll see. You got two stubborn hard-headed scrappy dudes. I can tell you this. We're both excited about the prospect of goin' head to head. But this year, it's gonna be all out war. Negan and Rick are gonna butt some heads. We'll see how it goes. I got faith in Negan though.
One female fan had a fun exchange with Jeffrey Dean Morgan:
Fan: Were you surprised at the end of season seven, when the kingdom and Maggie came to Rick's rescue and they had Sheva?
JDM: What do you think? I think Negan probably..you saw on his face how surprised he was. They got a goddamn tiger! I think Negan wants a tiger now.
Fan: I'm sure you would prefer getting the kitty and make it purr, but that's a different story.
JDM: Oh man, just open up that door and give me a softball and I'll knock that shit outta the park.
Surpises from fellow castmates – Josh McDermitt (Eugene) and Norman Reedus (Darryl)
Josh McDermitt crashed the panel briefly and said "I'm sorry I was told to do the Negan panel and some other asshole is up here instead."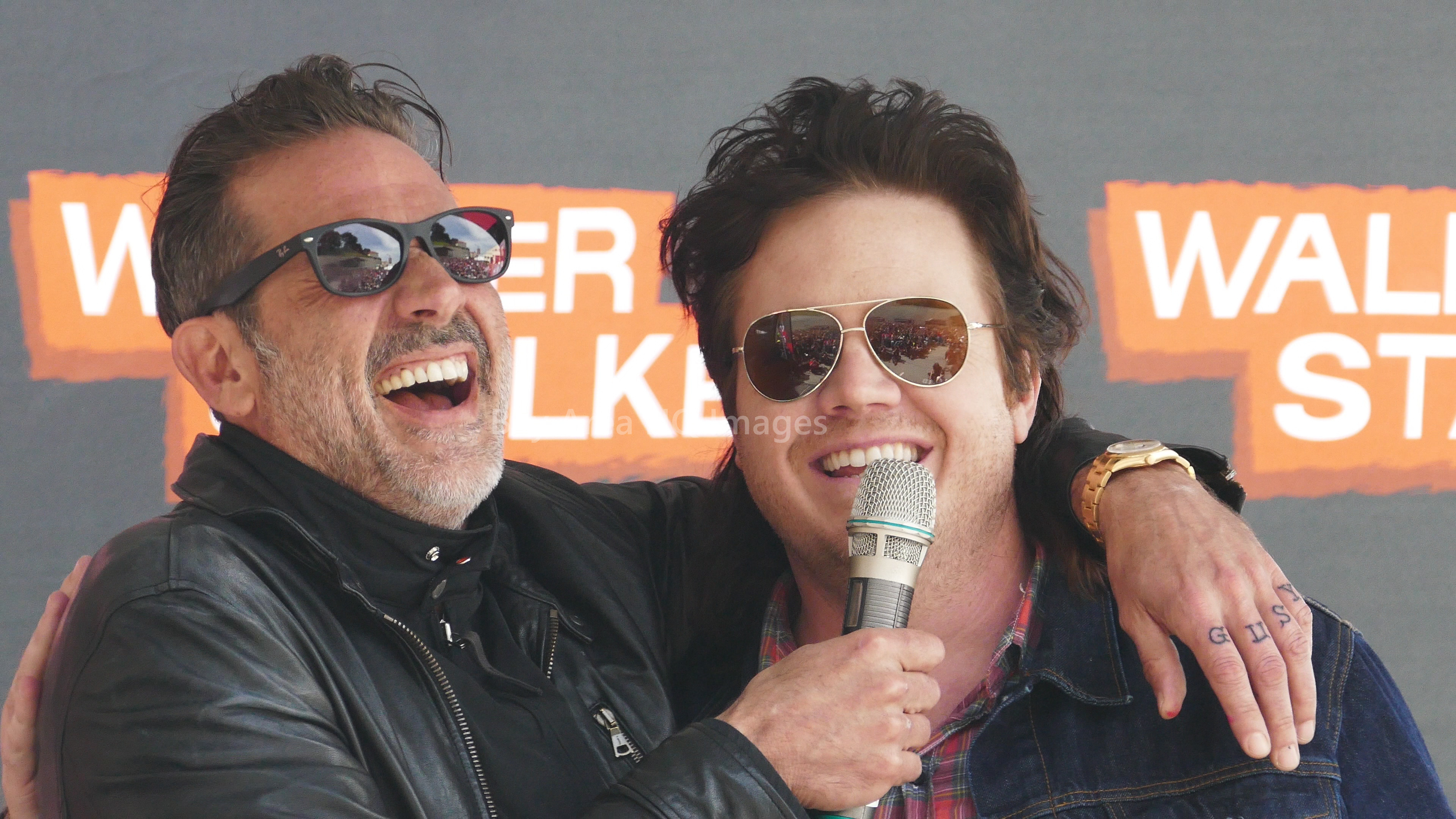 Norman Reedus came out and sang Happy Birthday to Jeffrey Dean Morgan and brought out a cake, and threw some wrapped cake pieces to the crowd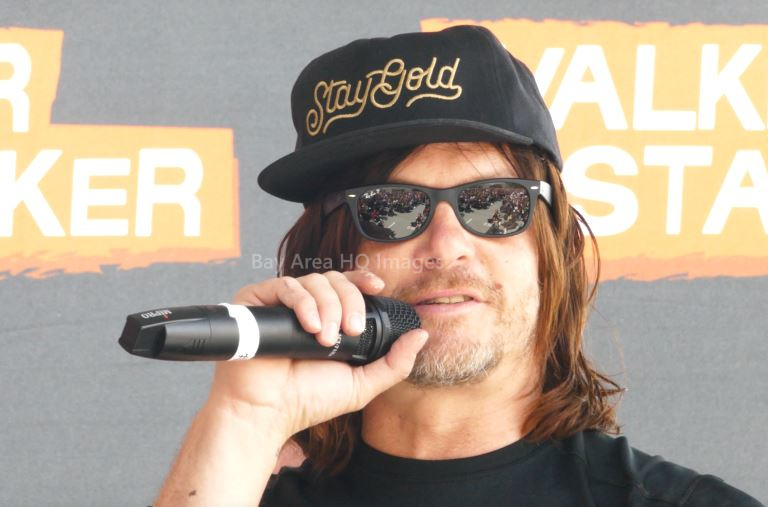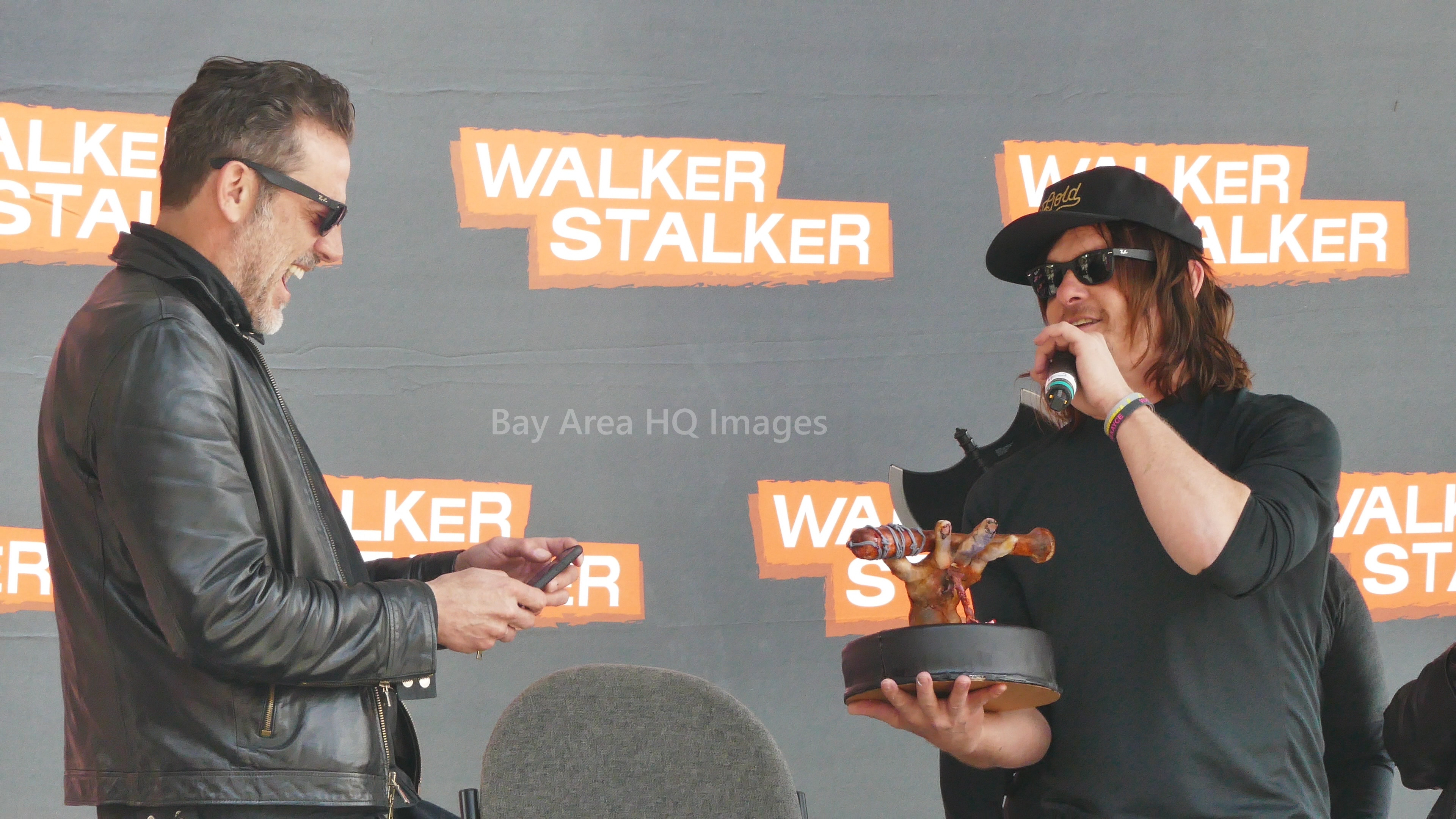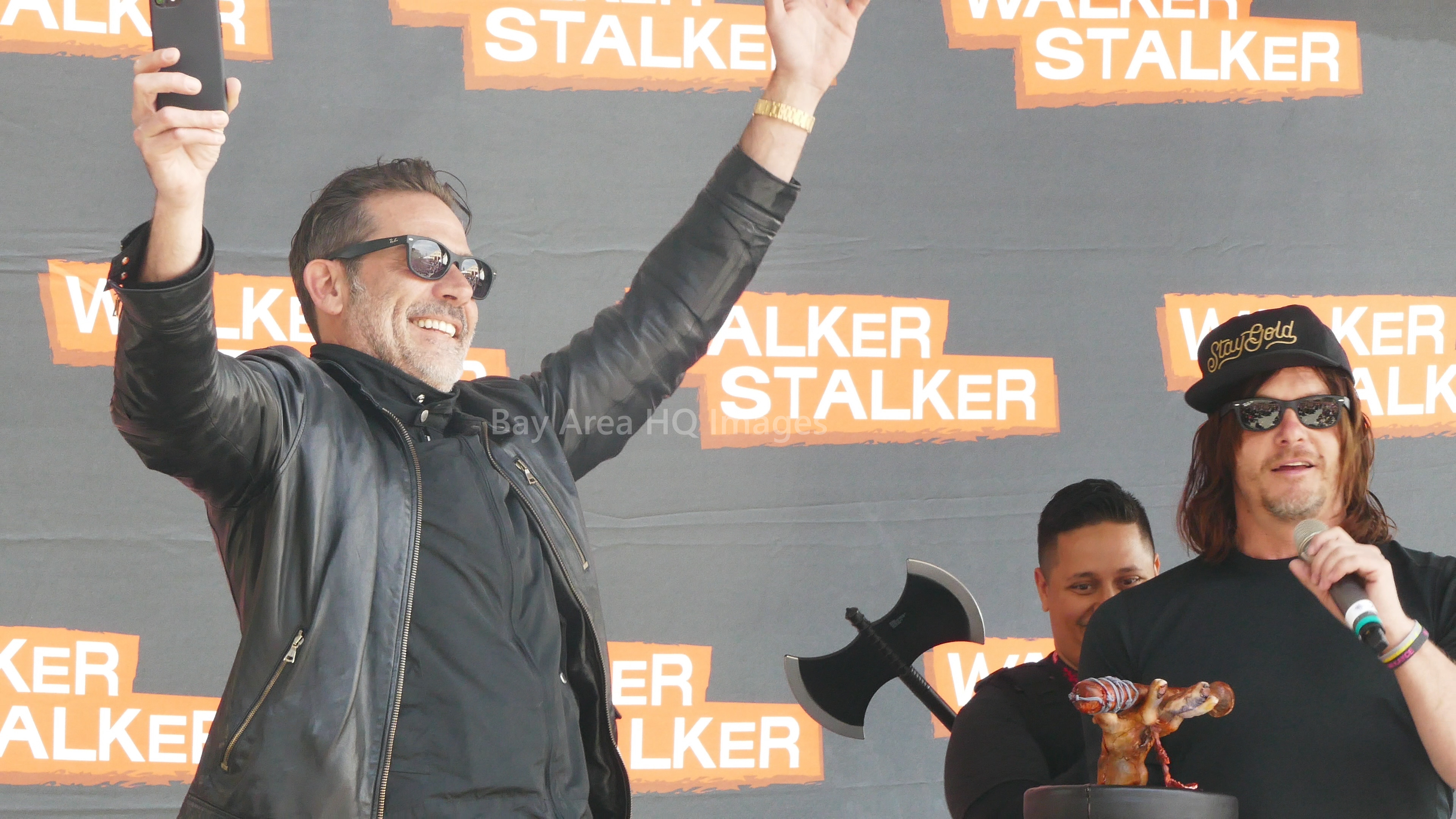 A few kids at different points made their way to the stage, including one who did a Negan impression