Jameis Winston & NFL Stars Talk Fashion At Madden Bowl! – Madden Bowl XXII, held at the Masonic on Thursday night, brought out hundreds of NFL players and celebrities during Super Bowl 50 week. The event was nothing short of jam-packed excitement which started with the Madden Bowl finals (Eric Berry beat Jordan Reed, 24-17, for the Champpionship), then an amazing set by DJ Khaled, followed by Ludacris with surprise guest Too Short, and a finale by Fall Out Boy. The Bud Light was flowing, the late-night Papa John's pizzas were gobbled up by partygoers, and over 100 NFL players were mingling throughout the crowd.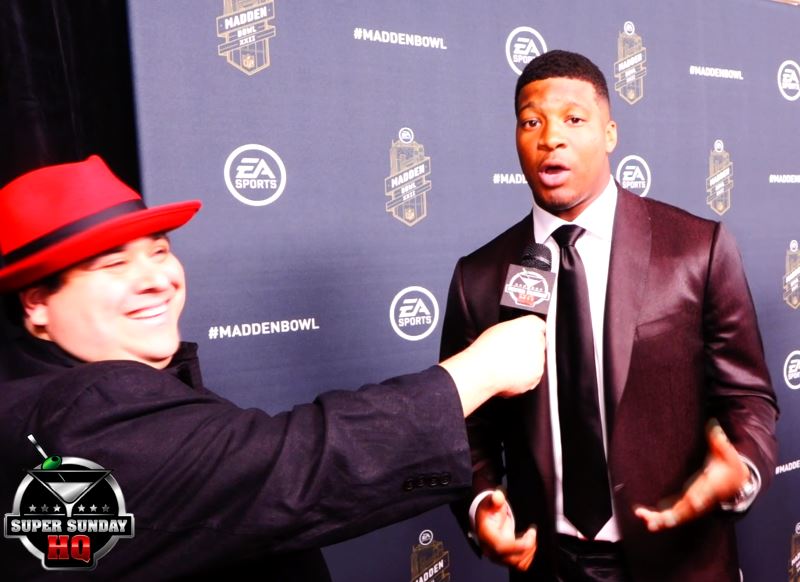 Jameis Winston, the starting QB for the Tampa Bay Bucs, was one of many to show off his style on the red carpet. Wearing a custom-made jacket from Evan Delaney, he jokingly told our own Bobby B not to focus too much on his pants because he might be wearing them again during Super Bowl week. Jameis Winston aside, we spoke to two more NFL passers on the red carpet, Drew Brees from the New Orlean Saints and Teddy Bridgewater of the Minnesota Vikings. Though both had very different styles, but chose right for the party.
As mentioned, this year's invite-only event  showcased two of the NFL's top players vying for the coveted Madden Bowl championship, as well as the culmination of theMadden Challenge, where two of the best Madden NFL players in the world squared off for a share of the $50,000 prize. This year's event pitted players against each other in the brand-new Draft Champions Mode in Madden NFL 16. Draft Champions gives players the chance to build a team of both current stars and all-time greats over a quick 15-round draft. Strategy is key to the draft, as players have to determine which positions and players they're going to prioritize, while also tailoring their gameplan to maximize their squad's strengths and mitigate its weaknesses.