Temple SF Super Bowl Parties: Afrojack & More! – San Francisco's premier nightlife destination announces its Big Game Weekend lineup with Afrojack, Fabolous & more. For a fraction of the cost to attend Hollywood's most lavish parties, Temple Nightclub in San Francisco will feature an A-list lineup of dance-crowd-favorite performers during Super Bowl weekend. More world-class headliners to be announced very soon.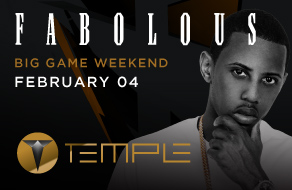 Kicking off the Super Bowl weekend early, guests can see one of their favorite hip-hop performers Fabolous take the main stage on Thursday night. It takes talent to make the struggle to succeed seem effortless, but that is the gift that separates artists like Brooklyn's John Jackson, aka Fabolous, from the everyday MC. While most rappers spend more and more time convincing the masses of their "hustle," Fabolous lets his work speak for his effort. With two platinum albums (2001's Ghetto Fabolous and 2003's Street Dreams) and one Gold (2004's Real Talk) to his credit, the veteran hitmaker still exudes a rookie-of-the year swagger. After recording for both Elektra and Atlantic Records, Fab is enjoying a home coming with the legendary Def Jam label. His first recorded song was "If They Want It" from DJ Clue's The Professional, which was released by Roc-A-Fella/Def Jam in 1998. Now he is preparing to release his fourth street classic, From Nothin' to Somethin' under the watchful eye of his longtime collaborators.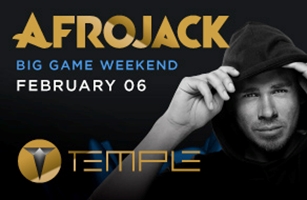 On the biggest night of festivities, Afrojack will push all the high-tech lighting and sound to the limit for lucky partygoers who will pack Temple nightclub on Saturday night. Temple will be one of the city's major hotspots that night, and you never know who will show up, with all the celebrities who are fans of this amazing performer.  Grammy award winning DJ and producer, Afrojack, is one of the most influential names in electronic dance music today. At only 27, he has played a large role in the worldwide explosion and popularity of dance music with The Hollywood Reporter calling him "a global icon" set "to conquer the world" and in 2014 Forbes placing him at #6 on its annual list of 'The World's Highest Paid DJs.' A talented producer and artist Afrojack is versatile and creative with his sound whether creating club hits or producing and remixing for the likes of Beyoncé, Pitbull or Madonna.
With fully immersive state of the art lighting and visuals, to a thumping custom sound system, Temple offers the futuristic Las Vegas-style dance club experience, only steps away from Super Bowl City downtown. The main nightclub features a custom DJ booth, thundering Void sound system, and 50,000 addressable, floor-to-ceiling LED bulbs. Surrounding the dance floor are seven VIP booths, which offer a high-energy experience for guests who wish to be at the center of the action. Watch the following recent video to catch a glimpse of the immersive experience that Temple has to offer.
YOLANDA BE COOL from Temple SF on Vimeo.