Alessandra Ambrosio on Leather & Laces Super Bowl Parties – What better way to prepare for a lavish event than with the help of a Victoria's Secret Angel? Super Sunday HQ sat down for an exclusive interview with Leather & Laces' Saturday night host, Alessandra Ambrosio, and we have some supermodel "Do's and Don'ts" for your partygoing convenience. There are hundreds of Super Bowl events taking place around the Bay Area this week, but some of the most sought-after tickets year after year get you into the intimate Leather & Laces Party taking over City View at the Metreon for two nights in downtown San Francisco.
"It's a great event. I've done one Leather & Laces Party in New York, so I've very happy to be doing it again in San Francisco," said Alessandra Ambrosio. "It's the 50th anniversary, so I think it's going to be just huge this year. When you think about the Super Bowl, there are always great parties around, but Leather & Laces always stands out. Everyone wants to go, and it's definitely the hottest party of the Super Bowl."
USE CODE: SUPERSUNDAYHQ
Alessandra Ambrosio's Do's And Don'ts: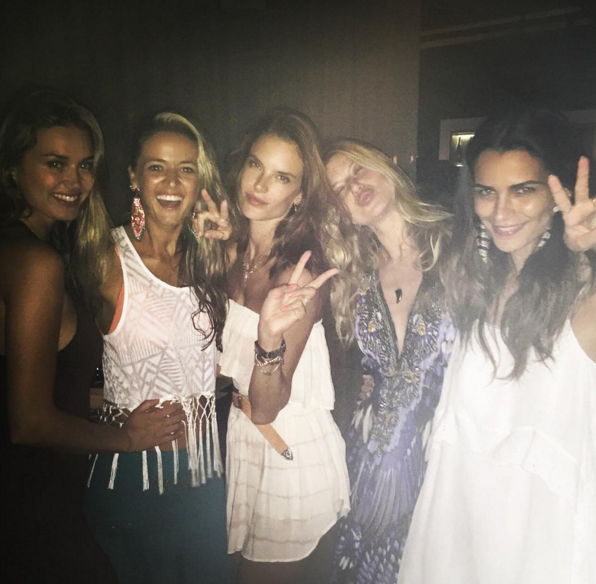 Alessandra Ambrosio, who has over five million followers on Instagram, is all about keeping it real.
"That's always the most interesting. Getting ready is always good, I'll probably do an Instagram like that," she said. "At the party with your friends, having a good time. Something real, Don't force it too much, just let happen at the time."
And once you are there, having that good time with your friends?
"Be yourself. What can I say? Don't get too wasted. Have fun. Don't fall asleep either before the party," she laughed. "It's a very fun party with a lot of interesting people that go, and the DJs always great. They always book the best DJS, so the music is going to be amazing. The people there are very selected, so just enjoy," said Alessandra Ambrosio.
To keep track of all the Super Bowl 50 Parties and events, make sure you visit Super Sunday HQ and get the mobile app, where you can scroll through all the star-studded parties, add Super Bowl events to your calendar, see exclusive party photos, and connect with other Super Bowl 50 partygoers and VIP's. Follow the links to get the #1 Insider's Guide to the Super Bowl:
AppStore: Super Sunday HQ App
Google: Super Sunday HQ App
Since it's inception, Leather and Laces delivers one uncompromising vision: Star Athletes, Hollywood Celebrities and loyal VIP guests in an intimate yet adrenaline fueled experience of the glamor and excitement of Super Bowl weekend! This year will feature "Five-Star Hostess Table Service", and stunning views from the "Chill Out Terrace". While other events have a high number of attendees, Leather & Laces will feature an intimate soiree which will give partygoers a great opportunity to stargaze and party the night away. Higher VIP options will allow meet & greets and more. We attended this event last year in Phoenix, and ran into several celebrities throughout the party.
Located on the fourth floor of the iconic METREON, City View lives up to its name with floor to ceiling windows revealing an unobstructed view of San Francisco's renowned cityscape. City View at Metreon is a large scale event venue located at the center of San Francisco. With an expansive 18,000 square-foot interior and a 12,000 square-foot of unparalleled views from an expansive outdoor terrace and an open modern-lux interior space, it's the perfect venue for Leather & Laces.