Football Legend Joe Montana & Baseball Great Matt Williams to Co-Host  Star-Studded "Big Game Big Give" Fundraiser, Saturday, February 6
BGBG 2016 from Marie Ilene on Vimeo.
Annual Event Previously Named #1 Super Bowl Party by 'ESPN, The Magazine'
Today, the NFL  announced the "Super Bowl 50 Golden Team, choosing Joe Montana as the starting quarterback over Tom Brady, Terry Bradshaw, and Troy Aikman. Not only is the legendary four-time Super Bowl Champion co-hosting the Giving Back Fund's private, "Big Game Big Give event" on Saturday, Feb 6 with Matt Williams, but he is also allowing a small number of guests to get up close and personal with him, all in the name of charity.  Be one of just 10 couples during the Big Game Big Give to enjoy a private session with Joe Montana as he takes you through the three greatest plays of his Hall of Fame Career while you sip on some of the top wines in all of Napa Valley. Other package features include tickets to the Super Bowl, an autographed football, and more. HERE IS AN EXCLUSIVE TICKET LINK.
Jay Leno Named As Celebrity Emcee for Big Game Big Give 2016 
Big Game Big Give, which recently announced Jay Leno as the Celebrity Emcee, is an exclusive, invitation-only fundraiser presented by The Giving Back Fund to benefit local charities. The organization presents its annual Big Game Big Give cocktail party in the Super Bowl city the weekend of the big game, and it will be held this year at the private estate of Jillian Manus in Atherton, CA. The star-studded gala has become a favorite among the philanthropy elite, with previous celebrity hosts including Alec Baldwin, Michael Bay, Mark Wahlberg, Hilary Swank, Ashton Kutcher and Demi Moore. The 2010 Big Game Big Give, hosted by Michael Bay in his Miami home, was selected as the #1 party of Super Bowl XLIV by ESPN, The Magazine. The 2015 event, held in the Phoenix home of former MLB superstar Matt Williams and his lovely wife, Erika, raised over $1,000,000, a record for a Super Bowl charity event.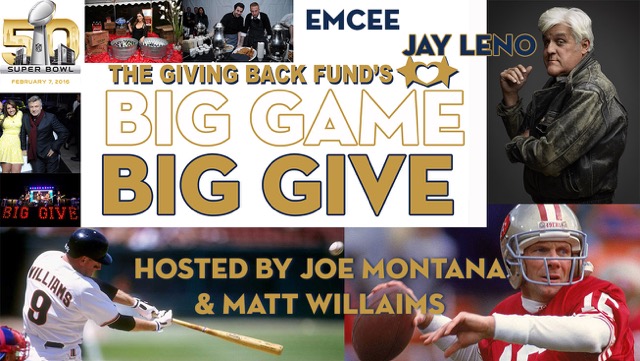 Big Game Big Give 2016 Will Draw Athletes, Celebrities, CEO's & More: 
Big Game Big Give is expected to draw over 500 celebrities, athletes, business entrepreneurs, philanthropists and other VIPs. To keep the event enjoyable for guests, a limited number of people are invited to purchase tickets by GBF, or on the recommendation of the event's prestigious local Host Committee. Guests enjoy cocktails and appetizers while mingling in a relaxed, luxurious and intimate environment. The event will culminate in a live auction and a surprise musical guest performer. The host estate is also set with silent auction items, bars, appetizer stations and unique displays and experiences.
To showcase the Bay Area's philanthropic spirit, this year the organization will honor the Giving Pledgers– founded by Bill Gates and Warren Buffett who have pledged to donate at least half of their net worth to charity in their lifetime.
The foundation's 2016 Celebrity Co-Hosts are former SF Giants All-Star Matt Williams and former SF 49er Super Bowl hero Joe Montana with Lt. Gov. Gavin Newsom as Honorary Co-Chair. Philanthropist Jillian Manus has generously opened her Atherton estate to host the intimate affair and will co-host the event along with Erika Williams.

This year's Big Game Big Give will showcase the host state of California by reimagining its most iconic landmarks, and pairing them with food and wine representative of the state. Chef Roland Passot of La Folie, Left Bank and LB Steak will lead a team of eight other esteemed Bay Area top chefs to create extraordinary culinary creations.
Manus is Managing Partner of venture capital firm Structure Capital, a Silicon Valley early stage fund investing in underutilized capacity and excess assets. She often appears on Bloomberg TV in Europe as a business commentator and has a family foundation whose mission is to create paths of self-sufficiency for women and children. Her mantra in life is to 'pass all blessings forward,' and she encourages others to do the same.
Willams is the Founder and Creator of The Hopeless Housewife, a cooking and lifestyle brand including a website, series of cooking videos and cookbook. She started her career in television as a news anchor on KJTV then moved to Phoenix where she anchored the weekend evening newscast on KTVK's "Good Evening Arizona" and "The News Show".  Williams has also co-hosted the Arizona Diamondbacks' pre-game show,"DBacks on Deck," with her husband, Matt Williams.
The 2016 Big Game Big Give fundraiser will take place at the exquisite private estate of philanthropist Jillian Manus in Atherton, CA on Saturday, February 6, 2016, 6:30 – 10:00 PM. $3,000 per ticket, by invitation only.
Big Game Big Give 2016 Beneficiaries
The Stanford Cancer Institute
The Stanford Cancer Institute advances the understanding and treatment of cancer through a multidisciplinary, integrated and collaborative community of physicians and scientists. SCI leaders, members and partners are all dedicated to discovering cancer's causes and treatments, and applying that knowledge to improved diagnostic, therapeutic and prevention strategies.
The Four Rings Montana Family Foundation
Named for Joe Montana's four Super Bowl rings as well as his four children, The Four Rings Montana Family Foundation is determined to help underprivileged children around the San Francisco Bay Area. Founded by Joe and his wife Jennifer, the foundation reaches out to various children's charities, and provides youth scholarships. In this manner, Four Rings hopes to aid in giving all children a supportive and successful start to their lives.
The Giving Back Fund
The Giving Back Fund is a national nonprofit organization that encourages and facilitates charitable giving by professional athletes, celebrities, high-net-worth individuals, existing nonprofits, corporations and others who truly desire to give back. It provides expert philanthropic consulting and management while operating as a flexible, convenient vehicle for establishing individual foundations and fiscally-sponsored projects under a governance structure like that of a community foundation.  By offering a straightforward and cost-effective approach to philanthropy, high-level expertise and professional services, and carefully targeted giving opportunities, GBF helps those who want to give back to society and to the communities that have nurtured them.
About The Giving Back Fund.  The Giving Back Fund (GBF) is a national public charity that creates and professionally manages charitable foundations and other philanthropic programs for athletes, entertainers, business entrepreneurs, and corporations. Since our founding in 1997, GBF has created an important niche in expanding and diversifying philanthropy, particularly among young people, women and people of color. Our unique structure allows donors to direct more of their charitable dollars to causes they care about and less to administrative overhead. To date, The Giving Back Fund has provided philanthropic consulting, management and programming to more than 200 athletes, entertainers, entrepreneurs, and other high-net-worth individuals. GBF has overseen the distribution of tens of millions of dollars in charitable grants within the United States and other countries, and has developed dozens of unique scholarship, mentoring, medical, arts, and other philanthropic programs. For additional information, please visit www.givingback.org.