Anomalisa Review
Anomalisa Review:"A Triumph! Never Mind Kafka or Beckett!" – If most men lead lives of quiet desperation then Michael Stone, the protagonist in Charlie Kauffman's latest offering-an eerily brilliant stop-motion animated film- is certainly not waving but drowning. This 90 minute glimpse of the unexamined life follows Michael, a well-known author, traveling to Cincinnati to deliver a speech at a convention. He is plagued by the mundane and seemingly numbed by a loveless marriage. He is a person lacking any real connections.  However, during his one-night stay in the Queen City Michael's soul is awakened by a chance encounter with a would-be convention goer.
The opening scene is filled with subtle but annoying background noise and each character Michael encounters has the same voice. From his cab driver, to the bell hop to Michael's ex-girlfriend each voice is that of character actor Tom Noonan. This, along with the fuzzy android look of stop-motion (puppetry), makes for an uneasy if not uncomfortable viewing experience. Although it was hard to take my eyes off of the main characters in a strange Dan Day-Lewis type of way. Some fans will recall Tom Noonan from Michael Mann's 1986 Manhunter in which he played the villain, Francis Dollarhyde.  More obsessive fans in the foolishness of youth might have once mimicked his character's rambling monologue in Manhunter, "To me, you are a slug in the sun. You are an ant in the afterbirth…" Nevertheless, Noonan's voice as every character here sucks the viewer into Michael's boring and unremarkable existence. Its tone and cadence lull the viewer into Michael's insignificant world filled with meaningless exchanges.  Within the first ten minutes I, like Michael, was longing for the respite of a new voice. Any different voice. [SPOILER ALERT: Skip to last paragraph to avoid hearing more about the film's story than you many want to]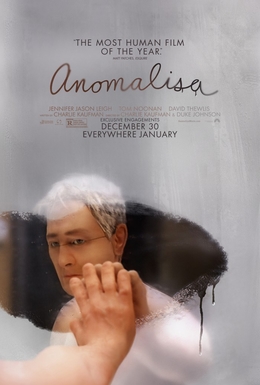 Michael hears a different voice in that of convention goer Lisa Hesselman. The character is voiced by Jennifer Jason Leigh and like Leigh Lisa possesses a quirky, likable disposition. Lisa is even petit.  Lisa is also a romantic and easily impressed. It should be noted that Michael is voiced by British actor David Thewlis, known from the Harry Potter series. I must confess that I really saw was a middle-aged Gerard Butler.  They meet for drinks in the hotel bar with Lisa's friend and later Michael and Lisa retire to Michael's room with the friend's full support. Michael is enraptured. He actually smiles and his eyes light up as he implores Lisa to "keep talking." They drink more and Michael listens in wonder as Lisa sings her favorite song, Girls Just Want to Have Fun by Cindi Lauper. Later she sings the song in Italian which appears to arouse Michael. During this scene a predator-groupie dynamic arises briefly as Lisa is amazed by the hotel's hospitality service while Michael asks to kiss Lisa's mysterious scar on the side of her face. The scar is never explained and Lisa declines Michael's request. Sexual intercourse ensues with Michael asking Lisa to say anything.  Michael is escaping his abyss. He is connecting with someone. He is no longer emotionally untethered. His quiet desperation is literally replaced with sexual climax. The viewer must try her best at this point not to laugh out loud as the mundane act of lovemaking is captured by stop-motion animation.  Ironically, Michael is engrossed by Lisa's own simplicity. Think Krapp's Last Tape with cunninglingus. It's noteworthy that Michael attempts to no avail to seduce an old flame upon arriving in Cincinnati.
The following morning Michael has a frightening dream in which he is summoned by hotel staff to the bowels of the building. There he is confronted by an administrator who questions Michael's indiscretion and avows his love for Michael. Michael flees the basement office and sets off running in search of Lisa. In this dream sequence part of Michael's face (the puppet) falls off and lands on the floor briefly revealing the mechanical underpinnings of the puppet. Michael quickly replaces his face but could this be nod the unexamined life? Do we every truly know ourselves? Who are we really?
Michael awakens and has breakfast with Lisa in the hotel room. His mood is pleasant and his view is positive. He quickly and rather abruptly professes his love for Lisa and says he must be with her and leave his wife. Lisa obliges him and says she can leave Cincinnati but no sooner than she finishes her eggs does the mundane suddenly creep back in. Michael begins to hear Noonan's voice again, everyone's same voice again, as Lisa confirms this magical connection. The voice plays over and simultaneously to Lisa's voice and the next scene finds Michael on an airplane headed home to his family.
However, just before he heads home perhaps the most poignant scene is played out.  Michael is delivering his speech on customer service at the convention and a once well-crafted, eloquent speech becomes blurry and unintelligible. Michael physically struggles at the podium, at times turning his back to the audience. He glances at the polished speech and we see the words but Michael speaks none of it. Instead Michael speaks the truth. He tells the audience to be friendly and to smile, "It doesn't cost anything!" He hangs his head and talks of the uncertainty of life and how our time is limited. He deviates from the canned customer service speech and speaks from his heart, enlightened briefly from his one night with Lisa. A night in which he felt alive again and could hear a different voice.  Perhaps he found his own voice. He talks of the dumbing down of America and references a broken education system and how dumb citizens are easier to manipulate. Sure Michael got off but more importantly Michael broke off, however momentarily, from his dull, tedious and tiresome existence. In a way, one night with Lisa provided sustenance and maybe propelled Michael back to his family,
At home in Los Angeles Michael is greeted by his wife and son, his son previously  noted by Michael to also be a source of his everyday misery. After a hug, Michael's wife reveals a room filled with family and friends there to surprise Michael as a sort of homecoming. Michael thanks the group, sighs, then sits down on the stairs as his revelers continue talking in the same singular voice.  The same voice Michael hears wherever he goes, whatever he does. In maintaining a secondary theme of satiation, Michael regales his son with a gift from a sex toy shop in Cincinnati. It appears to be a Japanese antique sex doll, with working parts and music. The son asks what it is and Michael says he doesn't know. Music from the antique dolls continues to play as the next scene we see Lisa sitting in a convertible with her friend driving the car. She's writing a letter to Michael and the year is 2005, ten years after their encounter. She wonders if things might have worked out for them had they met at a different time and she cites the meaning of the name Anomalisa.
Anomalisa Review – Final Thoughts
Jung believed that our purpose in life is to kindle the light in the darkness of being. Anomalisa works to serve as the spark we so desperately need to survive our uneventful lives. It vividly demonstrates that life is about relationships and connections.  The triumph of the abnormal over the banal.  The unconventional over the commonplace. The heavenly over earthly. Never mind Kafka or Beckett. To me, Kauffman has given us Michael and Lisa to help us light our way.
On a side note, Anomalisa really has no soundtrack. Ice Cube's, It Was a Good Day would have been seamless.