La La Land SF Interviews w/ Ryan Gosling, Emma Stone – Watch Ryan & Emma Talk MC Hammer Pants and Director Damien Chazelle on His Favorite Film and More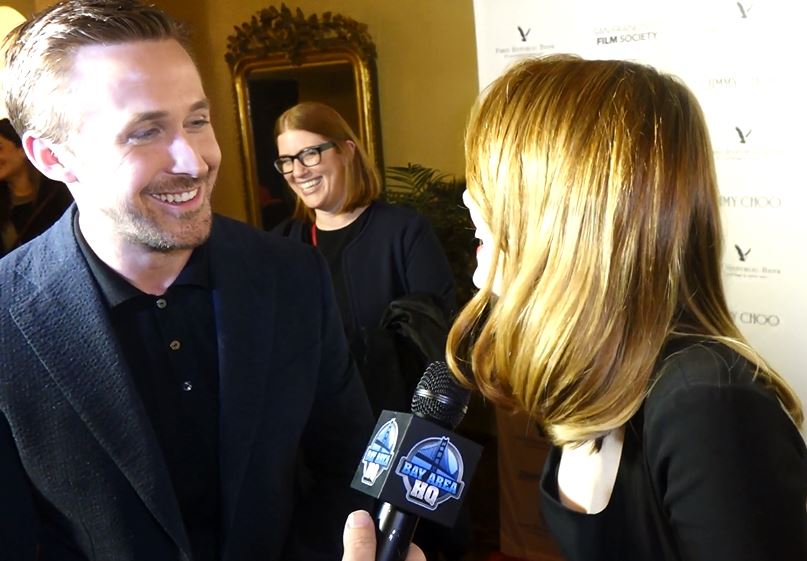 Watch (video above) LA LA LAND writer/director Damien Chazelle, actors Ryan Gosling and Emma Stone, composer Justin Hurwitz, SF Film Society Executive Director Noah Cowan, and filmmaker Chris Colombus onhand at the SF HONORS event last night in the Castro Theatre.  We talked to "Whiplash" and La La Land director about working with composer Justin Hurwitz, the emotional last day of shooting La La Land, and one of his favorite films, The Umbrellas of Cherbourg. LA LA LAND is now open in select theatres, but will be coming to the San Francisco Bay Area on December 16th. The film is garnering rave reviews, so be sure to see this Best Picture favorite next week.
La La Land SF – We also caught up with Ryan Gosling and Emma Stone, and asked Ryan Gosling about his memories of his performance in a 1991 talent show, and asked Emma Stone about her memories of a Power Point presentation she gave to her parents to convince them to allow her to pursue her acting dreams and move from Arizona to Los Angeles. Be sure to check out the fun interaction between Ryan and Emma, and see more added content.
La La Land SF – Written and directed by Academy Award nominee Damien Chazelle, LA LA LAND tells the story of Mia (Emma Stone), an aspiring actress, and Sebastian (Ryan Gosling), a dedicated jazz musician, who are struggling to make ends meet in a city known for crushing hopes and breaking hearts. Set in modern day Los Angeles, this original musical about everyday life explores the joy and pain of pursuing your dreams.
SF Honors, a new SF Film Society award made possible by a gift from Film Society Board Vice President Todd Traina and philanthropist Diane Wilsey, is designed to bring particular attention to innovation and audacity in current cinema with a screening and special onstage tribute to the creators and cast of one of the best films of the year.
The San Francisco Film Society champions the world's finest films and filmmakers through programs anchored in and inspired by the spirit and values of the San Francisco Bay Area.
Building on a legacy of nearly 60 years of bringing the best in world cinema to the Bay Area, the San Francisco Film Society is a national leader in exhibition, education and filmmaker services.
The crown jewel of the Film Society's exhibition program is the San Francisco International Film Festival(April 2017), the longest-running film festival in the Americas and a beloved showcase of cinematic discovery. An essential stop on the international film festival circuit, SFIFF is well regarded as a significant celebration of world cinema in one of the country's most beautiful cities. Last year's Festival featured 252 screenings of 183 films from 47 countries, which were attended by over 315 filmmakers and industry guests from around the globe. The Film Society's additional year-round initiatives in film exhibition include a robust Fall Season of specialized film series and countless individual public and member screenings and events with special guests in person.
Filmmaker360, the Film Society's filmmaker support program, offers unparalleled assistance and opportunities designed to foster creativity and further the careers of independent filmmakers nationwide and oversees one of the largest film grant programs in the country, which disperses nearly $1 million annually to incubate and support innovative and exceptional films. Recent Filmmaker360 success stories include Short Term 12, Destin Cretton's sophomore feature which won both the Narrative Grand Jury Award and Audience Award at South by Southwest 2013; Ryan Coogler's debut feature Fruitvale Station, which won the Un Certain Regard Avenir Prize at the 2013 Cannes Film Festival and both the Grand Jury Prize and Audience Award in the narrative category at Sundance 2013; and Beasts of the Southern Wild, Benh Zeitlin's debut phenomenon which won Sundance's Grand Jury Prize and Cannes' Camera d'Or in 2012, and earned four Academy Award nominations.
The SFFS Education department offers year-round media literacy programs to over 10,000 K-12 students, develops college and university programs to help students transition into the professional filmmaking arena and connects international filmmakers with local institutions of learning through a prestigious Artist in Residence program. Its pioneering Schools at the Festival program exposes a new generation of viewers to the best in international and independent cinema every year at SFIFF, bringing thousands of Bay Area students to Festival screenings and engaging them with filmmakers from around the world.