Kate McKinnon talks 90's, Walmart, Hillary, SF, Masterminds – Watch our Fun Interview with the Emmy-Winning Actress About Plans for the Big Presidential Debate, San Francisco, and Much More.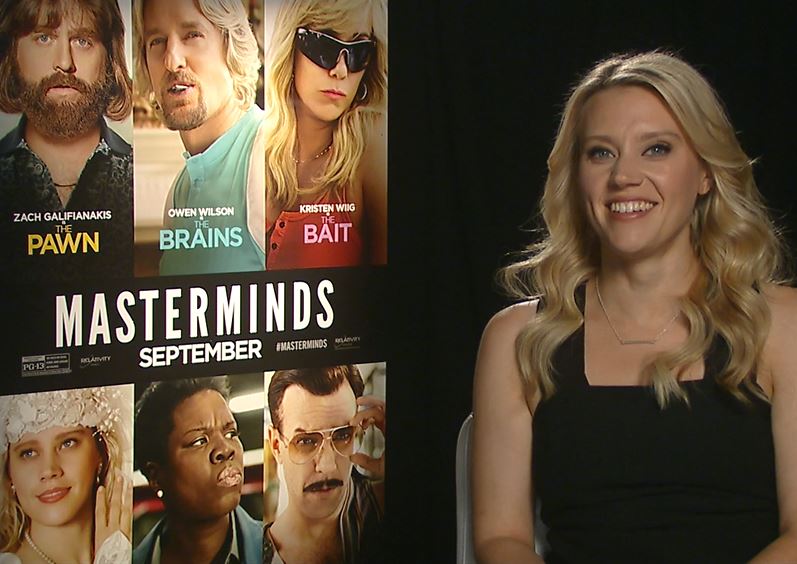 KATE MCKINNON is Jandice in Masterminds, in theatres starting Thursday in the Bay Area, and officially on Friday September 30, 2016.
Kate Mckinnon in Masterminds: In this action comedy based on true events, directed by Jared Hess (Napoleon Dynamite; Nacho Libre), David Ghantt (Zach Galifianakis) discovers the true meaning of adventure far beyond his wildest dreams. He is an uncomplicated man stuck in a monotonous life. Day in and day out he drives an armored vehicle, transporting millions of other people's money with no escape in sight. The only glimmer ofexcitement is his flirtatious work crush Kelly Campbell (Kristen Wiig) who soon lures him into the scheme of a lifetime.
Along with a group of half-brained criminals led by Steve Chambers (Owen Wilson) and an absurdly faulted heist plan, David manages the impossible and makes off with $17 million in cash…only problem is he foolishly hands the money over to this wild group of double crossers and has been set up to take the fall. With the bandits blowing the millions on lavish and ridiculous luxuries, they leave behind a glaring trail of evidence. Now on the lam and in over his head, David must dodge the authorities, evade a hilarious hit man, Mike McKinney (Jason Sudeikis), and try to turn the tables on the ones he trusted most.
Kate McKinnon is a New York-based writer, performer and "Saturday Night Live" cast member who has been nominated for four Emmy Awards, two in 2014 for Outstanding Supporting Actress in a Comedy Series, and Outstanding Original Music and Lyrics; and again in 2015 and 2016 for Outstanding Supporting Actress in a Comedy Series. McKinnon also has a 2014 Best Supporting Actress Award from The American Comedy Awards for her work on "SNL." Her renown has garnered her numerous press mentions, including Forbes' "30 Under 30" list and GQ's "Fifteen Funniest People Alive Right Now."
Recently, McKinnon has starred in Ghostbusters and in Finding Dory. Her projects in the pipeline include Office Christmas Party, with Olivia Munn and Jennifer Aniston, and Rock That Body, alongside Scarlett Johansson.
 Previous film credits include Sisters, opposite Tina Fey and Amy Poehler, Balls Out (aka Intramural), with "SNL" alums Beck Bennett and Jake Lacy, as well as Rhys Thomas' Staten Island Summer. She has voiced characters on Cartoon Network's "The Venture Bros." and Adult Swim's "China, IL," as well as Comedy Central's "Moonbeam City" and Pixar's Halloween special Toy Story of Terror.
 Additional television credits include "Maya & Marty," "Nature Cat" and "Comedy Bang! Bang!"
On stage McKinnon performed with numerous Harold and Maude Teams at New York's Upright Citizens Brigade Theater, where she also wrote and performed three one-woman shows: "Disenchanted," "Best Actress" and "Kate McKinnon on Ice." She studied theater at Columbia University.