49ers Streaker (Watch) Runs Onto Field at Rams Game at Levi's Stadium on Monday Night Football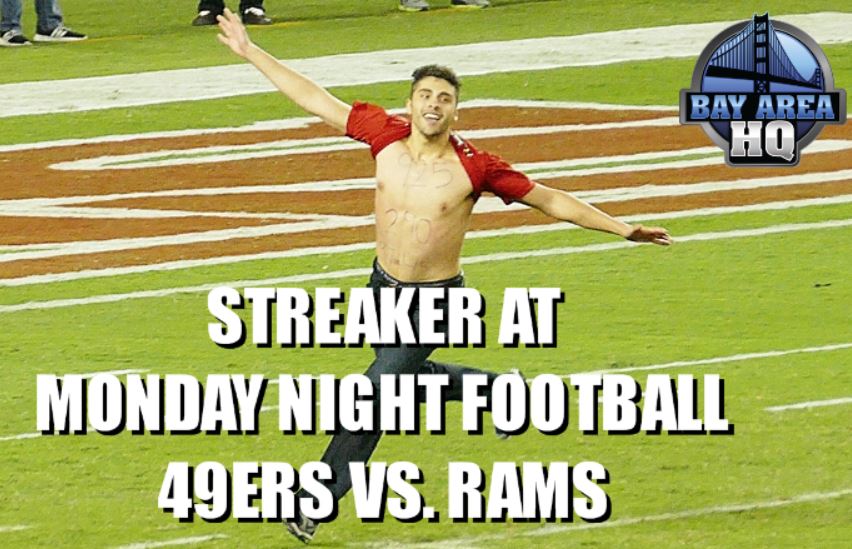 Watch our exclusive footage of the unnamed fan at the 49ers game who decided to streak on the field as the Rams were facing a third and four down by 21 points at the 49ers game at Levi's Stadium. The 49ers streaker picked a national stage as he ran onto the field early in the 4th quarter. Authorities executed the takedown very well and the streaker, who had a phone number on his chest with at (925) area code, went quietly.
Try to see if you can open two browser windows so you can hear Kevin Harlan on Westwood One call the amazing moment on radio:
Kevin Harlan is a national treasure: pic.twitter.com/CQFjPxkTMX

— Dieter Kurtenbach (@dkurtenbach) September 13, 2016
The 49ers beat the Rams on Monday Night Football last night by a score of 28-0. Carlos Hyde, who ran for 88 yards, scored the game's first TD, and had a second one as well. San Francisco's defense was solid as Navorro Bowman grabbed one of the 49ers two interceptions. The defense was able to shut down both the Rams premier RB Todd Gurley (47 yards total) and their QB Case Keenum, who only threw for 130 yards in the game.
2016 49ERS SCHEDULE
| | | | |
| --- | --- | --- | --- |
| DATE | OPPONENT | PACIFIC TIME | NETWORK |
| Monday, Sept. 12 | Los Angeles | 7:20 p.m. | ESPN |
| Sunday, Sept. 18 | @ Carolina | 10:00 a.m. | FOX |
| Sunday, Sept. 25 | @ Seattle | 1:05 p.m. | FOX |
| Sunday, Oct. 2 | Dallas | 1:25 p.m. | FOX |
| Thursday, Oct. 6 | Arizona | 5:25 p.m. | CBS/NFLN/Twitter |
| Sunday, Oct. 16 | @ Buffalo | 10:00 a.m. | FOX |
| Sunday, Oct. 23 | Tampa Bay | 1:05 p.m. | FOX |
| Sunday, Oct. 30 | BYE | | |
| Sunday, Nov. 6 | New Orleans | 1:05 p.m. | FOX |
| Sunday, Nov. 13 | @ Arizona | 1:25 p.m. |  FOX |
| Sunday, Nov. 20 | New England | 1:25 p.m. | CBS |
| Sunday, Nov. 27 | @ Miami | 10:00 a.m. | FOX |
| Sunday, Dec. 4 | @ Chicago | 10:00 a.m. | FOX |
| Sunday, Dec. 11 | New York Jets | 1:05 p.m. | CBS |
| Sunday, Dec. 18 | @ Atlanta | 1:05 p.m. | FOX |
| Saturday, Dec. 24 | @ Los Angeles | 1:25 p.m. | FOX |
| Sunday, Jan. 1 | Seattle | 1:25 p.m. | FOX |