Sully Movie Review: A Modern Hero Deconstructed – Eastwood's Film about the Pilot Behind the "Miracle on the Hudson" is as Authentic as it is Fascinating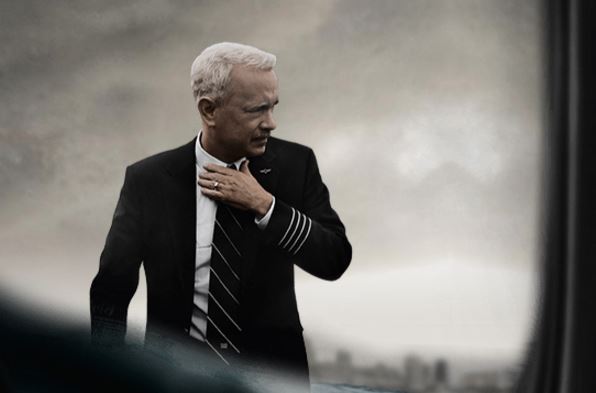 Though many of us know Sully, Captain Chesley Sullenberger, as the pilot who successfully landed US Airways flight 1549 on the Hudson river, we are mostly unaware of the experience from his point of view.  Clint Eastwood's non-linear biopic is compelling, but not the way you might expect. Though he briefly touches upon the personal stories of some of the passengers on the plane, the movie takes viewers behind-the-scenes into the post-traumatic flashbacks that Sully experienced as well as his reaction to his instant fame. You'll be in the cockpit for the entire National Transportation Safety Board investigation of Sully, second-guessing and computer-analyzing his split-second decisions during the flight. Eastwood masterfully at times makes audiences fear the worst about whether Sully made the right decisions during the flight, giving them that there's-no-Santa-Claus-type feeling at times.
Tom Hanks kills it as Sully, but since Sully has this deer-in-the-headlights look through most of the movie, Hanks immerses himself into the subtleties of the character and does well in true Hanks fashion. Though we don't see something as memorable as The Aviator or Ray, Hanks does Sully better than actor could ever do.
We get to see a lot of familiar faces in the supporting cast. Anna Gunn (Breaking Bad) is great as the doubting Elizabeth Davis from the NTSB board. Even better is Patch Darragh, who we love from The Path on Hulu. He plays a guy in air traffic control wonderfully. Aaron Eckhart is superb as Sully's co-pilot Jeff Skiles. We also get to see Mike O'Malley, who played Kurt's dad on Glee, in a large portion of the film. We also get some moments with Laura Linney, who plays Sully's wife, Holt McCallany, and even Jerry Ferrara (Turtle from Entourage) who plays a port authority rescue worker.
We saw the film in IMAX, and we truly enjoyed it. Go see it in IMAX. It is a film that we all need to see. Though it isn't completely earth-shattering, it reminds us of another Miracle, the one with Kurt Russell in it. A true testament to the human spirit and a case-study of what is possible when all the planets align and everyone does the best possible job they can. Oh, and don't forget to stay through the credits.