Chandler Riggs Interview & Cosplay Gallery at HVFF! Heroes and Villains San Jose Recap with The Walking Dead Star Who Plays Carl Grimes and Talks Pokemon Go
Chandler Riggs & Heroes and Villains San Jose Cosplay Gallery!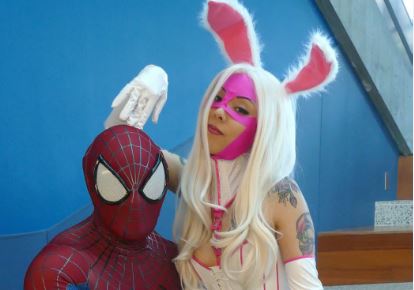 Chandler Riggs appeared at the Heroes & Villains Fan Fest (HVFF), an event that is revolutionizing the comic con landscape, that was held at the San Jose Convention Center, Aug. 27­28, in San Jose, CA. San Jose marked the first city in the world that the popular HVFF returned to. Fan access to celebrity guests was the primary focus of this event, which included two days of immersive experiences and memories. Heroes & Villains Fan Fest ­­is the brainchild of actor Stephen Amell and James Frazier, creator of the zombie and horror event Walker Stalker Con. It ­­ has become an incredibly popular convention, offering something for everyone from the diehard fan to families to those with a growing interest in the genre.
More than 20 of the most popular actors from shows such as Arrow, The Flash, Legends of Tomorrow, Once Upon A Time, and more spoke to the audience, met fans, posed for photos and signed autographs . Attendees also participated in a range of engaging and unique activities, including:
● Panel sessions led by stars from some of television's most popular shows.
● The Nocking Point San Jose Wine Mixer, a special event in which attendees mingled with Stephen Amell and Andrew Harding (Nocking Point co­owner) while tasting fabulous wines. Stephen and Andrew even poured wine for the guests.
● Interactive "hero­style" games on the Con floor, fun for the entire family.
● Cosplayers roamed the event floor, making for memorable interactive experiences.
● Vendors who deal in comic, entertainment, and other genres and industries. There are even a number of opportunities to volunteer at the event, which can be found on the Heroes & Villains website.
One of the most popular elements of Heroes & Villains Fan Fest was the chance to meet and hear from stars from popular shows. In San Jose, attendees were treated to sessions with:
● Stephen Amell (also star of Teenage Mutant Ninja Turtles 2), John Barrowman, Katie Cassidy, David Ramsey, Colin Donnell and more from the Arrow series
● Johnathon Schaech (Jonah Hex, Legends of Tomorrow). This was the noted actor's first appearance at HVFF.
● Karen Gillan, Michael Rooker, Gregg Henry and Sean Gunn from Guardians of the Galaxy
● Milo Ventimiglia (The Ogre, Gotham, Heroes and other popular shows)
● Matt Ryan (Constantine) ● Brandon Routh, Caity Lotz and Ciara Renee from Legends of Tomorrow
● Stars of shows including The Flash, Gotham and The Walking Dead
About Fan Fest
Fan Fest is the leading convention and entertainment news brand in North America, with shows throughout the world and an audience in the hundreds of millions. Under the Fan Fest umbrella, Heroes and Villains Fan Fest is an event for fans of superheroes and villains, and Walker Stalker Con (including the Walking Dead Experience) is for fans of the zombie and horror genres. With exclusive guest appearances at at each event and behind­ the­ scenes access to the stars of The Walking Dead, Once Upon A Time, Arrow, the DC Cinematic Universe and many hero­-based movies at FanFest.com, Fan Fest gives fans a truly one ­of­ a­ kind experience in a Comic-Con-like atmosphere.