Ian Somerhalder Nikki Reed Lend Support to WildAid – Watch Interviews With Ian, Nikki, Bo Derek, Nico and Vinz, at the 2016 WildAid Gala at the Ritz Carlton in San Francisco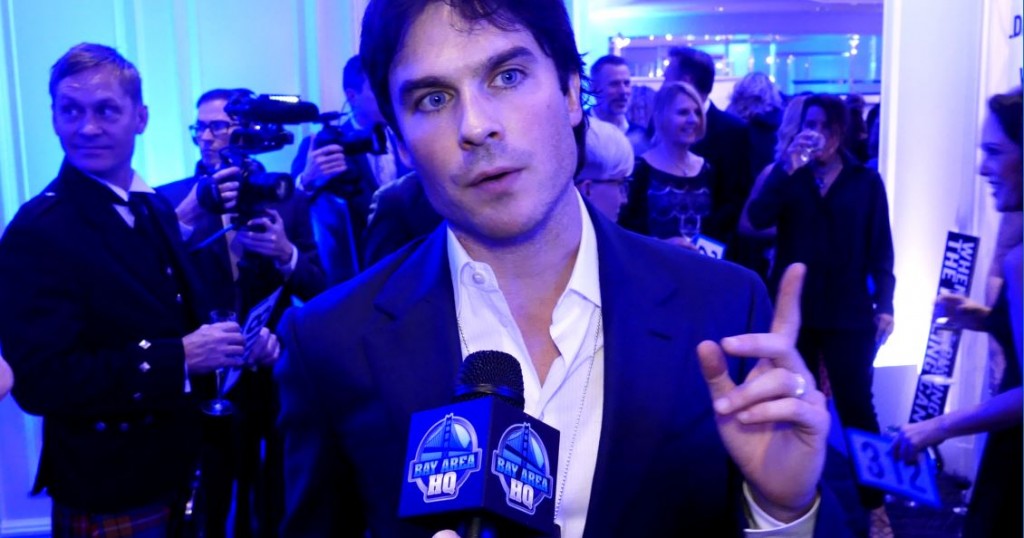 Ian Somerhalder Nikki Reed came out to support a great cause in San Francisco last night. WildAid, a pioneer in global wildlife conservation, had its 2016 WildAid Gala, An Evening Under the Sea, at The Ritz-Carlton, San Francisco. The annual event honored the nonprofit's 16 years of tireless work to stop the illegal wildlife trade with tremendous support from its celebrity ambassadors, many of whom are featured in past and upcoming WildAid PSAs. As a highlight of the event, WildAid honored actor and conservation hero Ian Somerhalder (The Vampire Diaries) with its prestigious Wildlife Champion Award, past recipients of which include Sir Paul McCartney and actress Maggie Q.
This year's gala attendees included Ian Somerhalder Nikki Reed, Bo Derek, John Corbett & many more notables. There was also a live performance by Nico & Vinz.
Live auction items included many extraordinary experiences, ranging from an island-hopping adventure in Fiji to 12 days in Thailand and Vietnam with Ker & Downey, several incredible journeys to Africa, and an "Odyssey" in the Galapagos (live auction lots range in value from $10,500 to $125,000). The silent auction featured equally impressive smaller ticket items, including two pieces by Alexander Jewell to celebrate the new BE-Jewelled For WildAid Collection.
 Also, Yao Family Wines, founded by NBA Hall of Famer Yao Ming, introduced a new, limited-edition wine onsite to benefit WildAid and to commemorate Yao's 10 years of dedication to the organization. One hundred percent of these proceeds go directly to WildAid. Individual bottles are $100 per 750mls and can also be purchased via YaoFamilyWines.com.
About WildAid
WildAid is a nonprofit organization with a mission is to end the illegal wildlife trade in our lifetimes. While most wildlife conservation groups focus on protecting animals from poaching, WildAid primarily works to reduce global consumption of wildlife products such as shark fin and elephant ivory by persuading consumers and providing comprehensive marine enforcement. Recent WildAid campaigns such as the #JoinTheHerd initiative have brought together millions of people to speak out about the poaching crisis affecting African elephants. With an unrivaled portfolio of celebrity ambassadors and global network of media partners, WildAid leverages nearly $200 million in annual pro bono media support with a simple message: When the Buying Stops, the Killing Can Too. For more information, visit WildAid.org