Silicon Valley Comic Con: Must-See Panels, Celebs & More – Back to the Future Stars, Woz, & Stan Lee Headline Pop Culture & Tech Event on March 18-20 in SJ.
Silicon Valley Comic Con is fast approaching. Several VIP passes are sold out. Even major hotels are sold out. Silicon Valley Comic Con will be a show unlike any other, bringing together the best in technology and entertainment all under one gigantic roof! The inaugural Silicon Valley Comic Con will be hosted at the San Jose Convention Center in San Jose, CA the weekend of March 18-20, 2016. According to the Official Website, the event is open on Friday (5PM-9PM), Saturday (10AM-6PM), and Sunday (10AM-5PM). Note: Some panels may go longer, and there's a live auction at 8AM on Sunday. Follow @SVComicCon for the latest news. Also download the app by searching for Silicon Valley Comic Con. Here are some highlights:
UPDATES: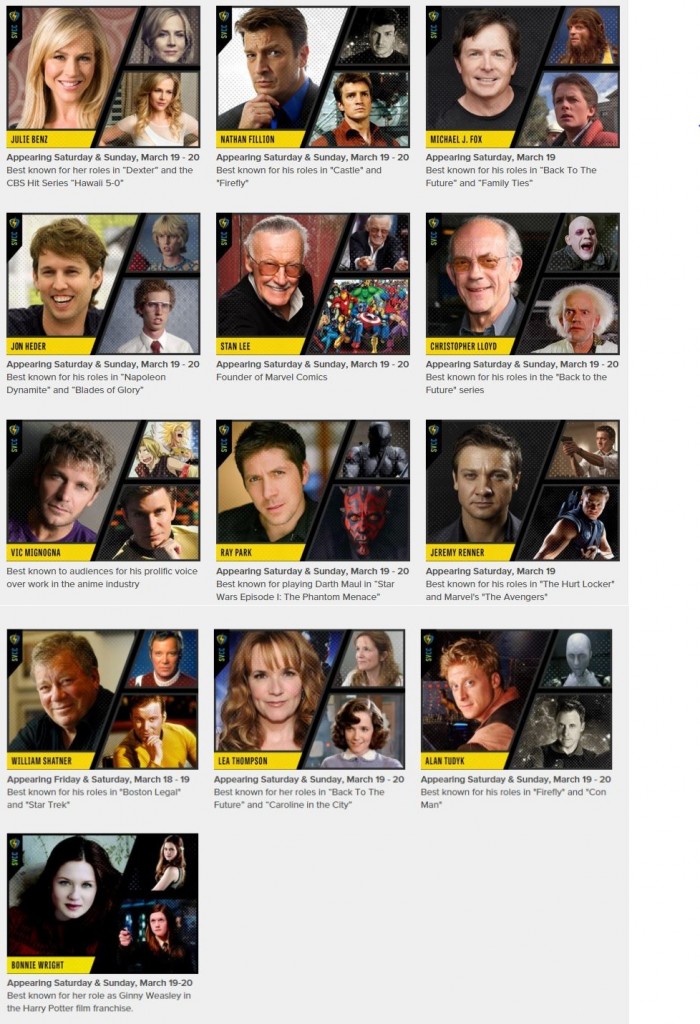 SILICON VALLEY COMIC CON: OUR TOP PANEL PICKS (SEE FULL SCHEDULE HERE)
7PM-8PM AN EVENING WITH WILLIAM SHATNER (ROOM 1)
From Star Trek's Captain Kirk to Boston Legal's Denny Krane, there are few actors that are more iconic on the screen or in person. Mr. Shatner will be hosting a Q&A session to talk about his career, legacy, and his current projects. More details to follow.
11AM-12PM OPENING CEREMONIES WITH STEVE WOZNIAK (ROOM 1)
12:15PM-1:15PM SPOTLIGHT ON JEREMY RENNER/FAN PANEL (ROOM 1)
1:30PM-2:30PM CON-MAN: THE FAN REVOLT 14 YEARS IN THE MAKING (ROOM 1)
Alan Tudyk's dream show based on his global convention experiences seemed impossible with the compromises Hollywood demanded. Instead he went directly to fans; over 46,000 responded, with a recordbreaking $3.2 million raised on Indiegogo, and Con Man was officially born. With season one a smash hit on Vimeo and season 2 in the works we?ll talk Con Man and the crazy ride that made his dream project a reality. From the series to the video game to the Spectrum comic released on Free Comic Book Day, 2016 is the year of the Con Man! Join Alan Tudyk, Nathan Fillion, PJ Haarsma, and Shannon Eric Denton for a Con panel like no other!
2:45PM-3:45PM SPOTLIGHT ON BACK TO THE FUTURE (ROOM 1) *THIS PANEL APPEARS TO COST AN ADDITIONAL $10
Fresh off of celebrating the 30th anniversary of the release of "Back to the Future," and just past the future date to which Marty traveled, join us as we celebrate the legacy of this great film franchise along with stars Michael J. Fox (Marty McFly), Christopher Lloyd (Doc Brown) and Lea Thompson (Lorraine Baines).
4PM-6PM HALT & CATCH FIRE PANEL [NEW TIME!] (ROOM 3)
"Please join us for a screening of the season two finale of AMC's "Halt and Catch Fire," followed by a panel with series creators Chris Cantwell and Chris Rogers, stars Kerry Bishé and Mackenzie Davis and Google "Security Princess" Parisa Fabriz. Google's Julie Ann Crommett will moderate as they discuss television and media's power to motivate and support more women in technology and how "Halt and Catch Fire" is at the forefront of that movement."
4PM-5PM FOUNDER FIRESIDE WITH PALMER LUCKEY (founder, Oculus) AND STEVE WOZNIAK (co-founder, Apple) (ROOM 1)
Moderated by Kara Swisher (journalist, Re/code, formerly WSJ and AllThingsD), Steve Wozniak and Palmer Luckey will talk about the intersection of technology and pop culture, the future of tech and virtual reality, how they came to invent groundbreaking technology at a young age, their inspirations and more.
5:15PM-7PM COSTUME CONTEST
Come out and see costumes from all sorts of genres! You?ll be amazed at what some of the talented fans put together for this event! The Costume Contest will be the climactic Saturday afternoon event with a master of ceremonies, a panel of great guest judges, and some amazing prizes & awards!
12:15PM-1:15PM STAN LEE (ROOM 1)
1PM-2PM JULIE BENZ (ROOM 2)
2:45PM-3:45PM NATHAN FILLION (ROOM 1)

TOP EXHIBITS (WOZ WAX FIGURE TO BE UNVEILED AT #SVCC)
SCREENUSED LIVE + ONLINE AUCTION
Fans can bid on real props and wardrobe items used in their favorite movies at Silicon Valley Comic Con. ScreenUsed, one of the world's leading movie and television memorabilia companies, will hold their live auction during the event. The live auction will be held at 8am on Sunday, March 20, 2016. This is a very rare opportunity to literally own a piece of your favorite movie, and become the caretaker of a piece of history. Hundreds of original movie and television props and wardrobe from many iconic productions will be available in the auction, for example:
●  Back to the Future – Doc's Mind Reading Helmet (Christopher Lloyd)
●  Back to the Future – OUTATIME License Plate from the DeLorean
●  Back to the Future 2 – Hoverboards
●  Click – Light-Up Remote Control (Adam Sandler)
●  Elysium – Kruger's Exo-Hulc Suit & Samurai Sword
●  Spider-Man 3 – Spiderman's Boots (Tobey Maguire)
●  X2: X-Men United – Wolverine's Adamantium Claws (Hugh Jackman)
Along with other artifacts from the Star Wars original trilogy, Star Trek productions, Terminator series, Jurassic Park, and many others.
Many iconic props and wardrobe will be on display throughout the event at the ScreenUsed booth. The auction will be a fast paced, exciting event with a live auctioneer, as well as online for those around the world that can't attend in person. The auction has no reserve pricing, so the highest bid will own the artifact. Every item comes with a signed ScreenUsed Certificate of Authenticity, guaranteeing it was used during the production of the movie or television show.
For information on how to register for the auction, please see www.screenused.com/auction. Attendees of the Silicon Valley Comic Con will be able to register in person during the first day of the event at the ScreenUsed booth.