Boss Baby Trailer and Interview with Tom McGrath & more – Watch our fun interview with director Tom Mcgrath and producer Ramsey Ann Naito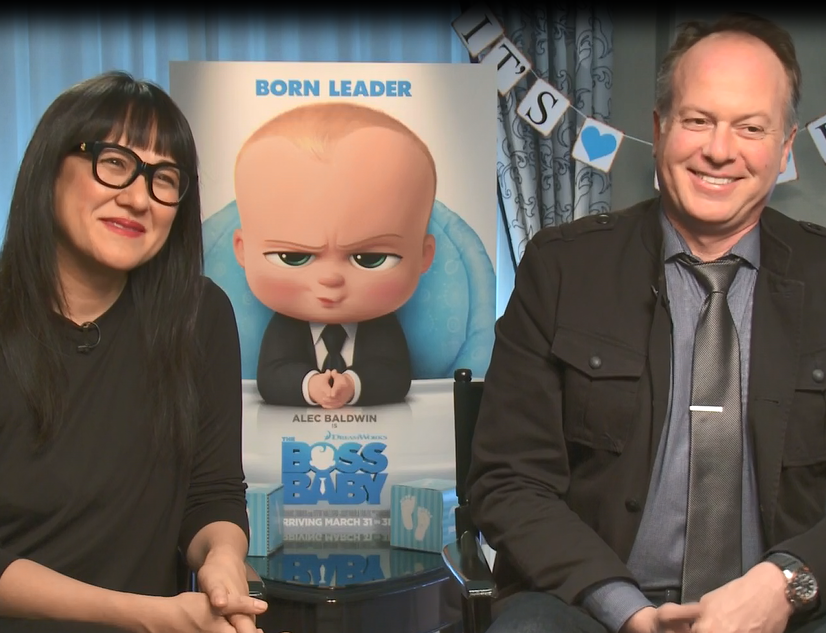 Boss Baby Trailer – Watch our interview above with the creators of The Boss Baby: director Tom McGrath and producer Ramsey Ann Naito. McGrath, who voiced Skipper from Madagascar and Penguins of Madagascar opines on what would happen if Skipper faced off against The Boss Baby (voiced by Alec Baldwin). Also, we talk to Tom and Ramsey about the Alec Baldwin, and the unique style of animation behind the film. Take a look at The Boss Baby Trailer below.

From the creators of Shrek and Kung Fu Panda, comes DreamWorks Animation's THE BOSS BABY, a hilarious family comedy about how a new baby's arrival impacts a family, told from the point of view of a delightfully unreliable narrator — a wildly imaginative 7-year old named Tim. The most unusual Boss Baby arrives to Tim's home in a taxi, wearing a suit, carrying a brief case and speaking with the voice and wit of Alec Baldwin. The sibling rivalry between the two brothers is reluctantly cast aside when Tim discovers that Boss Baby is actually a spy on a secret undercover mission, and only he can help.  An outrageous adventure ensues as the pint-sized partners prepare to thwart a dastardly plot involving an epic battle between puppies and babies.
Inspired by the best-selling picture book by Marla Frazee, this riotous comedy for all ages features the voices of Alec Baldwin as Boss Baby, Steve Buscemi as the villainous Francis E. Francis, Jimmy Kimmel and Lisa Kudrow as Tim and Boss Baby's unsuspecting parents, and Tobey Maguire as the film's narrator.
For director Tom McGrath, who is best know for helming DreamWorks' three Madagascar blockbusters and the 2010 supervillain fantasy Megamind, THE BOSS BABY is a very personal story.  He remembers how the book struck a chord with him when he first came across it.  "Marla's book really grabbed my attention. It was this really charming board book, about 30 pages long, and I didn't even know how popular it was.  But it reminded me of my childhood, and my own family dynamic, which instantly kicked my imagination into wild overdrive thinking about how cool it would be to expand it into a feature length film."
The youngest of two brothers, McGrath was the Boss Baby in his own family, and he was well aware of the upheaval his arrival caused. He envisioned the story as a love letter to his older brother. "The writer Mike McCullers and I were immediately struck by the central metaphor of the book—which is what happens when a baby arrives and takes over your house," says Tom.  "My brother and I were very close growing up, but also fought like all brothers do. But as you grow, you also become each other's best friends. For me the movie is a loving homage to him.  It draws on many things we experienced growing up together.  It's purposefully set in small town suburbia, but it's also a combination of the '60s, '70s and the '80s. I think parents will feel nostalgic when they see the movie, because they will notice details that will remind them of their own childhoods."
In addition to the broad comedy appeal, the heartfelt nature of the story and the remarkable charm of the main characters were also immediately appealing to producer Ramsey Naito. "The story mirrored my life. My oldest son was seven years older when my youngest arrived, and he was really jealous, just like our main character, Tim. I related to the brothers' story instantly," says Naito, whose many credits include The SpongeBob SquarePants Movie, Jimmy Neutron: Boy Genius, and South Park: Bigger, Longer & Uncut.  "I love that we celebrate the power of children's fantasy and imagination in this film."
Naito also mentions that the movie is quite special as it offers something for the whole family to enjoy, and it manages to reveal something new and unexpected at every story beat.  "First we see the Boss Baby's arrival, and we discover that it's a very unusual baby, who wears a suit and sounds like Alec Baldwin," she explains. "Then we feel for Tim because he feels that his parents won't be able to love him as much as they did before.  But soon he realizes that there is something really different about his new baby brother. Finally, we get wrapped up in the whole secret mission involving the elite spy caper, and Tim discovers that the two brothers must join forces to save the world."
Naito adds, "While the movie is very funny and entertaining, this journey also connects on many different emotional levels. While Boss Baby initially brings chaos to Tim and his family, he ultimately teaches them some valuable lessons about what is really important."
Because Frazee's book centers solely on the Boss Baby and his parents, McGrath felt that the movie had to introduce an older brother. The idea was to have the movie be told in the P.O.V of a kid who is getting a baby brother, adding the interesting and universal element of sibling rivalry to the mix. To help flesh out the script, DreamWorks tapped acclaimed writer Michael McCullers (Mr. Peabody and Sherman, Baby Mama, Austin Powers movies).
"I have four kids, and two of them were three and five at the time," says McCullers. "I was immediately struck by the central metaphor of the book—which is what happens when a baby arrives and takes over your house. Tom and I worked together to come up with ways to explore the origins of this Boss Baby. What kind of a company does he work for, what is his mission? It gave us the chance to explore the birth myth in a terrific and fun way."
McCullers says inventing the story from a worried seven-year-old's perspective was a breakthrough moment in the creative journey of the film. "That's the emotional core of the story," he explains. "We realized that there haven't been many children's movies that have addressed the feelings that come with getting a new brother or sister. It's really one of the first elemental family dynamics. It's about sharing love and getting over the jealousy that inevitably comes about. In a way, both parents and children will easily relate to the film's situation, because we've all experienced these issues in our own families in one way or another—without the bossy baby in the suit, of course."
A Fond Homage to Classic Toons
One of the key elements that sets this movie apart is its unique visual style. As it has been the case in most of DreamWork Animation's features, the filmmakers sought to create an overall look that fits the films' theme and storylines. In recent years animation has progressed to the point that it can almost replicate the photo realism of live action. In the case of THE BOSS BABY, McGrath and his team were keen on creating a fantasy world that invited audiences into an artistic environment that could only be created in animation and was a throwback to the elastic, cartoony world of the great classics.
"I grew up with those Chuck Jones and Bob Clampett classics," recalls McGrath. "This film gave me the opportunity bring back the magic that 2D was able to do in old school animation, but take everything much further due to modern computer generated technology. We wanted these characters to be flexible and fleshy. The result is that our characters can convey much of the story through expressions and performances, something animation hasn't been able to do in the past. Our world is quite different from the hard, graphic 2D we see today on TV these days."
David James, the film's production designer, whose many DreamWorks credits include Monsters vs. Aliens, Megamind and Mr. Peabody and Sherman says the creative team wanted to pay homage to some of the classic animated shorts and features they all loved and revered. "We are all fans of Chuck Jones and Maurice Noble and admire the handmade aesthetic of many of the shorts from that Golden era of animation," says James. "There was this wonderful sense of nostalgia and charm in Disney's The Lady and the Tramp (1955), for example, which harkened back to a Victorian-era aesthetic.  We wanted to do the same thing, but set our movie in a more recent past."
James also points out that the film is filled with whimsical details taken from the personal experiences of the studio's artists.  "When Tom pitched me the idea for the movie, I was excited by the fact that the movie is driven by a character who is having an experience that is almost universal—the great injustice of siblinghood!" says James. "As a designer, it's very exciting to work with this bigger picture you can ascribe meaning to all the designs when you know where it all needs to go."
The Perfect Voice for Boss Baby
One of the film's special biggest comedic coups was landing actor Alec Baldwin as the film's titular character. The actor, who is best known for his signature roles on 30 Rock, The Cooler, The Hunt for Red October, is the perfect candidate to play a baby who wears a suit, carries a briefcase and barks orders at everyone.
"My character works for a corporation called Baby Corps, and is sent to spy on people to find out what babies and parents want." explains Baldwin. "It's like market research or industrial espionage, so he goes into this home to get information. The trick is that he's a baby, but he's a visionary and the goal of my character is to become the greatest. I want to become like my mentors, the Super, Big Fat Boss Baby….or the Super, Colossal, Big Fat Boss Baby…It just goes on and on with the silliness like that in the cartoon world."
Baldwin points out that although the central idea of the film is outrageous and silly, it's executed with lots of finesse, wit and imagination. "Our director Tom McGrath and producer Ramsey Naito are so clever, in terms of how exactly they pull it all off and drive the film. On top of it all, the movie has a wonderful heart inside it, too, as Boss Baby is eventually won over by the idea of being part of the family. Plus, there are a lot of crazy scenes and wild action, because in animation, you can do anything."
The actor says his own family went through similar moments of sibling rival when his son was born. "My wife and I have a daughter who is three, and before my son was born, she was the princess and was just adored and catered to by everybody. Then my son came along —and he was first son, so I just flipped out.  At this time, she was two years old. She would stare at him thinking 'Something's got to change around here. You know we have to fix this!' So for my daughter, there was a process to be able to accept her little brother. When she finally gave him a kiss, we all cried. We thought this day would never come."
Baldwin says in the movie, Tim goes through a very similar experience. "He has all this time with his parents. And then in comes Boss Baby who's not only a baby, he's like your worst nightmare of a baby.  He's, uh, he's a clever baby.  He's a conniving baby.  He's a Machiavellian baby, but it wouldn't work if Tim wasn't smart too.  So we have to make the Tim character pretty clever too—but, he's a little devil with a heart of gold."
Baldwin laughs when asked about why he is such a natural when it comes to playing tough guys or demanding employers.  "In my own house, I'm not the boss," he says.  "I mean I'm like the lowest life form. I think if I disappeared one day, my wife and kids wouldn't even notice—until it was time to put gas in the car in the freezing cold."
The actor says he has learned a lot about acting from the old Warner Bros.  cartoons. "Mel Blanc taught me how to play these characters with the authority and the kind of bombast that they need. When you watch Foghorn Leghorn and all those Bugs Bunny cartoons, you realize that when those guys get tripped, or bested by someone, it's really funny. Not every part you play is Boo Radley in To Kill a Mockingbird. So I always play those over-the-top parts and try to give it everything I can because that's what the role demands."
Baldwin also gives a lot of credit for the success of the project to the film's writer Mike McCullers. "He was around when we were doing our first round of recordings. You can't really have a good movie without great writing. A lot of people who are great singers, they don't write the songs, they just sing them.  We just make the lines sound good. I don't write the songs, I just sing them."
The actor also believes that THE BOSS BABY, like two of his previous collaborations with DreamWorks—Penguins of Madagascar Two and Rise of the Guardians—offers the perfect mix of family entertainment, kid-friendly jokes and things for grown-ups to enjoy and laugh at as well.  "You know, it's like that Bugs Bunny cartoon where he would whip out the candelabra and imitate Liberace with all the nuttiness he had. The kids didn't understand what he was doing, but the parents did. And it was all very funny and worked on different levels. That's why I think THE BOSS BABY will appeal to everyone as well."
A Family of Familiar Voices
To play the role of Tim's mother, the filmmakers went to talented comic actress Lisa Kudrow (Friends, The Comeback). In the past, the Emmy-winning and nine-time Emmy-nominated actress has lent her voice to several animated projects such as El Americano, BoJack Horseman, The Simpsons and King of the Hill, but she says she found this particular part especially rewarding.
Kudrow says being the mother of a single child helped her understand what Tim's mom was going through in the movie. "I'm a mom of a single child, and I know how much I am needed.  So I imagine that it's really hard if you have two kids and you're completely aware of trying not to appear that you are giving too much love or attention to one or the other. So, I think it's a good thing I only had one!"
Kudrow, who was the youngest of three children herself, admits that she was also the Boss Baby in her family. "I was the baby, and my siblings are eight and six years older than me. I remember when I was little, I'd do something that would really irritate them. Then, as soon as my dad came home, they'd start charging towards him to complain. That's when I'd say, 'Well, I'm just little,' and my father would say, 'That's right. … She's just little. It was evil of me."
Kudrow explains that it's natural for a boy like Tim to feel that Boss Baby has arrived to wreak havoc on his family. "Tim used to be the only prized child of the family and got all the attention," she explains.  "He gets what I imagine is probably like a 30-minute tuck-in, with the whole lineup of songs and stories. Then, the Boss Baby comes, and there's just simply no time at all for that, so he's already a little bitter. But, because Tim and Boss Baby both get involved in this battle against Puppy Co., they have to work together and then, they learn to love each other, just like it happens in life when you begin to have shared experiences with your family."
The versatile actress says she really enjoyed working with director Tom McGrath and producer Ramsey Naito as well. "They were both fantastic and a lot of fun to work with," she notes.  "Tom lets you play a little and add material as you go along, and Ramsey's like a new friend now. I really connected to her in the process."
Kudrow says she really loves the film's visuals, its sense of humor and powerful message. She also loves the fact that Alec Baldwin voices Boss Baby. "You can't go wrong with Alec Baldwin being a baby in a suit, bossing everyone around," she adds. "It's really funny with that deep, deep voice. I could see how a kid might look back and imagine, that's how it was when the baby came!"
The actress says families will love the movie because it's both funny and has a lot of heart. "The heart is earned. The kids go through a lot together, and they learn about each other."
For the role of Tim's father, director Tom McGrath thought of comedian and late-night TV host and producer Jimmy Kimmel after hearing him being interviewed on the radio one day. "I guess he heard my voice and thought that's the guy we should get to play the Dad, and then he made the mistake of calling me," jokes the comic. "It has been so much fun. I think Tom is such a nice and patient guy, and he always gives terrific suggestions. Whenever I get in there and I'm acting, I think I must be terrible. I can't possibly be doing a good job. But he does seem to be happy with it. At least he lies and pretends I'm doing a great job."
Kimmel says he really enjoyed his first experience working as a voice actor on a feature animated project. "I wanted to be a cartoonist when I was a kid, and I love to draw," admits the actor.  "So I loved being a part of the making of an animated movie. I still have no idea how any of these amazing artists are able to create such a massive project, but I am so impressed with their talents."
The comedian says he certainly saw parallels to his own family life in the movie.  "I have a two-year-old, and she is definitely the Boss Baby in our house," explains Kimmel. "It's like we are her servants. I think she thinks we are the staff of the house because I make her pancakes in the morning, and I make them in the shapes she wants. You know, whatever, her wish is our command."
As an older brother himself, Kimmel has also his own experiences with siblings. "I have a younger sister and a younger brother, so I would be the Tim in this particular situation!" he explains. "I convinced my brother that I was Superman when I was kid. Every once in a while, I used to have a treasure hunt for my sister, and I'd leave clues all over the house for her. Then, at the end of the treasure hunt, there'd be like a bag of my toenails or something."
Kimmel says the movie is quite successful at capturing real truths about family dynamics and the way parents react to their children, while having a lot of fun along the way. "Obviously, a lot of THE BOSS BABY is exaggerated, but then of course there's that relationship between parents and their child, and between the child and his little brother that are very, very real. There's an element of imagination there that you have when you're a kid, that dulls as you get older, that is pretty great."
He also believes that both kids and their parents are going to respond positively to the movie. "Kids are going to love Boss Baby and really respond to the sibling rivalry situation.  There are also jokes that the children won't get, and adults will definitely enjoy.  At the heart of the movie, is a story about a family, parents who love their kids and the world that they create together. I think everyone who once was a child or has children of their own can relate to that."
Voicing the Villainous Francis E. Francis
Veteran actor Steve Buscemi (Boardwalk Empire, The Sopranos) plays Francis E. Francis, the villainous founder and president of Puppy Co., where new, lovable puppies are created for the world to love.  In the movie, Boss Baby and Tim have to get inside Puppy Co. to get their hands on some information. "The way they do that is to accompany their parents, who work at Puppy Co. to their office on Take Your Kids to Work Day," explains Buscemi. "Once they get there, they are lured into a trap by Francis E. Francis, who figures out that they are trying to thwart his evil plan."
Francis E. Francis has a secret weapon in the very cute Forever Puppy. "This puppy will live forever, and therefore will always get love," notes the actor. "But he needs the secret formula that keeps babies young at Baby Corp., and he ends up stealing it from Boss Baby to keep his Forever Puppy young."
The actor also praises the exciting sequence in which Tim and Boss Baby have to get to a convention in Las Vegas to stop Francis from launching Forever Puppy. "There's a wonderful chase sequence that leads to the great climax in the scene," says Buscemi. "They get on an Elvis impersonator flight that takes them to Vegas, and they end up thwarting Francis E. Francis by working as a team.  That's the other important thing in the movie is that at first, Tim doesn't like his baby brother, and Boss Baby couldn't care less about his older brother either.  But, then they end up needing and helping each other— actually not only liking each other, but loving each other."
Buscemi, who has an older brother and two younger brothers himself, says he also totally understood the notion of sibling rivalry explored in the movie. "I do remember how upsetting it was when my brother, Michael, came right after me. I felt like he was moving in on my turf, and I didn't like it.  I guess it was the same for my older brother Johnny, when I came along, but I didn't see it that way. It's great to have siblings, but it's sometimes difficult to get along and to share the love."
The prolific actor, who also provided the voice of Randy in Monsters, Inc.  and Monsters University, says he really enjoyed the experience of working with pros such as director Tom McGrath and producer Ramsey Naito. "The challenging thing about doing an animated film is that the animation is not ready when you're there to record your lines.  So you really have to depend on the director to give you a clear visual picture. Tom was really good at keeping me on track and giving me sort of the overall visual aspect of the story. We also got to play around with the character and to try doing it in different ways, so we could give the animators a lot to work with. So it was always an adventure to come in and see what we could come up with together. Ramsey was one of the nicest producers I have ever worked with. The whole DreamWorks experience has been really easy. They've been very accommodating, and the whole atmosphere is very creative."
Buscemi believes that families will easily relate to the movie because it is able to depict the parent-child dynamic seamlessly. "I think it really captures the whole dynamic between parents and their kids, and how much love there is. Yet, in a kid's view, they would be nervous about how long that love would last when a new sibling comes long. The film is also great at showing Tim's imagination at play. He invents all these scenarios.  Of course, having a really great imagination can also work the other way.  It can also go to a dark place when he imagines that he won't always have their love."
A Grown Up Tim Looks Back
Actor Tobey Maguire (Spider-Man trilogy, The Cider House Rules) narrates the movie. "Tim is a happy seven-year-old with two loving parents, who is initially an only child, but when he gets the news that he is getting a little brother, he is not too pleased that he has to share the love and time of his parents," explains Maguire. "He is struggling with the transition, so he has kind of created all these things about Boss Baby because he has a very strong imagination."
Maguire points out that Tim's relationship with his brother is very contentious. "Tim is very suspicious of his new baby brother because he's like a little man who's got an agenda, and he would like to expose him so he can get the attention of his parents back. But then they have to join forces and help each other fight Francis and stop his plot to destroy Baby Co."
When the baby's mission is accomplished, and he has to go away, Tim thinks he's happy, but he's grown really fond of his little brother, and he ultimately doesn't want him to go away."
The talented actor says he finds the movie quite funny and very relatable. "The movie's themes are demonstrated through fantasy—through this really fun idea of essentially Alec Baldwin being a Boss Baby, which is a blast.  But it's also relatable because if you've been in any of these roles, as a sibling or a parent, it's certainly something you have probably experienced."
Maguire is also quick to point that he has had a great time working with Tom McGrath and the rest of his creative team.  He notes, "He has been great and very easy to work with, but I really admire his creativity. He's really imaginative, and very funny. I just think he has found such a charming and unique tone for this movie."
Storyboards & Animation
THE BOSS BABY's head of story Ennio Torresan says he immediately connected to the human emotions evoked by some of the key sequences in the movie. "I worked with Tom [McGrath] on Megamind and the Madagascar movies, and we share the same sense of humor," he says. "The fact that we also go in and out of the mind of our main character Tim was something that we had never done before, and I loved it. I have two young kids myself, so I was also dealing with sibling jealousy issues at home. Every Monday, I would tell Tom stories about what happened at home and how my kids almost killed me over the weekend, so we tried to use our own experiences in the movie as well!"
Torresan, who draws storyboards using pencil, paper and Photoshop, says he found a lot of inspiration in the works of legendary animators Friz Freleng and Tex Avery. "Freleng was such a great model for timing of music and scores," he notes. "I like to think of our own director as crazy, brilliant, and comedic as Mozart. He breathes comedy and we all try to emulate him."
This reverence for a retro 2D animation style and the desire to create memorable and loveable characters are also things that were dear to Carlos Puertolas, the movie's head of animation. A DreamWorks Animation veteran, whose credits include Madagascar: Escape 2 Africa, Madagascar 3: Europe's Most Wanted, Rise of the Guardians and Home, Puertolas says he knew the movie was going to be special the minute he heard McGrath's pitch.  "It's the perfect movie to be animated because it's told from the perspective of a little kid," he says. "Imagination plays a big role in the lives of children as it does in our movie."
As Puertolas points out, he and the rest of the animation team worked hard to makes sure the characters looked appealing at every angle. "Take Boss Baby, for example, we are hearing Alec Baldwin's voice, but the character is a cute, charming baby. You want the audience to want to grab his cheeks. It's the same thing with Tim.  You want him to be a likeable seven-year-old boy. What may seem charming to an adult may seem wimpy to a young moviegoer. You don't want Tim to be a crybaby, but the character needs to have a little bit of an attitude to resonate with younger audiences."
Layout and Editing
For head of layout Kent Seki, the film provided a chance to experiment with different cinematographic styles, especially during Tim's fantasy sequences. "We were able to push the stereoscopic elements of those sequences because Tim is having these elaborate adventures in his imagination," says Seki.  "We were also able to explore tilt-shift-style photography—something that we had not done before. This style of photography moves the camera plane and rotates the lens, creating a more intimate, miniature effect. It makes the characters feel small and vulnerable at Baby Corp. After Boss Baby leaves the corporation to return to his family, we turn the effect off to make the stereo and the focus become deeper. It reinforces the emotional content of the moment."
Another aspect of the film that makes it special for Seki is the way director Tom McGrath uses dynamic action and lots of previsualization work to map out the cinematography. "We were constantly trying to improve the performances, especially how the characters emote," he adds. "We re-examined the character rigs to get the best character emotion possible. We were constantly reviewing the lighting with the art designers and got a better blueprint in the process…Overall, I have to say we have come up with a film that embraces the heritage of animation in both its aesthetic and storytelling choices. It really shows off the medium."
One of the main challenges for the film's lead editor Jim Ryan was finding the right moments and coming up with the best way to approach them. "The animation style of the movie, particularly the comedy bits are very broad," he explains. "We can be broader with the comedy, and cut things a little tighter and take a more cartoony approach with those moments."
Ryan's fondness for Steven Spielberg classics also helped shape Tim's imaginary sequences. "Tim goes into four different fantasies—he's running in a jungle, gets into a brawl with a gorilla, mans a spaceship, drives under the sea to rescue his parents from sharks, so we used the editing style to be reminiscent of some of those familiar movies."
The Fine Art of CG Animation and Visual Effects
Creating the CG animation and visual effects for a movie about a typical suburban family and their very unusual baby can be just as challenging—if not more so—than preparing a big summer tentpole picture.
"Working on all the details in Tim's room with all the toys can be just as complex as creating an imaginary chase in the backyard where we need to come up with fun effects for the grass," says senior visual effects supervisor Ken Bielenberg, a veteran of the Shrek films, Puss in Boots, and Monsters vs. Aliens. "There is so much action in that chase scene that we had to make sure all the characters are going to read clearly even though they're moving quickly. We also had to figure out how to go from CG characters, environments, and trees back to the more stylized and painterly matte paintings gracefully."
Bielenberg notes that although THE BOSS BABY is not an "effects" film, per se, it showcases plenty of sequences that demanded clever use of technology. A good example is a scene in which Boss Baby is pretending to be sick to distract his babysitter, Eugene. "This extended sequence of projectile vomit had to be planned out in detail," says Bielenberg. "The liquid interacts with the characters—the hair and clothes—and it affects all the surfacing work. You need a history of where exactly all the vomit has gone and interacted with the material."
Senior visual effects supervisor Tony K. Williams says McGrath's love for the classic era of animation and artists such as Mary Blair has made a huge impact on how the team is incorporating the 2-D look into their designs and visuals. "It's not easy to make something look simple," he says. "Our job is to distill shapes down to the absolute minimum. In some of the other movies I've worked on, we just had to add more details, and it's easier that way. Our job here is to get clean, crisp animation. You just can't hide anything!"
To make Boss Baby's face look as appealing as possible, Williams and his team had to work with extreme geometrical deformations. "We had to make these shapes conform to a more cartoony aesthetic—with these very large eyes and appealing facial expressions," he explains. "Another highlight is the hair we were able to create in this film. I'm very proud of Tim's hair—it's been crafted to look great at every possible angle!"
Working on all the babies as they move on the conveyer belt in Baby Corp was one of visual effects supervisor Vanitha Rangaraju's favorite parts of the assignment. "It's a dreamlike sequence during which we introduce Boss Baby," she says. "We wanted this ethereal, heavenly quality.  Our goal was to see the hand of the artist coming through beyond the CG technology and to directly connect with the audience."
Rangaraju says that, in some instances, the crowd department had to produce close to four hundred babies for one scene. "Of course, we had done crowds for many of our movies before, but they didn't compare to this one. The babies' skin had to feel translucent and soft. Our texture department had to work very hard to achieve that quality. We used lots of subsurface scattering (a mechanism of light transport in which light penetrates the surface of a translucent object) to let the light through the skin.
Digital supervisor Vimal Subramaniam says the film feels and looks very different from other projects he has worked on previously: "Unlike other movies, we directed the look to match the mood of our protagonist, Tim. When he thinks he is the center of the world, he is in light, and when he thinks he's not, he's out of light. The color palette has a mix of analogous and complementary color schemes, all based on the mood of the film. Also, our lighting is very character-centric and art directed to express Tim's emotions all the time. The matte painting is very impressionistic, and the surfacing is stylized—that even includes the wood patterns on the furniture!"
Effects supervisor Mitul Patel adds, "All the other films we have worked on have had very realistic shapes and timing, but for THE BOSS BABY, the effects are used to make the film funnier. The shapes are simple, but they're art directed, and the timing is very snappy and cartoony. This was challenging at the time, because our tools (i.e. solvers) are built on real-world physics, so we had to work a little harder to achieve the film's desired look and timings."
Lighting supervisor Rajarajan Ramakrishnan says McGrath was very particular about one simple thing: the "Light is love" philosophy. "We needed to understand this simple philosophy and use our tools and techniques to fulfill his vision," he says. "I'm a father of a two-year-old girl, and because the film deals with the emotional bond between siblings, it meant a lot to me. We were dealing with a very intimate space visually. The choices of our light setups and optical nuances had to reflect all of the film's special performances and heartfelt emotions."