Matthew McConaughey talks "Extra Curves" at Napa Valley Film Festival!  WATCH – The GOLD star Talks About How Wife Camila Alves & Kids Called Him "Captain Fun" & Ate Pizza a Lot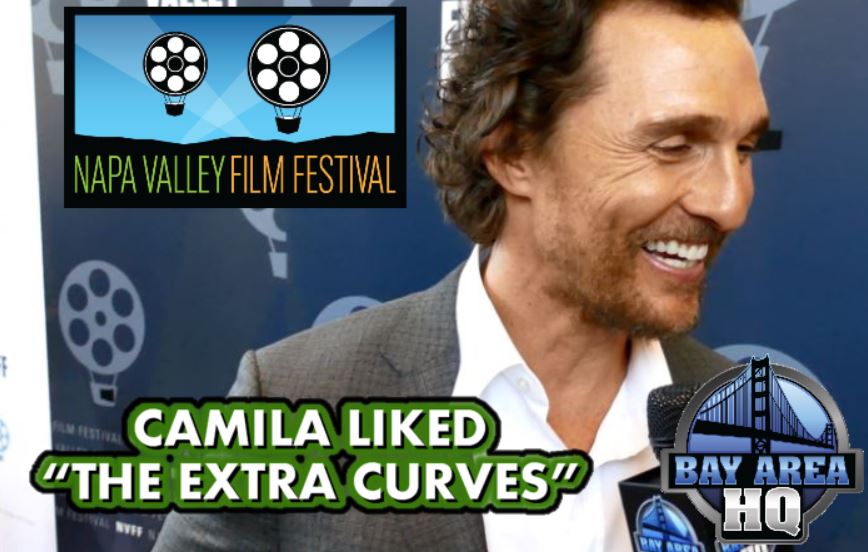 Watch our interview with Matthew McConaughey, who plays the desperate and determined Kenny Wells in the new movie GOLD. The star opened up about how his family reacted to his 40 lb weight gain for the role, and also about how his character reminded him of the pipe salesmen he came across when working with his late father. Check it out!
The NAPA VALLEY FILM FESTIVAL, which is underway in Napa from November 9 – 13,  was proud to honor Matthew McConaughey with the Caldwell Vineyard Maverick Actor Tribute in celebration of his cinematic achievements. McConaughey, is best known for his Academy Award(r)-winning role in Dallas Buyers Club, as well as his unforgettable performances in Mud, The Lincoln Lawyer and HBO's True Detective. "Vintner John Caldwell is the original Napa Valley maverick winemaker, and Matthew McConaughey is the epitome of a maverick when it comes to his work in the film industry," said NVFF Co-Founder/Director Marc Lhormer. "Matthew boldly inhabits each character that he plays on screen, and we are just delighted to showcase his latest film and to honor him at the festival this year."
The film festival boasts the best movies, galas, and events in the Bay Area. Visit here: NAPA VALLEY FILM FESTIVAL
GOLD is the epic tale of one man's pursuit of the American dream, to discover gold. Starring Oscar winner Matthew McConaughey as Kenny Wells, a prospector desperate for a lucky break, he teams up with a similarly eager geologist and sets off on an amazing journey to find gold in the uncharted jungle of Indonesia. Getting the gold was hard, but keeping it would be even harder, sparking an adventure through the most powerful boardrooms of Wall Street. The film is inspired by a true story.
Directed by Oscar winner Stephen Gaghan (TRAFFIC, SYRIANA), the film stars Oscar winner Matthew McConaughey (INTERSTELLAR, DALLAS BUYERS CLUB, THE WOLF OF WALL STREET) and Golden Globe nominees Edgar Ramirez (HANDS OF STONE, THE GIRL ON THE TRAIN) and Bryce Dallas Howard (JURASSIC WORLD, PETE'S DRAGON). The film is written by Patrick Massett & John Zinman and financed by Black Bear Pictures. Black Bear's Teddy Schwarzman and HWY 61's Michael Nozik served as producers alongside Massett, Zinman, and McConaughey. HWY 61 partner Paul Haggis, Richard Middleton and Black Bear's Ben Stillman are executive producers.