Review: Cavalia's Live Odysseo Show Delivers in Every Way – We entered a magical world inside the giant tent next to AT&T park last night. And we didn't want to leave. That's coming from two guys who you'd normally find at an NFL tailgate party or at a WWE RAW taping. Cavalia's Odysseo is the perfect escape from the fast-paced Bay Area lifestyle, and it won't be here for too long. Tickets (try the "blue" section, $109 out the door each on a weeknight) are quickly becoming scarce during the holiday season, and now we know why.
The VIP Experience
While any one of the 2,000 seats under the white big top in Parking Lot A is a great one, we had a pair of Premium VIP Experience tickets, which were $289.50 each (plus a $15-20 service charge). Needless to say, we were loving life from the first minute we walked into the special Rendez-vouz Tent. Check-in was a breeze, and before we knew it, we had our lanyards on and hit the bar. While we were completely satisfied with the beer (Heineken, Sierra Nevada, Coors Light), wine and champagne selection, those wanting the hard stuff will want to pre-party somewhere else. That being said, everyone serving drinks was super nice and efficient, and that goes a long way in this city.  In the center of the room, we found several delicious and hearty options at the complimentary buffet, like steak medallions, chicken, and salads. What's great about the private VIP area is that you can find plenty of comfortable seating for big or small groups, and it even has a gift shop inside. Guests can also take the perfect souvenir photo with the Cavalia Odysseo logos behind them. Another amazing benefit is that you can bring popcorn and drinks in plastic cups into the show. Just don't spill. Our suggestion: don't go somewhere else and spend the $120 for dinner, drinks and dessert before. Show up 90 minutes before the show with your VIP tickets, and enjoy great food, comfort, convenience, up close seating, unlimited drinks, a souvenir, and a stable tour. If you want to pamper someone you love during this holidays, you've come to the right place.
What is Odysseo?
Odysseo marries the equestrian arts, stage arts and high-tech theatrical effects at never-beforeseen levels on a 17,500 square stage. It features the world's largest touring production and traveling big top, the biggest stage, amazing visual effects, and the greatest number of horses, 65 horses of 11 different breeds, at liberty. Some 10,000 tons of rock, earth and sand are trucked in and then sculpted to create the vast space of freedom where humans and horses come to play in complicity.
On With The Show:
The entire Odysseo production is a well-oiled machine. From the ushers who will show you where your seats are, to the execution of all the technical aspects of the live performances, it is evident that great care went into every small detail of the guest experience. We were led to our seats in the second row at around 8pm. The seats, as far as comfort goes, are about a 6.5 out of 10. The good news is that seat comfort is the last thing you'll be thinking about in the next hour before the 30-minute intermission. The show is that captivating. However, it would have been the "cherry on top" to get more cushioned ones. On the other hand, the decision to keep foot traffic virtually nonexistent during the presentation of the acts by the ushers was superb. Once you are seated, you are able to really take in the show in all its splendor, without any real distractions at all.
First thing we noticed:
While Odysseo takes us back to our roots as humans interacting with animals on the simplest level, we still see some tech in the show in the form of a panoramic digital backdrop that is so unbelievably cool. A perfect enhancement to the experience, the backdrop takes the audience on a splendid voyage with extremely high-definition computer graphic images, transporting us  across the world's most beautiful landscapes. We are told that Odysseo uses 18 simultaneous projectors as powerful as those illuminating the grandest movie theaters.
Musical Performances and Sound Quality that will keep Audiophiles Happy: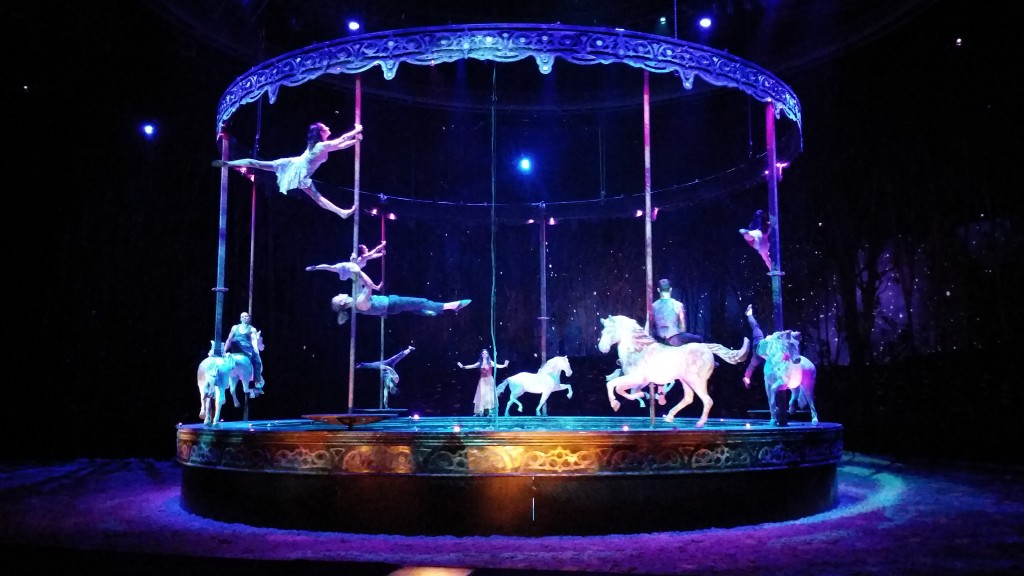 We overheard other audience members commenting on the incredible sound quality and the natural seamlessness between the visuals of the show and the
music. A number of songs were performed in French by Valentina Spreca, whose voice was incredibly soothing the whole way through. Our favorite song presentation was during the Carousel act, where she was rotating in front of us, flanked by some of the skilled aerialists. Of course, high up on the wings on both sides of the stage,to the kind of a tree-house looking set up, we saw the guys on drums, guitar, violin and bass who provided the nonstop live background music flawlessly.
Is There A Plot?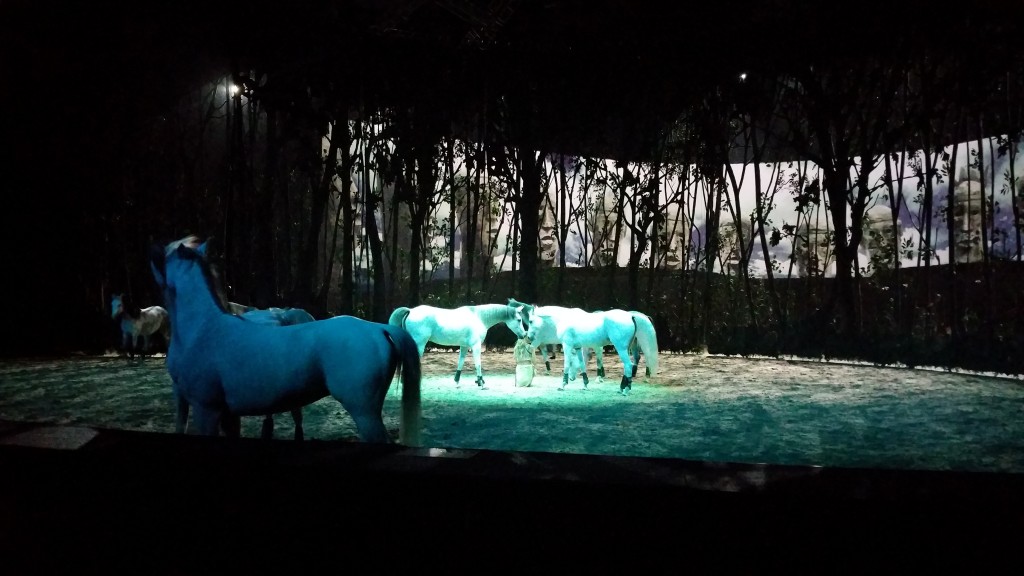 No, and we don't want one. San Francisco: turn your minds off, and take your eyes, ears and heart for a ride. The magic lies within the set pieces where we get to see the free flowing and unpredictable interactions between the most beautiful horses on the planet and the most talented and attractive "horse whisperers" you have ever seen. You'll laugh when a horse decides to do his (they are all males) own thing for a moment, and you'll sit back in awe as a trainer will lovingly coax the animal back into the fold.
VIP Dessert for intermission.
If you aren't sold already on the VIP, take a look at this amazing and bountiful spread during the 30 minute intermission that came between hour #1 and hour #2 of the show (which got out at 10:45pm).
Our Top 3 Favorite Acts:
Every act is captivating, but our personal favorites were:
"The Call of Africa"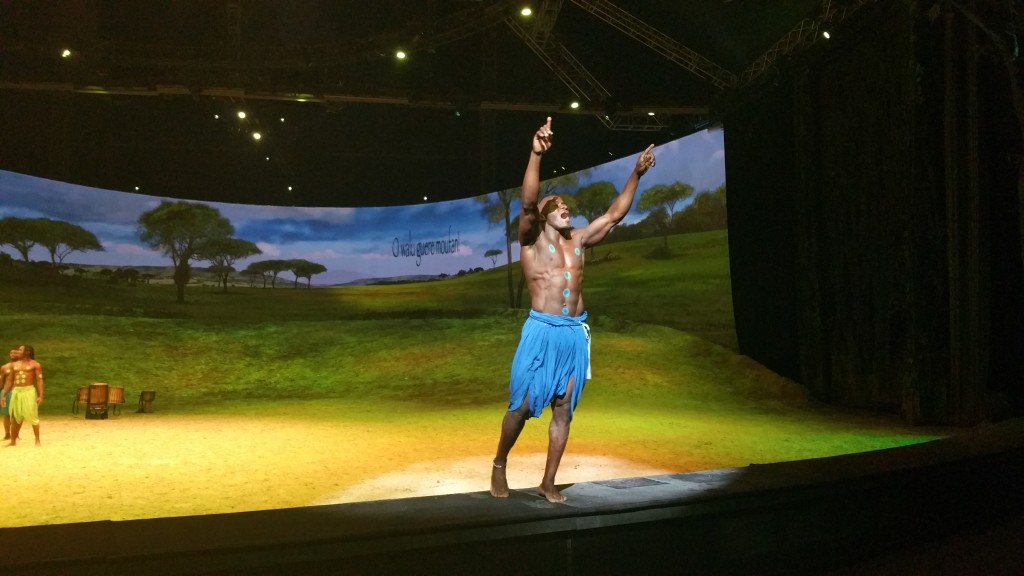 This act doesn't feature the most death-defying stunts of Odysseo, but what we love about it, without sharing too much, is that it gets the audience involved and takes us back to basics with some great acrobatic flips and some really enthusiastic entertainers.
"Freedom (Liberty)"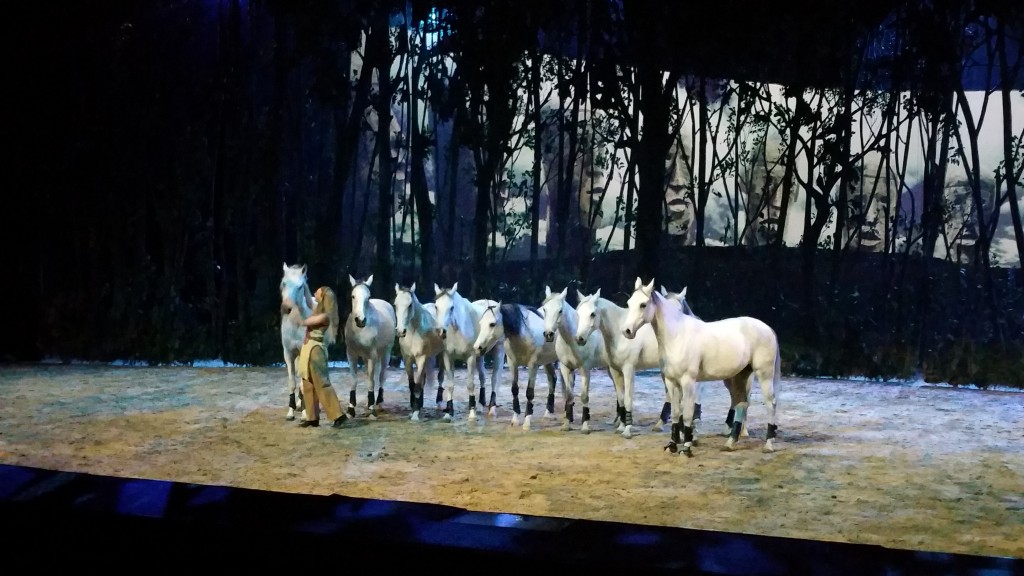 Steph Curry can drain 3-pointers and Elise Verdoncq can lead 8 horses at once all on her own. Granted, the white stallions aren't doing flips or anything, but just getting them to run around in unison or lay their heads on each other in a row is a monumental achievement. One or two horses, doable. Eight horses, pretty impressive to say the least.  We're not big horse fans, but these were pretty magnificent looking creatures.
"Odysseo"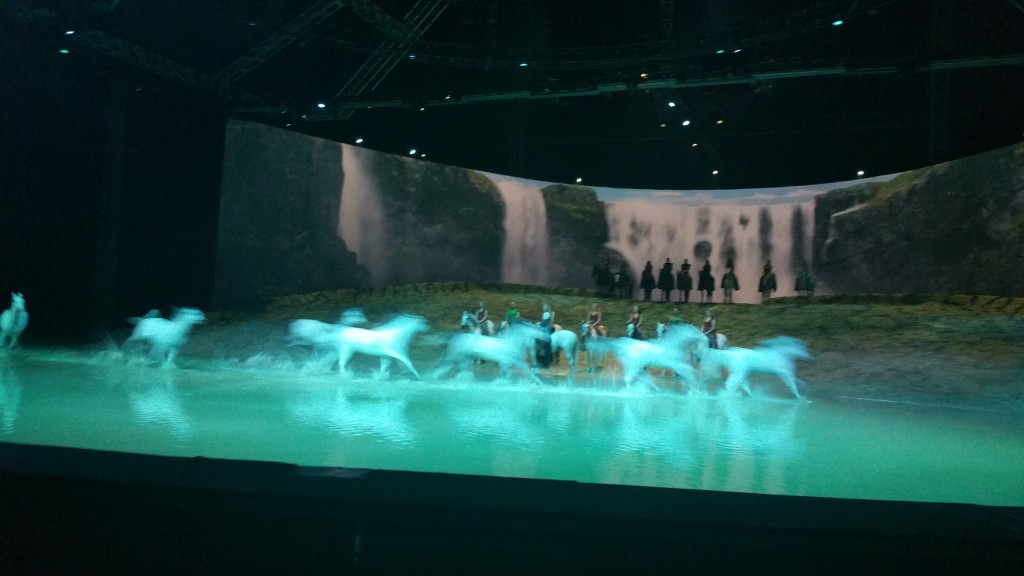 So many spectacular things going on in this grand finale of the show. How do they turn all that sand into a virtual blue lake? How does she make her horse dance like a ballerina? The audience won't be disappointed, with the ultimate combination of aerial acrobatics, horses running around at lightning speed, and great music.
Some of World's Best Performers
The show features 45 artists – riders, acrobats, aerialists, dancers and musicians from around the world including the United States, Canada, Brazil, France, Guinea (Africa), Poland, Russia, Spain, Ukraine, Japan, and Italy. We have nothing but respect for these dedicated young performers, who trust the horses and each other with their lives at every show. In this day and age, the smart money is on learning how to code and working in tech, so to be able to come out and support these folks who put everything on the line to follow their dreams is an honor. We can't help but be happy and proud of Brennan Figari, a Bay Area native, who executed his aerial maneuvers to perfection, showing off his strength, balance, agility, concentration, and charisma. Well done, Brennan.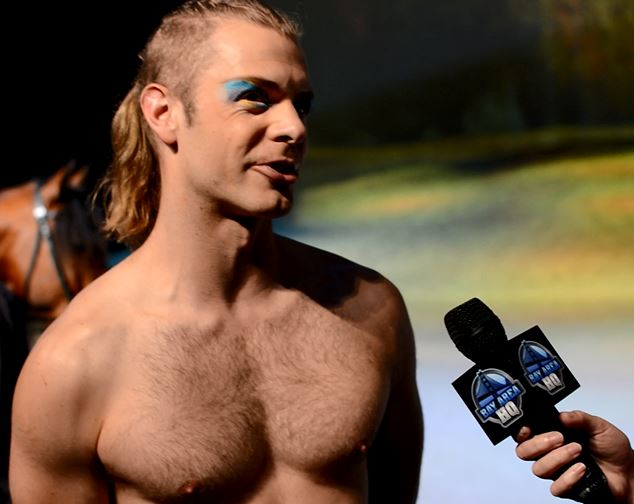 We also have to give a nod to Spencer Rose, who is a natural at her riding maneuvers, and, more importantly, developing a bond with these animals. That's just one example of how well these horses are treated at Cavalia's Odysseo.
All performers were great, but Claire Beer, who is both a rider and an aerialist, exudes happiness and you can tell as she passes by each time that she is having the time of her life. You can't help but appreciate that.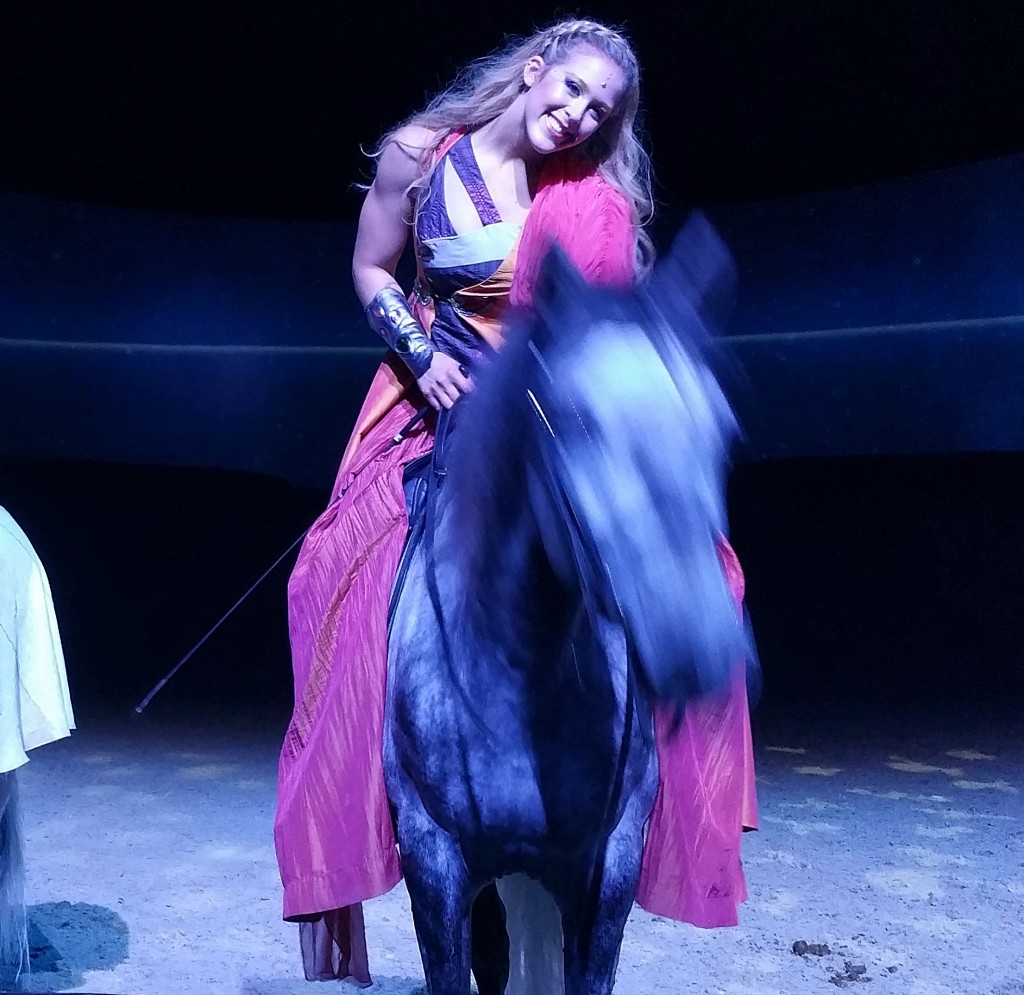 We couldn't help but notice the women in this show are stunning. The costumes, the makeup, the hair. So much beauty all in one place.  As for the guys, if you're a fan of sports, you'll respect the amazing athleticism displayed during the acrobatic portions of the show.
What Are You Waiting for?
From a horse-centered act to a stunt-filled session to a live singer with a golden voice, you'll get your money's worth, not just for five minutes, but spread out over two relaxing hours. The production value of Las Vegas & New York's best shows are right in our backyard for the holidays. The only journey you'll take is the one inside the big white tent. Visit Cavalia.net for tickets. Check out our video preview/interviews here.