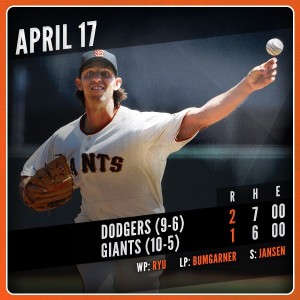 The Giants lost today as Dodgers pitcher Hyun-Jin Ryu led Los Angeles to a 2-1 victory, in a 7-inning outing that prevented San Francisco from sweeping the three-game series.
Giants starter Madison Bumgarner (2-1) struck out six in 4 1/3 innings, but gave up two runs during his time on the mound.
Former Giants closer Brian Wilson didn't allow any runs during his eight-inning appearance, and closer Kelley Jansen took over in the ninth and was credited with the save.