Luzia San Francisco Cirque Du Soleil Sneak Peak! – Watch Kirsten Moran Go Behind-The-Scenes under the Big Top at AT&T Park, Learning Trapeze Moves and More!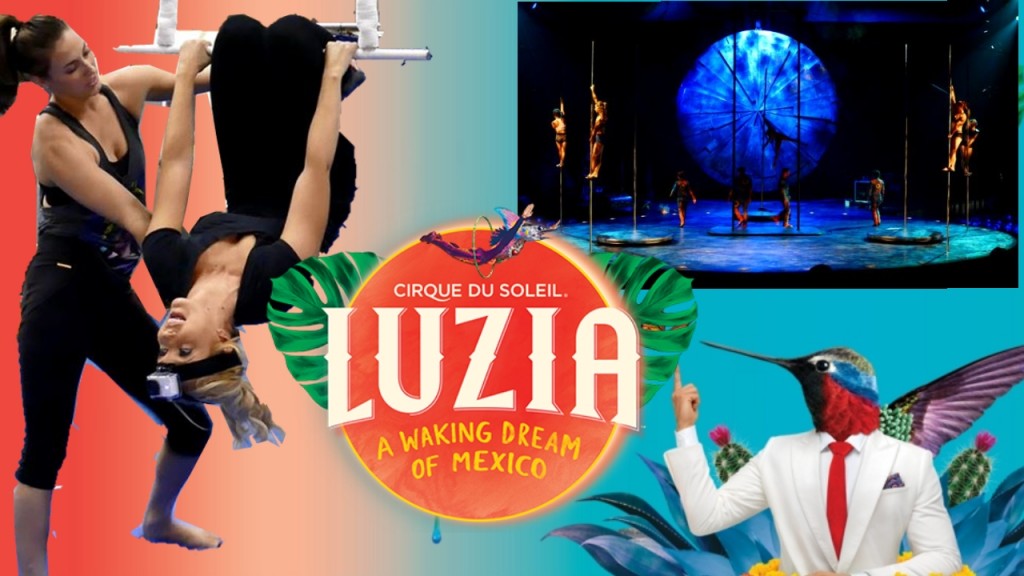 Bay Area HQ's Kirsten Moran caught up with Cirque Du Soleil's Emily Nicole Tucker and Francis Jalbert to talk about what's new with this installment of Cirque Du Soleil.
The massive white-and-gold Big Top was raised last week at AT&T Park in preparation for the U.S. premiere of its latest soul-touching production, LUZIA. A team of more than 60 men and women worked for several hours to pound pegs, unfurl the canvas, and push more than 100 supporting poles to make the intimate tent take its shape. We go inside and show you a special preview of the show. Get your tickets here. Take a look!
CIRQUE DU SOLEIL EXTENDS THE SAN FRANCISCO AND SAN JOSE ENGAGEMENTS OF LUZIA
Performances now scheduled through January 29, 2017 in San Francisco and March 19, 2017 in San Jose.
Due to unprecedented advance ticket sales, Cirque du Soleil is extending the San Francisco Bay Area engagements of its latest Big Top production LUZIA by three weeks in San Francisco and two weeks in San Jose. Making its U.S. premiere in the San Francisco Bay Area, LUZIA San Francisco will perform under a redesigned white-and-gold Big Top at AT&T Park (corner of Third St. and Terry A. Francois Blvd) in San Francisco beginning Thursday, November 17, 2016 through Sunday, January 29, 2017. LUZIA will then move to the Taylor Street Bridge (corner of Taylor Street & Highway 87) in San Jose beginning Thursday, February 9, 2017 through Sunday, March 19, 2017. To join the Cirque Club, visit cirqueclub.com. Tickets for the additional San Francisco and San Jose performances of LUZIA are available online to the general public at cirquedusoleil.com/luzia.
Luzia San Francisco – A waking dream of Mexico LUZIA takes you to an imaginary Mexico, like in a waking dream, where light ("luz" in Spanish) quenches the spirit and rain ("lluvia") soothes the soul. Freely inspired by Mexico, LUZIA is a poetic and acrobatic ode to the rich, vibrant culture of a country whose wealth stems from an extraordinary mix of influences and creative collisions – a land that inspires awe with its breathtaking landscapes and architectural wonders, buoyed by the indomitable spirit of its people. The tableaux of LUZIA weave an intricate, contemporary mosaic that awakens your senses and transports you to a place suspended between dreams and reality. Featuring a cast of 44 performers from diverse artistic backgrounds, LUZIA surprises with acrobatic performances breaking down the barriers, such as integrating rain and water to contemporary circus disciplines.
Share the excitement of #LUZIA on social media! Facebook: facebook.com/LUZIAbyCirqueduSoleil Instagram: @cirquedusoleil #LUZIA #cirquedusoleil | Twitter: @Cirque #LUZIA | Snapchat: @CirqueSnap
Prestige VIP Packages
Various Prestige VIP Packages giving access to the best seats and a delectable culinary pre-show experience are available for selected performances of LUZIA. The exclusive VIP tent extends the show's experience in a unique, surprising and playfully inventive setting evoking the colors, the flavors and the effervescence of Mexico. For more information about individual packages and corporate hospitality opportunities, visit www.cirquedusoleil.com/luzia.
Sponsors and Partners
Mexico, a partner of Cirque du Soleil's LUZIA
DHL is the official sponsor of LUZIA.
Cirque du Soleil LUZIA is Cirque du Soleil's 38th original production since 1984, and its 17th show presented under the Big Top. The company has brought wonder and delight to more than 160 million spectators in more than 400 cities on six continents. Cirque du Soleil has close to 4,000 employees, including 1,300 performing artists from close to 50 different countries.