Dakota Fanning Knit Ewan McGregor A Scarf! We Talk to the Stars and Director of American Pastoral, based on the Pulitzer Prize-winning novel by Philip Roth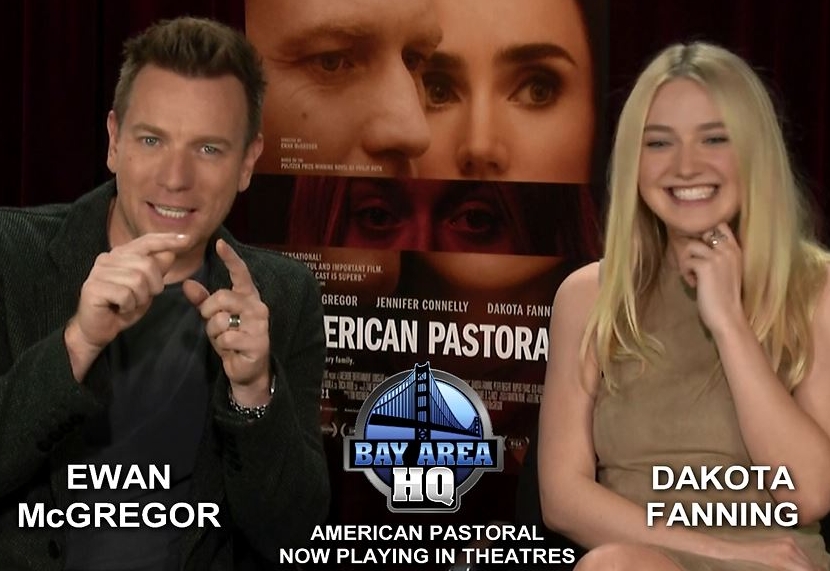 Watch Bay Area HQ's Anna Cadena talk to Ewan McGregor and Dakota Fanning who star in the powerful and riveting film American Pastoral, which is now playing in theatres. We also talk to Ewan about his uncle Denis Lawson, who played Wedge in the Star Wars films, and how he got to know Peter Riegert, who plays his father in American Pastoral.
AMERICAN PASTORAL follows an all American family across several decades, as their idyllic existence is shattered by social and political turmoil that will change the fabric of American culture forever. Ewan McGregor (Salmon Fishing in the Yemen, Beginners) makes his directorial debut and stars as Seymour "Swede" Levov, a once legendary high school athlete who is now a successful businessman married to Dawn, a former beauty queen. But turmoil brews beneath the polished veneer of Swede's life. When his beloved daughter, Merry, disappears after being accused of committing a violent act, Swede dedicates himself to finding her and reuniting his family. What he discovers shakes him to the core, forcing him to look beneath the surface and confront the chaos that is shaping the modern world around him: no American family will ever be the same. AMERICAN PASTORAL also stars Academy Award® winner Jennifer Connelly (Best Supporting Actress, A Beautiful Mind, 2001) as Dawn, Dakota Fanning (The Runaways, The Twilight Saga) as Merry, Emmy® winner Uzo Aduba (Orange Is the New Black), and Academy Award® nominee David Strathairn (Best Actor, Good Night, and Good Luck, 2005; Lincoln).
Hannah Dakota Fanning  acted, at age 7, in the 2001 film I am Sam, which earned her a nomination for a Screen Actors Guild Award at age eight in 2002, making her the youngest to ever be nominated. Dakota Fanning has been seen in high-profile films such as Man on Fire (2004), War of the Worlds (2005) and Charlotte's Web (2006), Hounddog (2007), The Secret Life of Bees (2008),  Coraline (2009), The Runaways (2010), The Motel Life (2013), The Twilight Saga (2009–12).